Walk #80: Perranporth to Newquay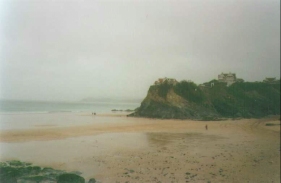 K07 The beach at Newquay.
General Data
| | |
| --- | --- |
| Date Walked | 19/04/2000 |
| County | Cornwall |
| Start Location | Perranporth |
| End Location | Newquay |
| Start time | 09.10 |
| End time | 13.20 |
| Distance | 14.8 miles |
| Description | This was a short day of road and footpath walking northwards up to Newquay. |
| Pack | Today I carried my Craghoppers WP70 rucksack, without tent, sleeping bag or trangia. |
| Condition | Okay. I wore my boots today, and as most of the day was road walking the underside of my feet ache. I also feel as though I may be coming down with a cold. |
| Weather | Awful. I did not get quite as wet as yesterday, but nonetheless I got quite wet. A fierce wind did not help much either. Most of the day was spent either in drizzle or mist, which is annoying as the wetness slowly builds up over time. |
| OS map | Explorer number 104 (Redruth & St Agnes) |
---
Map of the walk
Maps courtesy of Google Maps. Route for indicative purposes only, and may have been plotted after the walk. Please let me
have comments
on what you think of this new format. For a detailed table of timings for this walk, please see
the table file
.
---
Notes
This was a day that I really would rather forget. The weather, whilst not as bad as yesterday, was highly non-optimal, and I got lost in the dunes north of Perranporth due to what was IMHO a stupid way post with six directional arrows on three of it's sides!
Because of this error (which was mostly my fault, I went inland despite my better judgement telling me to keep to the seaward side of the army fence) I ended up doubling back on myself to a certain extent and ended up in the Haven holiday village. A great deal of road walking later and I reached Newquay. I booked into a B&B via the local Tourist Information office and then proceeded to look around the town in the rain. I must say that I was not very impressed with Newquay. There seems to be something about seaside towns - especially the ones that include ports or harbours - which make them look incredibly dinghy and bleak in the rain, and Newquay was not an exception.
The best part of the day was meeting mum & dad at 16.00 and going out with them for a meal. It was nice to see them again, especially after such a wet and uninspiring day. The B&B I am staying in is nice, but the room is quite small for an ensuite (the amount of free floor space is less than the size of the bed) and it costs £20.00 per night.
---
Directions
Follow the coast path northwards out of Perranporth between the sand dunes. When you get to the fence surrounding the MOD area turn right and head inland. Double back on yourself until you find a road that leads back to the Perran Sands Holiday camp.
Leave the holiday camp by the main entry road until you meet the B3285. Turn left for a few yards and when the B3285 turns sharp right continue on a road straight ahead signposted for the hamlet of Mount.
Follow the road to Mount and down a hill. When the road turns sharply to the right take a footpath that heads north-north-east from the bend across fields and then bends northwards by a stream before heading uphill into the village of Cubert.
Head along a road that passes the post office and heads towards Newlyn. When this road meets the road from Crantock take a footpath that heads across fields eastwards. When this footpath meets a road turn right along the road and follow it to Treworthal.
Just past Treworthal there is another road junction. Turns left past Crantock Plains Farm, and then at another junction turn right and almost immediately left. This road brings you out on a slightly busier road. Turn right on this road down towards Newquay.
Shortly before this road meets the A3075 there is a left turn that can be taken to bring you into Trevemper hamlet. Follow this minor road as it swings to the east through Trevemper and goes downhill to meet the A3075 near a bridge.
Turn left down the A3075 and you almost immediately reach a roundabout. Turn left down the A392 that follows the northern banks of the River Gannel into Newquay itself. Follow the South West Coast Path as it skirts to the east of Pentire and Pentire Head before entering the town proper. This walk ends at Newuay railway station.
The walk detailed above could be much improved by following the official South West Coast Path along and into Newquay. Unfortunately since I got lost in the dunes behind Perran Sands I decided to create my own route to Newquay.
For more details of the coast path sections of this walk, please see the National Trail Guidebook "South West Coast Path - Padstow to Falmouth", which has ISBN 1-85410-387-3.
---
Distances
| From | To | Distance (m) | Ascent (ft) | Descent (ft) |
| --- | --- | --- | --- | --- |
| Perranporth | Culbert | 7.0 | 961 | 758 |
| Culbert | Newquay | 7.8 | 886 | 1056 |
This makes a total distance of 14.8 miles, with 1847 feet of ascent and 1814 feet of descent.


For more information on profiles, ascents and descents, see this page
---
Accommodation
I spent the night at Invernook B&B, at 8 Berry Road, Newquay.
For more details of suitable accommodation in this area, please see the South West Coast Path Association's Annual handbook.
---
Disclaimer
Please note that I take no responsibility for anything that may happen when following these directions. If you intend to follow this route, then please use the relevant maps and check the route out before you go out. As always when walking, use common sense and you should be fine.
If you find any information on any of these routes that is inaccurate, or you wish to add anything, then please email me.
All images on this site are © of the author. Any reproduction, retransmissions, or republication of all or part of any document found on this site is expressly prohibited, unless the author has explicitly granted its prior written consent to so reproduce, retransmit, or republish the material. All other rights reserved.
Although this site includes links providing convenient direct access to other Internet sites, I do not endorse, approve, certify or make warranties or representations as to the accuracy of the information on these sites.
And finally, enjoy your walking!
---
This walk was mentioned in the following routes:
---
Nearby walks

Notice: Undefined offset: 1 in /home/britishw/public_html/PHPTemplates/NearWalks.php on line 34

Notice: Undefined offset: 2 in /home/britishw/public_html/PHPTemplates/NearWalks.php on line 35

| # | Title | Walk length (miles) |
| --- | --- | --- |