Walk #82: Padstow to Port Isaac
| | | |
| --- | --- | --- |
| | | |
| K19 The Rumps. | | K15 On the ferry to Rock |
General Data
| | |
| --- | --- |
| Date Walked | 21/04/2000 |
| County | Cornwall |
| Start Location | Padstow |
| End Location | Port Isaac |
| Start time | 09.10 |
| End time | 14.55 |
| Distance | 11.1 miles |
| Description | This was a hilly walk along the coastal path. |
| Pack | Today I carried my Craghoppers WP70 rucksack, without tent, sleeping bag or trangia. |
| Condition | I feel fine after this walk, despite a very tiring day. I had a couple of twinges from my ankle during the walk, but nothing unusual or too worrying. After I had bathed I went for a walk around Port Isaac in my trainers, and my ankle hurt. I can only assume that the trainers are not giving it enough support. |
| Weather | Very much the same as yesterday, with one short shower before Polzeath and a mixture of sunshine and showers for the rest of the day. The wind was very fierce when on some of the exposed promontories, in particular on the way up to an around Pentire Point. |
| OS map | Landranger number 200 (Newquay & Bodmin, Camelford & St Austell) |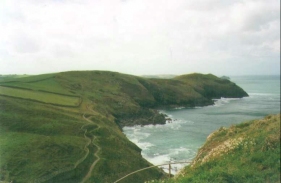 K22 The view east from Scarnor Point.
---
Map of the walk
Maps courtesy of Google Maps. Route for indicative purposes only, and may have been plotted after the walk. Please let me
have comments
on what you think of this new format. For a detailed table of timings for this walk, please see
the table file
.
---
Notes
A tiring day, with a great deal of upping and downing being done in the nine miles from Polzeath to Port Isaac. It was well worth the effort though, and I never let my morale get so low that I thought that I might not be able to finish the leg.
The wind was very fierce, particularly on the exposed headlands and this made progress harder than it otherwise should have been. At periods the sun was quite fierce as well, and my face looks as though it may have caught a little too much of it.
Near the end of the walk at Pine Haven I stopped to chat to a couple who were on a day's walk in the area. We all washed out boots in the handy stream as we discussed the pros and cons of various parts of our respective gear. There is one thing that we all agreed on - there is no such thing as a waterproof jacket - if you are out in the rain for eight hours you will get at the very least damp.
I have treated myself at the hotel tonight - ostensibly because I have reached the 750-mile mark today of the total walk (the nominal halfway point), but mainly because I feel like I deserve some luxury! The food was excellent, although I have stayed in better rooms. The view of the bay from the Castle Rock Hotel's main window is beautiful and very captivating - I spent 30 minutes last night just watching the sea break over the rocks.
Port Isaac is a lovely village, but was so obviously not designed for vehicles of any sort, yet along modern cars. The layout looks as though it could have been planned by a spaghetti-obsessed town architect who was under the influence of acid and who liked steep gradients! Whilst looking around Port Isaac in the afternoon I met several other people who were walking the coastal path in the opposite direction. It is quit nice chatting to other walkers, especially when they can tell you what the terrain over the next few days is like. There were four men in particular who were walking a large mileage per day, and who looked very tired and worn out.
This has been the second day in a row with decent (although not brilliant) weather. This is nice because the days when it has rained (particularly last Tuesday) were far from enjoyable due to the terrible weather.
---
Directions
This walk follows the south west coast path from Padstow to Port Isaac. The Padstow to Rock ferry is used to cross the Camel Estuary, and this is then followed by a nice walk northwards into Polzeath. After skirting Hayle Bay (or walking directly across if the tide is out) to New Polzeath, the route progresses northwards to Pentire Point, which was extremely windy on my visit. The path then turns eastwards towards the Rumps, and then southeastwards to Pengirt Cove. There now follows a quite strenuous walk eastwards to Portquin, a lovely little village.
From Portquin the path skirts the cliffs eastwards to Kellan Head, Scarnor Point and Varley Head before descending to Pine Haven. It then makes a final ascent to Lobber Point before descending again into Port Isaac.
For more details of the coast path sections of this walk, please see the National Trail Guidebook "South West Coast Path - Padstow to Falmouth", which has ISBN 1-85410-387-3.
---
Distances
| From | To | Distance (m) | Ascent (ft) | Descent (ft) |
| --- | --- | --- | --- | --- |
| Rock | Polzeath | 2.8 | 371 | 364 |
| Polzeath | Port Quin | 5.4 | 1280 | 1270 |
| Port Quin | Port Isaac | 2.9 | 945 | 955 |
This makes a total distance of 11.1 miles, with 2596 feet of ascent and 2589 feet of descent.


For more information on profiles, ascents and descents, see this page
---
Accommodation
I spent the night at The Castle Rock Hotel, 4 New Road, Port Isaac, PL29 3SB (01208) 880300. The cost of a single room was £32.00 per night, and the evening meal was excellent although expensive.
---
Disclaimer
Please note that I take no responsibility for anything that may happen when following these directions. If you intend to follow this route, then please use the relevant maps and check the route out before you go out. As always when walking, use common sense and you should be fine.
If you find any information on any of these routes that is inaccurate, or you wish to add anything, then please email me.
All images on this site are © of the author. Any reproduction, retransmissions, or republication of all or part of any document found on this site is expressly prohibited, unless the author has explicitly granted its prior written consent to so reproduce, retransmit, or republish the material. All other rights reserved.
Although this site includes links providing convenient direct access to other Internet sites, I do not endorse, approve, certify or make warranties or representations as to the accuracy of the information on these sites.
And finally, enjoy your walking!
---
This walk was mentioned in the following routes:
---
Nearby walks

Notice: Undefined offset: 1 in /home/britishw/public_html/PHPTemplates/NearWalks.php on line 34

Notice: Undefined offset: 2 in /home/britishw/public_html/PHPTemplates/NearWalks.php on line 35

| # | Title | Walk length (miles) |
| --- | --- | --- |