Walk #86: Elmscott to Horns Cross
General Data
| | |
| --- | --- |
| Date Walked | 25/04/2000 |
| County | Devon |
| Start Location | Elmscott |
| End Location | Horns Cross |
| Start time | 09.10 |
| End time | 15.30 |
| Distance | 15.5 miles |
| Description | This was a road walk eastwards to Horns Cross, avoiding the coastal path. |
| Pack | Today I carried my Craghoppers WP70 rucksack, without tent, sleeping bag or trangia. |
| Condition | I have a few small aches and pains that became apparent during the walk, but there was nothing to concern myself with. |
| Weather | Low cloud and misty drizzle dominated the day. There was no real rain, but there was enough light drizzle to make keeping my coat on necessary. It was probably the first day on the whole trip so far where the sun did not even deem to make a fleeting appearance. Having said that, the weather could have been far worse. |
| OS map | Landranger number 190 (Bude, Clovelly & surrounding area) |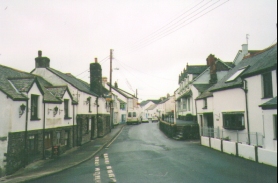 L04 Hartland village.
---
Map of the walk
Maps courtesy of Google Maps. Route for indicative purposes only, and may have been plotted after the walk. Please let me
have comments
on what you think of this new format. For a detailed table of timings for this walk, please see
the table file
.
---
Notes
This was a very unspectacular day of road walking with nothing of any great note to report. I had a very nice ham and cheese omelette in a pub in the wonderfully named Woolfardisworthy along with a pint.
The B&B here in Horns Cross is quite nice, with a nice friendly couple running it. There is an inn down the road where I obtained drinks and a meal, so I could feed myself up after the self-catering at the YHA yesterday.
Progress on this trip is now quite fast - with any luck I shall be in Barnstaple tomorrow night, and three days after that I shall be in Mynton. If everything remains well I should easily have enough time left in the holiday to get as far as Taunton, or perhaps even Glastonbury. Being able to get to either of those would make my job easier later in the year.
I also hope that the weather improves for the rest of the walk - although the last few days have not been too bad, they have been far from ideal. It would be so nice to have a day with no rain.
---
Directions
Head north along the road from Elmscott. Descend a hill past Milford and ascend the other side. Turn right at Kernstone Cross (the top of the ascent), and at the next junction take the right-hand fork. Take the next right-hand fork and continue along this road towards Philham. At Philham turn north and follow a road that eventually joins up with the B3248 just outside the village of Hartland. Continue along the B3248 into Hartland.
In Hartland turn right and follow the B3248 eastwards out of the village. After about three miles you meet the A39(T) just outside Higher Clovelly. Carefully walk along the A39(T) past the roundabout and take the first road to the right. Follow this road southeastwards into the village of Woolfardisworthy.
Take a road that heads eastwards out of Woolfardisworthy past the church. At the hamlet of Cranford this road turns northwards, and shortly afterwards you turn right down a road signposted for Parkham. Follow this road for about three miles until it reaches a T-junction. Turn left at this junction and head into Parkham.
Head northeastwards out of Parkham passing the church on the way. At the bottom of the hill continue along this road (do not turn right and join the larger road), and head uphill into Goldworthy. Turn left in Goldworthy and head on into Horns Cross.
---
Distances
| From | To | Distance (m) | Ascent (ft) | Descent (ft) |
| --- | --- | --- | --- | --- |
| Elmscott YHA | Hartland | 3.8 | 338 | 410 |
| Hartland | Woolfardisworthy | 5.7 | 581 | 348 |
| Woolfardisworthy | Horns Cross | 6.0 | 561 | 636 |
This makes a total distance of 15.5 miles, with 1480 feet of ascent and 1394 feet of descent.


For more information on profiles, ascents and descents, see this page
---
Accommodation
I spent the night at Maecroft, Acre Road, Horns Cross, Peppercombe, EX39 5DH, telehpone 01237 451786. The cost was £18.00 per night.
For more details of suitable accommodation in this area, please see the South West Coast Path Association's Annual handbook.
---
Disclaimer
Please note that I take no responsibility for anything that may happen when following these directions. If you intend to follow this route, then please use the relevant maps and check the route out before you go out. As always when walking, use common sense and you should be fine.
If you find any information on any of these routes that is inaccurate, or you wish to add anything, then please email me.
All images on this site are © of the author. Any reproduction, retransmissions, or republication of all or part of any document found on this site is expressly prohibited, unless the author has explicitly granted its prior written consent to so reproduce, retransmit, or republish the material. All other rights reserved.
Although this site includes links providing convenient direct access to other Internet sites, I do not endorse, approve, certify or make warranties or representations as to the accuracy of the information on these sites.
And finally, enjoy your walking!
---
This walk was mentioned in the following routes:
---
Nearby walks

Notice: Undefined offset: 1 in /home/britishw/public_html/PHPTemplates/NearWalks.php on line 34

Notice: Undefined offset: 2 in /home/britishw/public_html/PHPTemplates/NearWalks.php on line 35

| # | Title | Walk length (miles) |
| --- | --- | --- |