Walk #87: Horns Cross to Barnstaple
| | | |
| --- | --- | --- |
| | | |
| L06 The River Yeo at South Heal. | | L11 Looking east along the Tarka Trail east of Lower Yelland. |
General Data
| | |
| --- | --- |
| Date Walked | 26/04/2000 |
| County | Devon |
| Start Location | Horns Cross |
| End Location | Barnstaple |
| Start time | 09.10 |
| End time | 15.45 |
| Distance | 17.2 miles |
| Description | This was a mixture of road and southwest coast path walking, making for a very pleasant walk. |
| Pack | Today I carried my Craghoppers WP70 rucksack, without tent, sleeping bag or trangia. |
| Condition | Today was quite fatiguing considering that for the majority of the time the going was flat. I have developed a slight hotspot on the heel of my right foot, so I shall wear my boots tomorrow instead of my trainers. My bad ankle is also aching a fair bit, which is annoying but not too worrying. |
| Weather | The initial section of today's walk up to Bideford was overcast with drizzle and one heavy shower. After Bideford the clouds thinned slightly, and apart from a few spots of drizzle there was no more rain, and indeed the afternoon was very nice walking weather. |
| OS map | Landranger number 190 (Bude, Clovelly & surrounding area) and Landranger number 180 (Barnstable & Ilfracombe, Lynton & Bideford) |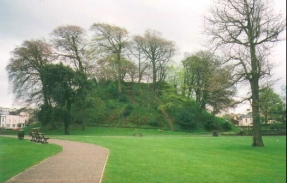 L13 Barnstaple Castle Mound.
---
Map of the walk
Maps courtesy of Google Maps. Route for indicative purposes only, and may have been plotted after the walk. Please let me
have comments
on what you think of this new format. For a detailed table of timings for this walk, please see
the table file
.
---
Notes
This was a very nice but surprisingly strenuous day. It was a far better day than yesterday scenically, with some of the estuary walking being quite nice in particular. Following the old railway trackbed for 10 miles made the going quite fast, and I reckon that I manages to do about 16 miles today in 6.5 hours, which is good going.
I am starting to get slightly concerned about my health on this trip - I am slowly developing more and more little injuries that are adding up and making my walking less than optimally enjoyable. This is only to be expected after 11 days on the road.
I have a choice to make tomorrow - I can either follow the coast path for 16 miles to Croyde Bay or shortcut some of it and aim for a point further north. Since I am one or two days ahead of schedule I think that I will stick to the coast path to keep my cumulative mileage up as high as possible. This does leave a problem in that I will be half a day out of step with convenient accommodation later in the walk - I may just end up doing a short day to get myself to where I need to be after Ilfracombe.
Barnstaple is quite a nice town and looks quite well cared for. The main shopping streets are clean and tidy, and it even has a hiking/adventure shop where I managed, finally, to buy myself an extra base layer shirt to be used as a replacement for the one that I have used for the whole trip so far ;-)
I went into two pubs near the B&B tonight to get an evening meal only to find that none of them were doing any food. This is the first time that this has happened to me on this trip, so I ended up going to a chippie for some chips.
When crossing the River Torridge via the Tarka Trail railway bridge it started to rain. The waters in the estuary were calm and very flat, and as the rain cloud started to come towards the bridge the corresponding rain front could actually be seen on the surface of the water as a line heading towards me. I have never seen this effect before and it looked quite magical.
---
Directions
Head southeastwards from Horns Cross to Goldworthy. Turn left in Goldworthy and head downhill and then uphill into Alwington. Continue on into Woodtown, and at the T-junction turn right and head downhill to another T-junction. Turn left and follow the road beside the river for a few miles until you reach the junction with the A386 at Pillmouth.
Turn right along the A386 and cross the River Yeo. When the road turns right follow it and very shortly climb up the bank and join the Tarka Train, an old railway line now converted into a footpath. Turn left and follow the trail northwards into Bideford.
From Bideford simply keep on following the Takra Trail northwards for three miles into Instow and then east for six miles into Barnstaple. The going is flat and easy, so a good speed can be kept up. When the trail ends at the A3125 near Barnstaple station, turn left and follow the main road as it crosses Long Bridge over the River Taw. Take the second road to the left at a large roundabout to head northwards through the centre of the town. Cross a road to cross the River Yeo; the B&B was a short distance down the A361.
---
Distances
| From | To | Distance (m) | Ascent (ft) | Descent (ft) |
| --- | --- | --- | --- | --- |
| Horns Cross | Bideford | 7.3 | 492 | 982 |
| Bideford | Instow | 2.8 | 115 | 138 |
| Instow | Barnstaple | 7.1 | 253 | 262 |
This makes a total distance of 17.2 miles, with 860 feet of ascent and 1382 feet of descent.


For more information on profiles, ascents and descents, see this page
---
Accommodation
The night was spent at Crossways, Braunton Road, Barnstaple EX31 1JY. Tel. 01271 379120. This was quite a nice B&B and was quite convenient for the south west coast path and the centre of the town.
For more details of suitable accommodation in this area, please see the South West Coast Path Association's Annual handbook.
---
Disclaimer
Please note that I take no responsibility for anything that may happen when following these directions. If you intend to follow this route, then please use the relevant maps and check the route out before you go out. As always when walking, use common sense and you should be fine.
If you find any information on any of these routes that is inaccurate, or you wish to add anything, then please email me.
All images on this site are © of the author. Any reproduction, retransmissions, or republication of all or part of any document found on this site is expressly prohibited, unless the author has explicitly granted its prior written consent to so reproduce, retransmit, or republish the material. All other rights reserved.
Although this site includes links providing convenient direct access to other Internet sites, I do not endorse, approve, certify or make warranties or representations as to the accuracy of the information on these sites.
And finally, enjoy your walking!
---
This walk was mentioned in the following routes:
---
Nearby walks

Notice: Undefined offset: 1 in /home/britishw/public_html/PHPTemplates/NearWalks.php on line 34

Notice: Undefined offset: 2 in /home/britishw/public_html/PHPTemplates/NearWalks.php on line 35

| # | Title | Walk length (miles) |
| --- | --- | --- |