Walk #90: Combe Martin to Lynton
| | | |
| --- | --- | --- |
| | | |
| M05 Holdstone Hill (1,146 ft) | | M06 Looking back towards Trentishoe Down from the phone box at Mannacott Lane Head. |
General Data
| | |
| --- | --- |
| Date Walked | 29/04/2000 |
| County | Devon |
| Start Location | Combe Martin |
| End Location | Lynton |
| Start time | 09.00 |
| End time | 14.40 |
| Distance | 13.6 miles |
| Description | This was a very pleasant walk along roads and the coast path, with some stunning scenery. |
| Pack | Today I carried my Craghoppers WP70 rucksack, without tent, sleeping bag or trangia. |
| Condition | I feel generally okay after today's walk. My feet ache a little, but things are otherwise fine. My bad ankle aches, but not as bad as on previous days. |
| Weather | Excellent! Today had by far the best weather of the trip so far, and for once it never even really looked like raining. At times it was about 80% sun, 20% cloud, and this varied slightly as the day went on. All in all a lovely day. |
| OS map | Landranger number 180 (Barnstable & Ilfracombe, Lynton & Bideford) |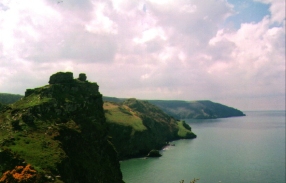 M10 Looking west along the coast towards Castle Rock.
---
Map of the walk
Maps courtesy of Google Maps. Route for indicative purposes only, and may have been plotted after the walk. Please let me
have comments
on what you think of this new format. For a detailed table of timings for this walk, please see
the table file
.
---
Notes
I believe that I may be suffering from something that I shall term "Scenery Overload". This term describes the state you get into when you have seen far too much beautiful scenery. You come across a lovely vista, some cliffs, with a few seals frolicking about below, and instead of stopping and taking it all in for five minutes, you think "Hummm, nice view." and walk on. Over the last few day I have become kind of immune to lovely coastal scenery, and this is a great shame as today had some absolutely corking views.
There is a nice guy here at the YHA who has walked all the way from Minehead with only an A5 map of the southwest to give him any directions. The fact that you can walk this far without any maps or guidebooks shows just goes to show how well signposted the south west coast path is. He is only going as far as Combe Martin, so I hope that he finds his way correctly and makes it okay.
The scenery today has been frankly spectacular - from the remote and rugged moorland of Holdstone Down to the magnificent brilliance of the valley Of Rocks west of Lynton. I must admit that I am really looking forward to the next few days walking - the end of the trip is now very much in sight and as long as the weather remains nice then I shall be happy.
Lynton and Lynmouth are both delightful places, not too spoilt by the obvious tourist influence. I had some lovely rabbit for dinner in a pub in Lynton, and afterwards myself and two other gentlemen from the YHA went for a trip down to the nearest pub for a few drinks.
Today was generally an absolutely astounding day. I hope that the rest of the trip continues in a similar manner.
---
Directions
Head southeast out of Combe Martin along the A399. Near a pub follow a road that heads steeply uphill to the left. This road soon makes a sharp 90-degree turn to the right whilst climbing to the east over Knapp Down. Follow this road for two and a half miles until you reach a crossroads at Stony Corner.
Turn left and then immediately left again to head north along a road that takes you between Holdstone and Trentishoe Downs. After this the road slowly turns to the east, eventually reaching a car park. At the road junction here turn right, heading downhill to the Hunter's Inn public house. At the Hunter's Inn, take a road that heads to the right beside a stream southwards towards the A39. Shortly after the road makes a sharp left beside Mill farm take a track that heads across a stream and heads uphill to the hamlet of Kernacott. Head north out of Kernacott on a road to Martinhoe. The road then veers to the east and leads down towards Woody Bay.
When the road branches take the branch that leads through Slattenslade, and then downhill to join a toll road that leads eastwards to Lee Bay. At Lee Bay head eastwards uphill past Lee Abbey and then on towards Castle Rock and the Valley Of Rocks. At a roundabout you can head left towards a walk that has stunning coastal views. This walk can be followed eastwards into Lynton. On the outskirts of Lynton you pass over the cliff railway before reaching Lynton itself. Lynton youth hostel is situated about a mile southg of the town in Lynbridge.
---
Distances
| From | To | Distance (m) | Ascent (ft) | Descent (ft) |
| --- | --- | --- | --- | --- |
| Combe Martin | Hunter's Inn | 6.3 | 1266 | 1076 |
| Hunter's Inn | Lynton | 7.3 | 1873 | 1608 |
This makes a total distance of 13.6 miles, with 3139 feet of ascent and 2684 feet of descent.


For more information on profiles, ascents and descents, see this page
---
Accommodation
The night was spent at Lynton YHA, Lynton, EX35 6AZ, telephone 01598 753237. The YHA is at grid reference SS720487.
For more details of suitable accommodation in this area, please see the South West Coast Path Association's Annual handbook.
---
Disclaimer
Please note that I take no responsibility for anything that may happen when following these directions. If you intend to follow this route, then please use the relevant maps and check the route out before you go out. As always when walking, use common sense and you should be fine.
If you find any information on any of these routes that is inaccurate, or you wish to add anything, then please email me.
All images on this site are © of the author. Any reproduction, retransmissions, or republication of all or part of any document found on this site is expressly prohibited, unless the author has explicitly granted its prior written consent to so reproduce, retransmit, or republish the material. All other rights reserved.
Although this site includes links providing convenient direct access to other Internet sites, I do not endorse, approve, certify or make warranties or representations as to the accuracy of the information on these sites.
And finally, enjoy your walking!
---
This walk was mentioned in the following routes:
---
Nearby walks

Notice: Undefined offset: 1 in /home/britishw/public_html/PHPTemplates/NearWalks.php on line 34

Notice: Undefined offset: 2 in /home/britishw/public_html/PHPTemplates/NearWalks.php on line 35

| # | Title | Walk length (miles) |
| --- | --- | --- |