Walk #92: Porlock Weir to Blue Anchor
| | | |
| --- | --- | --- |
| | | |
| M28 Looking towards Porlock Weir from Hurlstone Point. | | M30 Photo of the south west coast path in moorland above Minehead. |
General Data
| | |
| --- | --- |
| Date Walked | 01/05/2000 |
| County | Somerset |
| Start Location | Porlock Weir |
| End Location | Blue Anchor |
| Start time | 08.50 |
| End time | 16.00 |
| Distance | 14.8 miles |
| Description | This was a delightful walk, initially following the South Wst Coast Path, before following the coast eastwards from Minehead. |
| Pack | Today I carried my Craghoppers WP70 rucksack, without tent, sleeping bag or trangia. |
| Condition | I feel okay after this walk. I have slight sunburn on the backs of both of my legs. My right ankle is giving me some gip, but nothing too serious. I generally feel in very good condition considering that I have been on the road for sixteen days and 210 miles. |
| Weather | Today was very similar to yesterday, with lots of sun and very little cloud. Fortunately there was some wind that kept me cooler than yesterday and consequently it was far better walking weather. |
| OS map | Landranger number 181 (Minehead & Brendon Hills, Dulverton & Tiverton) |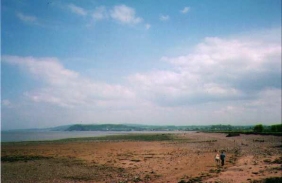 M34 Blue Anchor viewed from Dunster Beach.
---
Map of the walk
Maps courtesy of Google Maps. Route for indicative purposes only, and may have been plotted after the walk. Please let me
have comments
on what you think of this new format. For a detailed table of timings for this walk, please see
the table file
.
---
Notes
Today I reached the end of the South West Coast Path at Minehead, and from now on I will have to follow my own route south eastwards to Taunton.
The day started with a flat walk from Porlock Weir to Porlock, and then on to Bossington. This diversion is necessary due to the breach in the shingle beach at Porlock. This flat walk was followed by quite a stiff climb uphill from Bossington onto Bossington Hill, and then eastwards across some absolutely beautiful moorland before dropping down into Minehead.
In Minehead I called into the Tourist Information office and booked a suitable B&B in Blue Anchor, which is about 4 miles further east along the coast. Blue Anchor is slightly further north then I had intended to stay, but I believe that I have found a nice route to Crowcombe Heathfield YHA for tomorrow.
I took the walk today very slowly and enjoyed the sunshine and the views. Since the B&B was not expecting me until 16.00, I took the four miles from Minehead to Blue Anchor very slowly, chatting to a retired couple along the way.
I have caught the sun slightly too much today - the wind was stronger than yesterday and this meant that I did not feel the strength of the sun to the same degree.
I only have two days walking to get to Taunton, and so the end of this stage of my little adventure is now in sight. This is not the case for some people - I met two people near the descent down to Minehead who had already been walking for 3 and a half days, and they plan to walk all the way around the coast to Poole in just four weeks! That is a very tough schedule, and the bald gentleman was so sunburnt I gave him some of my suntan lotion.
Minehead is a bit too touristy for my liking, but the seafront and beach is very spick-and-span and new, having just been rebuilt over a two-year period. IMHO the place would be far better if the Butlins holiday camp were not present, or at least if it were not housed in such an awful, intrusive building. It dominates the skyline for miles around and quite simply does not fit in.
Blue Anchor is quite nice, with a very pleasant and well-preserved railway station owned by the West Somerset Railway. The Blue Anchor pub, which is about 1 kilometre down the road from my B&B, is very nice, and I partook of a few pints of rocket fuel (Crowcombe Gold) this evening.
The retired couple that I met on the beach today referred to me as a "professional walker" - quite what constitutes a professional walker I do no know, but with all my little aches and pains I certainly do not feel like one!
---
Directions
From Porlock Weir the South West Coast Path used to follow the shingle beach east to Bossington. Unfortunately the beach has been breached, and whilst some hardy fellows manage to wade across at low tide, the official route now heads inland to Porlock and then onto Bossington. I decided to follow the B3225 main road instead of the path for speed.
When you reach Porlock follow the path or road that leads north-northeast to Bossington. From the car park in Bossington the path crosses a small river via a bridge and heads north towards Hurlstone Point. Before the point is reached, a path leads steeply to the east up Bossington Hill. This is a steep and tiring climb, but it dies allow lovely views to the west over Porlock. One the top of the hill is reached the path heads eastwards towards (but not reaching) Selworthy Beacon. It then skirts some tumuli on an easy to follow path across some lovely moorland. When North Hill above Minehead is reached, the path starts downhill to the official end (or start) point of the South West Coast path on the seafront in Minehead.
Follow the seafront in Minehead past the West Somerset Railway station and then past a roundabout leading to a holiday camp. The seafront ends at another roundabout and a path leads on to the east along the beach towards Dunster Beach. Past Dunster the going becomes harder as the sand gives way to shingle and stones on the approach to Blue Anchor.
---
Distances
| From | To | Distance (m) | Ascent (ft) | Descent (ft) |
| --- | --- | --- | --- | --- |
| Porlock Weir | Porlock | 1.6 | 236 | 128 |
| Porlock | Minehead | 7.4 | 1421 | 1519 |
| Minehead | Blue Anchor | 4.2 | 121 | 79 |
This makes a total distance of 14.8 miles, with 1778 feet of ascent and 1726 feet of descent.


For more information on profiles, ascents and descents, see this page
---
Accommodation
I stayed at the Camelot Guest House, Carhampton Road, Blue Anchor, Minehead, Somerset TA24 6LB, telephone (01643) 821118. This was a very nice B&B, with a couple of lovely proprietors and some excellent facilities. They have a website at www.camelothousebandb.co.uk.
For more details of suitable accommodation in this area, please see the South West Coast Path Association's Annual handbook.
---
Disclaimer
Please note that I take no responsibility for anything that may happen when following these directions. If you intend to follow this route, then please use the relevant maps and check the route out before you go out. As always when walking, use common sense and you should be fine.
If you find any information on any of these routes that is inaccurate, or you wish to add anything, then please email me.
All images on this site are © of the author. Any reproduction, retransmissions, or republication of all or part of any document found on this site is expressly prohibited, unless the author has explicitly granted its prior written consent to so reproduce, retransmit, or republish the material. All other rights reserved.
Although this site includes links providing convenient direct access to other Internet sites, I do not endorse, approve, certify or make warranties or representations as to the accuracy of the information on these sites.
And finally, enjoy your walking!
---
This walk was mentioned in the following routes:
---
Nearby walks

Notice: Undefined offset: 1 in /home/britishw/public_html/PHPTemplates/NearWalks.php on line 34

Notice: Undefined offset: 2 in /home/britishw/public_html/PHPTemplates/NearWalks.php on line 35

| # | Title | Walk length (miles) |
| --- | --- | --- |