Walk #94: Crowcombe Heathfield to Taunton
General Data
| | |
| --- | --- |
| Date Walked | 03/05/2000 |
| County | Somerset |
| Start Location | Crowcombe Heathfield |
| End Location | Taunton |
| Start time | 08.10 |
| End time | 11.55 |
| Distance | 11.5 miles |
| Description | This was a nice road walk south westwards to Taunton. |
| Pack | Today I carried my Craghoppers WP70 rucksack, without tent, sleeping bag or trangia. |
| Condition | I feel okay after what was a relatively short day. My shoulders ache slightly more than they have been doing and my feet are aching slightly in my trainers. No other problems worthy of note. |
| Weather | Today was overcast with absolutely no sign of the sun. There was a very small amount of drizzle in the air, but not enough to cause me to get my coat out. |
| OS map | Landranger number 181 (Minehead & Brendon Hills, Dulverton & Tiverton) and Landranger number 193 (Taunton & Lyme Regis, Chard & Bridport) |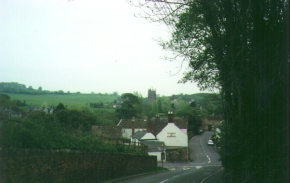 N10 Kingston St Mary.
---
Map of the walk
Maps courtesy of Google Maps. Route for indicative purposes only, and may have been plotted after the walk. Please let me
have comments
on what you think of this new format. For a detailed table of timings for this walk, please see
the table file
.
---
Notes
A generally quite hectic day which I wanted to get finished as early as possible so I could catch a 12.30 train back home from Taunton. For this reason I set off at a little past eight in the morning, which is slightly earlier than I have been doing recently. Fortunately I made it to the station in plenty of time, and hence I arrived back home in Doveridge after a rather crowded train journey by 16.00.
After the literal highs of yesterday today was a bit of a let down. It felt very much like the last day of a walk, with some fairly boring yet nice road walking being let down by the mist and light drizzle. I get the impression that sections of this walk may have lovely views, but unfortunately I could not see any due to the weather. In particular at times there were some quite tantalising views of the southern edge of the Quantocks, but I never got to see more than halfway up the hillsides due to the mist.
Kingston St Mary seemed like quite a nice little village, and it had a little shop at which I brought myself a couple of chocolate bars. The church was also quite nice, although the weather stopped me from taking any proper photos of it or the rest of the village. I would have liked to have stayed around and explored for a little while, but unfortunately the need to get to Taunton to catch the train and the bad weather stopped me from doing this.
It is a nice feeling to be home, and for the walk to be over. If I had had more days walking scheduled then I would very probably have take a day off in Taunton to have a rest - a few niggling little injuries are starting to add up, and a day's rest would have come in handy.
---
Directions
Turn right out of Crowcombe Heathfield YHA and continue along the road south westwards until you come to a T-junction. Turn left at the junction, followed by an immediate right and head into the village of Lydeard St Lawrence.
Head southwards though Lydeard St Lawrence past the church. Take the first left out of the village and skirt the left hand edge of Combe Wood before descending down to Nethercott. Pass under the West Somerset Railway and head uphill to join the A358.
Turn right along the A358 and carefully follow it for a few hundred yards to a sharp right hand bend. This road is fairly busy, so it needs to be taken with great care. When the road turns right take a road that goes straight on. Follow this road as it heads to the southeast past Middlebrooks and on into Yarford and Fulford. At Fulford take a left hand turn that takes you into the village of Kingston St Mary.
Pass through Kingston St Mary, and follow the road as it swings to the south. Follow this road straight down for about three miles southwards into Taunton itself. Taunton station is well signposted from this road when you get into the outskirts of Taunton.
---
Distances
| From | To | Distance (m) | Ascent (ft) | Descent (ft) |
| --- | --- | --- | --- | --- |
| Crowcombe Heathfield | Kingston St Mary | 8.6 | 591 | 778 |
| Kingston St Mary | Taunton station | 2.9 | 30 | 190 |
This makes a total distance of 11.5 miles, with 621 feet of ascent and 968 feet of descent.


For more information on profiles, ascents and descents, see this page
---
Transport
There is a railway station at Taunton that has frequent services to all parts of the country. For more details, please see the Railtrack Travel timetable website.
The West Somerset Railway runs from Crowcombe to Bishops Lydeard at many times of the year. This service is run in conjunction with a bus service that goes from Bishops Lydeard into Taunton. For more details, please see the West Somerset Railway website.
---
Disclaimer
Please note that I take no responsibility for anything that may happen when following these directions. If you intend to follow this route, then please use the relevant maps and check the route out before you go out. As always when walking, use common sense and you should be fine.
If you find any information on any of these routes that is inaccurate, or you wish to add anything, then please email me.
All images on this site are © of the author. Any reproduction, retransmissions, or republication of all or part of any document found on this site is expressly prohibited, unless the author has explicitly granted its prior written consent to so reproduce, retransmit, or republish the material. All other rights reserved.
Although this site includes links providing convenient direct access to other Internet sites, I do not endorse, approve, certify or make warranties or representations as to the accuracy of the information on these sites.
And finally, enjoy your walking!
---
This walk was mentioned in the following routes:
---
Nearby walks

Notice: Undefined offset: 1 in /home/britishw/public_html/PHPTemplates/NearWalks.php on line 34

Notice: Undefined offset: 2 in /home/britishw/public_html/PHPTemplates/NearWalks.php on line 35

| # | Title | Walk length (miles) |
| --- | --- | --- |