Walk #74: Wooton Rivers to Kintbury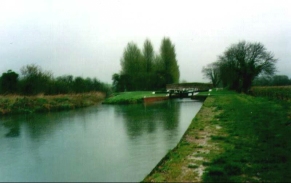 I24 A lock at the summit of the Kennet and Avon Canal.
General Data
| | |
| --- | --- |
| Date Walked | 03/04/2000 |
| County | Berkshire, Wiltshire |
| Start Location | Wooton Rivers |
| End Location | Holt Lodge (Kintbury) |
| Start time | 09.15 |
| End time | 15.45 |
| Distance | 16.4 miles |
| Description | Another day of canal walking, although at Hungerford I left the canal and headed cross-country to my B&B to the south. |
| Pack | Full Pennine Way kit. |
| Condition | My energy levels are fine, although my feet ached at the end. I was fairly cold and wet at the end, although my coat kept my trunk dry. |
| Weather | Wet. very, very wet. This was made worse by a bitter north-easterly wind. Indeed, severe weather warnigs were issued. |
| OS map | Landranger number 174 (Newbury & Wantage, Hungerford & Didcot) and Landranger number 173 (Swindon & Devizes, Marlborough & Trowbridge) |
---
Map of the walk
Maps courtesy of Google Maps. Route for indicative purposes only, and may have been plotted after the walk. Please let me
have comments
on what you think of this new format. For a detailed table of timings for this walk, please see
the table file
.
---
Notes
The most notable thing about today was the weather, which was frankly awful and unusual for April. Indeed, they are forecasting sleet and snow for tomorrow so that promises to be a very not enjoyable day as well.
This B&B is marvellous - a very old (built in 1746) building and a nice old couple running it. The lodge has been in their family since it was built, and comes complete with a walled garden. The couple were very nice, and did not mind a very dishevelled and wet character (i.e. me) from entering.
The Lodge is quite some way from anywhere, and since the weather was so awful I was offered an evening meal. I agreed, and at eight thirty I was called down and was given a lovely and large evening meal. The parsnip soup starter, for instance, was home made and the parsnips had been in the ground a few hours earlier. The chicken was also lovely and in massive portions. Considering that they did not have to provide me with anything, it was well worth the extra money and I am very grateful to them for the lovely service that they provided. If I ever have cause to stay in he area then they will undoubtedly be my accommodation of choice.
For more details of the distances involved with this walk, please see Jim Shead's waterways pages.
---
Directions
The first stage of the walk from Wooton Rivers to Hungerford is very simple - just follow the Kennet and Avon Canal eastwards from Wooton Rivers Lock down through Great Berwyn and into Hungerford.
Because my B&B was not in Kintbury but 1.5 miles north of the village, I chose not to walk along the canal but to make for the B&B via roads. To achieve this, I headed east out of Hungerford town centre onto Hungerford Common. In the middle of the Common at SU345680 I took a right, heading south down a quieter road. Follow this road southwards past Cold Harbour Farm. The road is called Inkpen Road.
In Little Common take a bridleway that heads initially though woods past Balsdon Farm before heading southeast to the village of Inkpen. When the bridleway ends at Folly Road, follow the road directly eastwards. When this road ends take a footpath immediately opposite that leads down and up a small valley, passing Willow Farm before reaching another road. At the end of the footpath is a T-junction; take the road that leads eastwards, and follow it as it turns at Hell Corner to head northeastwards. When this road ends at yet another T-junction, turn left and then right up the driveway to Holt Lodge.
---
Distances
| From | To | Distance (m) | Ascent (ft) | Descent (ft) |
| --- | --- | --- | --- | --- |
| Wootton Rivers | Great Bedwyn | 6.2 | 108 | 164 |
| Great Bedwyn | Hungerford | 4.8 | 75 | 144 |
| Hungerford | Holt Lodge | 5.4 | 390 | 262 |
This makes a total distance of 16.4 miles, with 573 feet of ascent and 570 feet of descent.


For more information on profiles, ascents and descents, see this page
---
Disclaimer
Please note that I take no responsibility for anything that may happen when following these directions. If you intend to follow this route, then please use the relevant maps and check the route out before you go out. As always when walking, use common sense and you should be fine.
If you find any information on any of these routes that is inaccurate, or you wish to add anything, then please email me.
All images on this site are © of the author. Any reproduction, retransmissions, or republication of all or part of any document found on this site is expressly prohibited, unless the author has explicitly granted its prior written consent to so reproduce, retransmit, or republish the material. All other rights reserved.
Although this site includes links providing convenient direct access to other Internet sites, I do not endorse, approve, certify or make warranties or representations as to the accuracy of the information on these sites.
And finally, enjoy your walking!
---
This walk was mentioned in the following routes:
---
Nearby walks
---