Walk #77: Land's End to Zennor
| | | |
| --- | --- | --- |
| | | |
| J10 Me at Land's End | | J13 Looking south over Sennen Cove |
General Data
| | |
| --- | --- |
| Date Walked | 16/04/2000 |
| County | Cornwall |
| Start Location | Land's End |
| End Location | Zennor |
| Start time | 09.10 |
| End time | 16.1 |
| Distance | 16.5 miles |
| Description | A slightly strenuous walk following the coastline past Pendeen Watch, followed by a road walk into Zennor. |
| Pack | Today I carried my Craghoppers WP70 rucksack, without tent, sleeping bag or trangia. |
| Condition | Fine. I am quite tired, but I have no discernible blisters. The underside of my feet ache a fair bit. |
| Weather | It started off with 50:50 sun/cloud, and from this initial position it slowly started clouding over. It was very hot initially, although as time went on and the wind became stronger it grew colder. After Pendeen Watch it started to spit, and this soon became a continuous rain. |
| OS map | Landranger number 203 (Land's End & Isles of Scilly, St Ives & Lizard Point) |
---
Map of the walk
Maps courtesy of Google Maps. Route for indicative purposes only, and may have been plotted after the walk. Please let me
have comments
on what you think of this new format. For a detailed table of timings for this walk, please see
the table file
.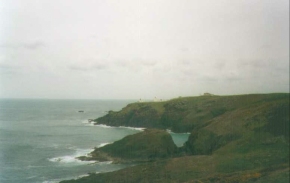 J15 Looking north towards Pendeen Watch lighthouse.
---
Notes
The first stage of today's walk - from Land's End to Cape Cornwall - was an absolute killer, with a great deal of upping-and-downing through valleys. I had a little incident whilst descending down steps at Nanven (near Land's End YHA) when I twisted my bad ankle. Fortunately it lasted out the rest of the day okay, and seems reasonable (although slightly sore) now.
The main feature about the rest of the day was the weather, which was nice to begin with but soon became horrible. It was mainly for this reason that at Travean Cliff I left the coastal path and joined the road that winds from there around to Zennor. I met an American going the other way who had left the path for the same reason - the rocks were dangerously slippy, and he had slipped and injured his arm.
The weather forecast is for sunshine and heavy showers tomorrow, which means that it is not going to be the best day in the world. I shall manage, though, as always.
There is a pub here in Zennor that is very oldie worldly and nice - it even has a real fire that was nice to sit next to after such a damp afternoon.
This is the first time that I have ever stayed in an independent (as opposed to a YHA) hostel, and I must say that it is very nice, and also quite cheap at £10. However, it must be said that I am surprised to be the only person staying there tonight. Breakfast was £4 as well, which is quite competitive with YHA prices.
---
Directions
Follow the South West Coast path northwards from Land's End, passing Cape Cornwall and Pendeen Watch. At Trevean Cliff (grid ref. 410360) you can turn south and climb up the hill to join the B3306 road. This road can then be followed eastwards through Boswednack and onto Zennor.
This route proves to be of roughly the same length as the coastal path route to Zennor, but much easier going, especially in bad weather such as that I had today.
For more details of the coast path sections of this walk, please see the National Trail Guidebook "South west coast path - Padstow to Falmouth", which has ISBN 1-85410-387-3.
---
Distances
| From | To | Distance (m) | Ascent (ft) | Descent (ft) |
| --- | --- | --- | --- | --- |
| Land's End | Pendeen Watch | 10.0 | 2070 | 2129 |
| Pendeen Watch | Zennor | 6.1 | 981 | 797 |
This makes a total distance of 16.1 miles, with 3051 feet of ascent and 2926 feet of descent.


For more information on profiles, ascents and descents, see this page
---
Accommodation
This night I stayed in The Old Chapel Backpackers Hostel in Zennor at grid ref. 455 385. It can be contacted on 01736 798307. The hostel was very nice, with a café below it that was very handy for a quick evening snack before going out for a meal.
For more details of suitable accommodation in this area, please see the South West Coast Path Association's Annual handbook.
---
Disclaimer
Please note that I take no responsibility for anything that may happen when following these directions. If you intend to follow this route, then please use the relevant maps and check the route out before you go out. As always when walking, use common sense and you should be fine.
If you find any information on any of these routes that is inaccurate, or you wish to add anything, then please email me.
All images on this site are © of the author. Any reproduction, retransmissions, or republication of all or part of any document found on this site is expressly prohibited, unless the author has explicitly granted its prior written consent to so reproduce, retransmit, or republish the material. All other rights reserved.
Although this site includes links providing convenient direct access to other Internet sites, I do not endorse, approve, certify or make warranties or representations as to the accuracy of the information on these sites.
And finally, enjoy your walking!
---
This walk was mentioned in the following routes:
---
Nearby walks
---