Walk #222: Edinburgh Castle to Seton Sands
| | | |
| --- | --- | --- |
| | | |
| P2002A010006 The champagne, mugs and collecting box. | | P2002A010014 Sam on the Royal Mile. |
General Data
| | |
| --- | --- |
| Date Walked | 01/10/2002 |
| County | Lothian |
| Start Location | Edinburgh Castle |
| End Location | Seton Sands |
| Start time | 10.11 |
| End time | 16.45 |
| Distance | 14.0 miles |
| Description | This was a nice and easy introduction to the long trip ahead of me, which I was grateful for as I did not want to exert myself too much. The first part of the walk was through Edinburgh from the castle down to the port of Leith, and the other part was along the seafront out of the city towards Cockenzie. |
| Pack | Today I carried my 30-litre Karrimor HotRock rucksack, which was filled with my packed lunch, waterproof coat, water bottle and a couple of spare shirts, together with the usual assortment of odds and ends. |
| Condition | I feel fine after this walk, and have no major problems. I am slightly fatigued after the walk, but I could easily (and indeed was expecting) to continue further. My left ankle, which I injured two days before, ached but did not give me any real problems or cause me to have to stop. I have no blisters or hot spots, which I put down to the fact that I was wearing my new trainers. |
| Weather | The day started off crisp and sunny, and it was quite warm for the time of year. It clouded over slightly as the day went on but there were still sunny periods at times. Later on in the walk a black cloud over and I felt a few spots of rain, but this was the only sign of rain that I had. |
| OS map | Landranger number 66 (Edinburgh, Penicuik & North Berwick) |
| | | |
| --- | --- | --- |
| | | |
| P2002A010022 The trig point on Calton Hill. | | P2002A010024 The view from Calton Hill. |
---
Map of the walk
Maps courtesy of Google Maps. Route for indicative purposes only, and may have been plotted after the walk. Please let me
have comments
on what you think of this new format. For a detailed table of timings for this walk, please see
the table file
.
| | | |
| --- | --- | --- |
| | | |
| P2002A010034 The beach at Portobello. | | P2002A010045 The track alongside the lagoons towards Cockenzie power station. |
---
Notes
Well, it has begun. At 09.30 this morning Sam and I arrived at the Esplanade outside Edinburgh Castle full of trepidation for what was to come. We opened a bottle of Mumm champagne and drank them out of some very classy plastic cups (we thought that carrying wine glasses in our backpacks was not a good idea). This was an absolutely marvellous way to start the walk, although it did mean that I was slightly the worse for drink for the first part of the walk, which is not necessarily conducive to walking. It also meant that fairly soon the two of us were in need of relieving ourselves, and so when we got off Calton Hill we went to the first pub we could find to buy a half of coke each and to use their facilities. On the way down from the Castle we also called in at the Scotsmans Lounge in Cockburn Street, which is a pub where Sam used to work and is a few doors up from the backpackers hostel where we met. Putting this into the trip made it seem more complete, and seemed to cement the fact that, just as I was on a walk when I met her, I was on a walk now..
The people around the Esplanade were very generous, and they were soon putting money into our collecting box. I hope that this is a sign of things to come as it would be marvellous if I could raise lots of money for the charity. Although the charitable aspects are not my main reason for doing the walk, I see it is as an excellent opportunity to raise money for them and it gives me a little buzz as well.
Sam walked the first part of the walk with me to give me some company, and I was very glad that she had done so for I was in need of some encouragement as the vastness of what I was setting out to do was battling with my euphoria at actually starting it. When we got to Leith we made a little diversion to the office of Carol, a friend of Sam's who she used to work with in Leith. We had a nice chat before inviting her around for tea at our campsite that night.
On the way to Prestonpans I passed the campsite where we had been staying. I was tempted to finish the walk there, but I decided to walk on instead and phoned Sam up to tell here that she may have to pick me up. A while later I realised that the bus from Seton Sands passes our campsite, so I decided that I could walk as far as the end of the bus route and catch a bus back to stop Sam having to drive out to fetch me. As I was approaching the bus stop Sam drove up behind me - she had been trying my phone but had not been getting through due to a loose battery connection turning it off. As she had not been able to get through tome and she was still expecting to pick me up, she came out looking for me. I decided that I might as well finish the walk early (with only a short distance to go to the bus stop in Seton Sands, which is opposite a holiday park), so I got in the van and Sam drove me back.
One annoying thing happened today - whilst walking along the promenade in Portabello I nipped in to use their toilets (which was another result of the champagne). When I emerged my GPS did not want to start up. I tried new batteries, but I still could not get it working. Eventually I gave up, and I will probably have to get a new unit. I am not devastated about this, as my current unit is quite old and has given sterling service. I was considering getting a new unit prior to this walk, so this has just forced my hand earlier than I had intended.
Fishwerrow Harbour was also quite nice - there has been a harbour there since 1592. In 1839 there were 28 boats based here, but by 1955 the fleet had dwindled down to 20 boats. There was a nice American lady at the information board at the harbour whom I chatted to for a while.
Shortly after passing Fisherrow Harbour I reached ten miles from the start, which I took great pride in realising was only one five hundred and fiftieth of the entire walk. Although it is nice to have reached this figure, it is slightly overwhelming to think that I have so far to go. At about this time I met an old gentleman and two ladies on a bench. I chatted to them for a while and they gave me a donation into my tin, which was very welcome. It turned out that he was the local poet, and he regaled me of three entertaining little ditties he had written about local historical people and events.
I had not really ever thought of Edinburgh having a beach, but when I got to the Portobello Promenade I was surprised to find a quite nice, not overly commercialised beach and seafront. This was very nice, and I enjoyed my first section of seafront walking along it.
The ash lagoons were an interesting area to walk around - the path followed a broad track that made for good going, and nearly the whole area was being converted into a nature reserve. The area used to be covered twice daily by the tide, but a sea wall was built to keep the water out and the area was filled with ash pumped from the nearby Cockenzie power station. The eastern part of the lagoons were still in use, and heavy machinery and large piles of ash were still evident. It is nice to see that such an industrial area could be converted to a nature reserve - which is a good use for fly ash.
All in all this was nice way to start this long trip. I have a decent mileage under my belt (slightly more than the average I am expecting to do on the entire walk), and still feel good. I am slightly behind my itinerary location wise, as I had expected to get to Longnriddy today, but that is only about a mile from where I finished.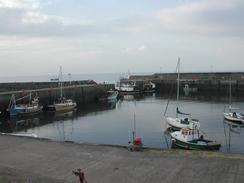 P2002A010054 Port Seton harbour.
---
Directions
This walk starts off at the Esplanade just outside Edinburgh Castle. Leave the Esplanade and head downhill along the Royal Mile for a mile downhill until you reach the roundabout at the end of the Royal Mile outside the Palace of Holyrood. At the roundabout turn left up Abbeyhill and then immediately left again to head up Calton Road. Continue uphill along Calton Road until you get to the Calton Hill steps leading off uphill to the right. Follow these steps uphill until you reach Regent Road.
Turn left down Regent Road and follow it past the Royal High School on the right until you reach St Andrew's House on the left. Here some steps lead up to the right up to the top of Calton Hill.
From the trig point on the top of Calton Hill turn right along a track. After about fifty yards a series of wide steps lead down north-westwards before ending at a church beside Royal Terrace. Turn left down Royal Terrace and follow it to a roundabout.
At the roundabout turn right to walk down the Leith Walk. This road is very wide, and follow it for a little over a mile until it reaches the junction of Great Junction Street on the left and Constitution Street on the right. Follow Constitution Street until it ends at a T-junction with Bernard Street and Baltic Street.
Turn right and follow Baltic Street eastwards through a grey commercial docks area. The road quickly becomes Salamander Street and then Seafield Road before it eventually meets the sea. It rises up to a bridge over a railway line and shortly afterwards a narrow track leads off to the left. Follow this track down to the Portobello Promenade, the first promenade and beach of the walk.
Follow the promenade south-eastwards until it ends at the junction with Musselburgh Road in Joppa beside the Joppa waste water pumping station, which is a nice building with a not so nice purpose. Turn left and follow Musselburgh Road eastwards until you get to Fisherrow Harbour. The harbour is the start of the John Muir Way, a coastal path that runs along the coast through East Lothian. At the harbour turn left down New Street and then Promenade until it ends. Continue on along a path between the sea and Fisherrow Links until the banks of the River Esk are reached. At this point turn right to follow the River Esk upstream until the first bridge over the river is reached.
Cross the bridge and then turn left down Goose Green, heading downstream on the eastern side of the river. When Goose Green ends at a couple of air cadet buildings surrounded by palisade fencing continue straight on to join a wide, well-made track beside the river. Continue on as this track curves around the site of the old ash lagoons (which are now a nature reserve) and the mouth of the River Esk is reached. The track continues to curve around and continues on until some large piles of ash are encountered ahead. These workings are still in use, so turn right and head down a footpath to the B1348 Ravensheugh Road.
At the B1348 turn left and follow it north-eastwards past the entrance to the Prestongrange industrial heritage museum on the right. Shortly beyond this a path leads from a car park on the left and follow the edge of the Firth of Forth eastwards before ending at the High Street in Prestonpans. Continue north-eastwards along the High Street through Prestonpans (or you can walk along the foreshore through the town) until you get near to the Cockenzie power station. Just before the conveyor across the road is reached turn left and walk along a path across a grassy area to a path that passes beside the Firth of Forth to a gate between the power station and the Firth. Go through this gate and continue beside the power station until you reach the large jetty. Here the path turns to the right and crosses a little footbridge before ending once more at the B1348 road.
Turn left down the B1348 and follow it past Cockenzie Harbour. Take the second road to the left after he harbour, which is called High Street, and follow it as it skirts the Firth and reaches Port Seton Harbour. Continue on past this harbour and follow the road as it bends to the right and joins up with the B1348 once more. Turn left along the B1348 and follow it out of Port Seton. Seton Sands is about half a mile to the east of Port Seton along the B1348; there is a nice little promenade beside the road that can be walked along to get there.
---
Distances
| From | To | Distance (m) | Ascent (ft) | Descent (ft) |
| --- | --- | --- | --- | --- |
| Edinburgh Castle | Foot of Leith Walk | 3.0 | 233 | 512 |
| Foot of Leith Walk | Fisherrow Harbour | 4.7 | 131 | 141 |
| Fisherrow Harbour | Seton Sands | 6.3 | 161 | 161 |
This makes a total distance of 14.0 miles, with 525 feet of ascent and 814 feet of descent.


For more information on profiles, ascents and descents, see this page
---
Transport
There are regular bus services on the 26 and 129 routes from the B1348 road at the bottom of the hill from the campsite beside the industrial museum. Some of these busses run to Seton Sands and they all run into the centre of Edinburgh.
---
Accommodation
We stayed in our campervan at the Drummohr campsite, which is just to the east of Levenhall and by the industrial museum. This was an excellent little campsite which cost about 12 pounds a night for the two of us. They can be contacted at 0131 665 6867, or they can be emailed at bookings@drummohr.org, and they have a website at www.drummohr.org.
---
Disclaimer
Please note that I take no responsibility for anything that may happen when following these directions. If you intend to follow this route, then please use the relevant maps and check the route out before you go out. As always when walking, use common sense and you should be fine.
If you find any information on any of these routes that is inaccurate, or you wish to add anything, then please email me.
All images on this site are © of the author. Any reproduction, retransmissions, or republication of all or part of any document found on this site is expressly prohibited, unless the author has explicitly granted its prior written consent to so reproduce, retransmit, or republish the material. All other rights reserved.
Although this site includes links providing convenient direct access to other Internet sites, I do not endorse, approve, certify or make warranties or representations as to the accuracy of the information on these sites.
And finally, enjoy your walking!
---
This walk was mentioned in the following routes:
---
Nearby walks
---