Walk #324: Torquay to Coleton Camp
| | | |
| --- | --- | --- |
| | | |
| P20031120007 Hollicombe Beach. | | P20031120015 Black Rock viewed from Roundham Head. |
General Data
| | |
| --- | --- |
| Date Walked | 12/01/2003 |
| County | Devon |
| Start Location | Torquay |
| End Location | Coleton Camp |
| Start time | 08.45 |
| End time | 15.32 |
| Distance | 15.0 miles |
| Description | This was a fairly strenuous walk with some superb views available along the coast to the south of Brixham. |
| Pack | Today I carried my 30-litre Karrimor HotRock rucksack, which was filled with my packed lunch, waterproof leggings, water bottle and a couple of spare shirts, together with the usual assortment of odds and ends. |
| Condition | I feel absolutely fine after this walk, and have no problems to report. The new boots did not affect my bad ankle too much, and it appears that they are breaking in quite well. |
| Weather | Today was a beautiful, sunny day, with very little cloud in the sky to spoil the views from the cliffs. It was also bitterly cold, particularly early on, and the stiff breeze made it more so in exposed places. Having said that, it was generally not a bad day for a walk, particularly one with such nice views. |
| OS map | Landranger number 202 (Torbay & South Dartmoor, Totnes & Salcombe) |
| | | |
| --- | --- | --- |
| | | |
| P20031120019 Goodrington Sands. | | P20031120031 The path leading to Fishcombe Point. |
| | | |
| --- | --- | --- |
| | | |
| P20031120042 A view over Brixham. | | P20031120051 The cliffs to the west of Durl Head. |
---
Map of the walk
Maps courtesy of Google Maps. Route for indicative purposes only, and may have been plotted after the walk. Please let me
have comments
on what you think of this new format. For a detailed table of timings for this walk, please see
the table file
.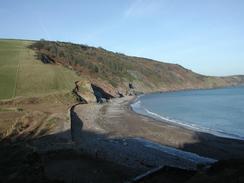 P20031120059 Looking back over Man Sands.
---
Notes
Sam walked with me for the first couple of miles as far as Paignton Station, which was nice as we could have a good chat as we went along. Sam left me to go to the station to catch a train back to Torquay as I continued on, but unfortunately the first train was due in the early afternoon so she decided to walk back to the van. Paignton looked very nice in the early morning sun, and the sea looked glorious, although I must admit that I would not like to have gone swimming in it, unlike one brave soul that I saw swimming near Paignton.
Paignton is the terminus of the Paignton and Dartmouth Steam railway, who run services along the old railway line from Paignton (which is also a National Rail Station) to Kingswear, where there is a ferry across to Dartmouth on the other side of the river. I rode on this line many years ago, and it was a lovely journey with some great views available over beaches such as Goodrington Sands. This route followed the line for quite some distance, although unfortunately no trains were running on it today, as it was the winter season.
Brixham was absolutely lovely, and I sat down on a bench by the statue of William of Orange so that I could eat my sandwiches. Nearby was a replica of Francis Drake's ship, the Golden Hind, which is the second replica of the ship that I have seen on the journey so far - the first was on the South Bank of the Thames in London. The town was very busy, and the marina was filled with boats of all shapes and sizes. I quite liked the town, particularly the way the houses are built up the hillsides, and I wish that I could have spent more time there. For nearly three hundred years until 1900 Brixham was the largest fishing port in England, supplying fish to London, but this trade has now mostly died out.
Navigation today was easy, particularly when using the excellent 1 to 25,000 maps in the Ordnance Survey guidebooks. One annoying thing is that in Paignton and Brixham there were no fingerposts indicating the way, and instead they use little circular metal South West Coast Path symbols on the ground. These are only a couple of inches in diameter and are quite hard to see when you need them and are always spotted when you do not. Fingerposts are much more obvious, although that could well be why they are not being used in the middle of a busy tourist town. The studs, however, seemed pointless to me - they may as well not have bothered, although I daresay others may well differ about their usefulness.
I was quite amazed by the large amounts of litter that were on the beaches at Elberry Cove and Churston Coves. They were absolutely covered in large amounts of mainly plastic debris, including large drums. Apparently the prevailing winds have been driving debris onto the beaches for the last ten days, which is a shame as the visually intrusive debris spoilt the views. It is hard to know what can be done about this - whilst some of the debris as obviously come from the land, some of the other debris has obviously been thrown overboard off ships and has been swept onto the beaches from far out to sea. I have heard that in some laces occasional volunteer beach cleaning groups are convened to clean beaches - I do hope they do that for these beaches soon as they were really a mess today.
I had intended to try to walk as far as Kingswear, but at nineteen miles of sometimes strenuous walking I realised that this might be too much to do today. By the time I reached Brixham it was obvious that this was correct, so I arranged to meet Sam at the car park at Coleton Camp. This involved a long walk inland, but it was probably the nearest place to meet her to the coastal path. Tomorrow I shall have to walk back to the coastal path before commencing the walk to Kingswear and then on to Totnes along the River Dart, which will unfortunately involve some road walking along main roads. Just before I reached the car park I met a couple of ladies who had met Sam and told me that she was worried about where I was, so I decided to try and get a move on to reach her quickly.
---
Directions
During this walk I followed the South West Coast Path, the route of which is detailed in the Ordnance Survey National Trail Guide 10, Falmouth to Exmouth (ISBN 1-854108-90-5). Unfortunately the route description is written in reverse to the direction that I am walking, but the 1:25,000 maps in the book are clear and the signs on the ground are very good. Also to be recommended is the South West Coast Path Association guidebook (ISBN 0-907055-04-4), which has less concise directions and no maps, but includes accommodation details and grades each section of the walk according to difficulty. They also publish reverse directions, which are suitable for walking in the direction that I walked the route. They have a website at www.swcp.org.uk, which is well worth a visit.

National Trail Guide: Falmouth to Exmouth

SWCP Association guide 2004
---
Distances
| From | To | Distance (m) | Ascent (ft) | Descent (ft) |
| --- | --- | --- | --- | --- |
| Torquay | Brixham | 7.7 | 1109 | 1106 |
| Brixham | Coleton Camp | 7.3 | 2310 | 1811 |
This makes a total distance of 15.0 miles, with 3419 feet of ascent and 2917 feet of descent.


For more information on profiles, ascents and descents, see this page
---
Accommodation
We decided that we could not stay in the car park where we ended this walk, so we drove into Kingswear to find somewhere to park on the road for the night. Unfortunately as I feared there was very little parking to be had in the town, so we decided to drive into Brixham and park there.
---
Disclaimer
Please note that I take no responsibility for anything that may happen when following these directions. If you intend to follow this route, then please use the relevant maps and check the route out before you go out. As always when walking, use common sense and you should be fine.
If you find any information on any of these routes that is inaccurate, or you wish to add anything, then please email me.
All images on this site are © of the author. Any reproduction, retransmissions, or republication of all or part of any document found on this site is expressly prohibited, unless the author has explicitly granted its prior written consent to so reproduce, retransmit, or republish the material. All other rights reserved.
Although this site includes links providing convenient direct access to other Internet sites, I do not endorse, approve, certify or make warranties or representations as to the accuracy of the information on these sites.
And finally, enjoy your walking!
---
This walk was mentioned in the following routes:
---
Nearby walks
---