Walk #409: Trearddu to Llanfachaeth
| | | |
| --- | --- | --- |
| | | |
| P20034091260 Porth-y-post. | | P20034091264 Cliffs near Penrhyn Mawr. |
General Data
| | |
| --- | --- |
| Date Walked | 09/04/2003 |
| County | Anglesey |
| Start Location | Trearddur |
| End Location | Llanfachraeth |
| Start time | 09.20 |
| End time | 18.35 |
| Distance | 19.0 miles |
| Description | This was a lovely walk, with some stunning scenery in the area around South Stack, North Stack and Holyhead Mountain. |
| Pack | Today I carried my 30-litre Karrimor HotRock rucksack, which was filled with my packed lunch, waterproof leggings, water bottle and a couple of spare shirts, together with the usual assortment of odds and ends. |
| Condition | I had a little more trouble with my right ankle today, which was aching for most of the day as a result of wearing my boots. I had no more trouble with my left knee today, despite the fact that I had some rough terrain to cope with around Holyhead Mountain. |
| Weather | This was yet another good day, although it started off bitterly cold. The sun soon warmed it up, however, and the wind had died down from yesterday. At times clouds obscured the sun, but there was no sign of any wind. |
| OS map | Landranger number 114 (Anglesey) |
| | | |
| --- | --- | --- |
| | | |
| P20034091267 The view north towards Holyhead Mountain. | | P20034091272 South Stack lighthouse. |
| | | |
| --- | --- | --- |
| | | |
| P20034091285 North Stack. | | P20034091303 The view out to sea from near Penrhos. |
---
Map of the walk
Maps courtesy of Google Maps. Route for indicative purposes only, and may have been plotted after the walk. Please let me
have comments
on what you think of this new format. For a detailed table of timings for this walk, please see
the table file
.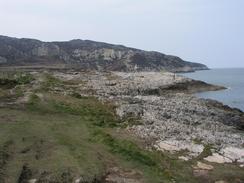 P20034091290 Looking westwards towards North Stack.
---
Notes
This was quite a varied, strange and unusual day, with events away from the walk dominating events on the walk in my mind. Nonetheless it was very enjoyable, and I shall remember it for some time.
There was some really stupendous scenery today, and I revelled in it as I walked. The scenery and cliffs leading up to the lighthouse at South Stack are spectacular, and the paths over the 720-foot high Holyhead Mountain gave some lovely views. The lighthouse at South Stack is an interesting structure, and although it is 200 feet high the cliffs that it stands next to dwarf it. The lighthouse is connected to Holy Island by a little suspension bridge, and 403 steps lead down to this from the cliffs above. Guided tours can be made around the lighthouse, and although it was tempting I decided that I did not have the time to do this, a strange decision given how much time I wasted later. The cliffs between South Stack and north Stack are very high and apparently a Mecca for climbers, and I saw several climbing around Holyhead Mountain. There were many paths leading all around Holyhead Mountain, and I took what was probably quite a circuitous route around and down to North Stack, from where I got a great view of a ferry going around Holyhead's 1.87 mile long breakwater, which is the longest in Britain and was completed in 1873 after 28 years of construction and £1.25 million pounds spent - a fortune for the time.
Sam visited a Riding for the Disabled Association group in the south of Anglesey this morning, and it sounds like she enjoyed herself tremendously. We have been invited to go carriage driving tomorrow, and as I have never done this before I am going to take them up on this kind offer.
By the time that I reached Holyhead I had walked about twelve miles, and I was in need of a little rest so I nipped into the Kings Arms Hotel. This was the first pub that I came to, and I staggered in to have a quick drink and a rest. Inside the pub section of the hotel it was quite nice and I had a look around at the photographs on the walls - the owner is a commercial diver, and the photographs had a definite nautical theme. They had a television on in the bar playing CNN, and I could see pictures of US troops in the centre of Baghdad. As I chatted to the barmaid I continued watching, and I could see Iraqi civilians greeting the troops and flocking around a statue of Saddam. The owner of the hotel came in and when he heard of what I was doing he offered me another drink and a steak - I refused at first, but when he insisted I agreed as I was quite rapt in what was going on in Baghdad. The steak was lovely and I enjoyed it, so I would like to thank the Kings Arms Hotel in Holyhead, telephone (01407) 762528 and email 1120efc@aol.com, as they were extremely kind. As I ate I became even more engrossed with what was going on in Baghdad, and after I finished eating the Iraqis were putting a rope around the statue's neck, ready to pull it down. I decided to wait until the statue came down, as I could not help but feel that I was witnessing an important moment in history. It took an age before the statue finally came down, and Sam had joined me in the pun by the end. All this made me quite emotional as the statue fell, and I can only hope that it means that the war is over as quickly as possible. By the time that I left the bar I had been inside for nearly three hours, and had drunk three and a half pints, so I was fairly well lubricated when I left. I think that this was the longest lunch break that I have had on the trip so far, but I do not regret it, as I shall remember the events for a long time.
Tomorrow I shall have to set off quite early so that I can get a good distance complete before Sam picks me up so we can drive to go carriage driving. After this I shall walk some more, to make the best of what should be a good day. If I get a good distance done then I may be able to get my total distance walked to over 3,200 miles, which will be a good feeling.
---
Directions
This walk mostly follows the Anglesey Coastal Path, a new path being created around the island. There are some laminated map sheets available from local Tourist Information offices, and there will also be a guidebook released in a few months time. There are gaps in the path that remain to be filled, and new permissive sections of footpath have been created. I found the signage on these new stretches to be inadequate or even inaccurate; then again, it is very much work in progress. I found it best to use the new route as a guide and create my own route based on it, in time this situation should improve.
It starts off on the promenade in Trearddur. Follow the Anglesey Coastal Path as it heads along the road westwards out of the village, taking a couple of little looping diversions around before meeting the road once more. At Porth Dafarch it leaves the road and follows a footpath around the top of the cliffs before heading inland to meet a car park at grid reference SH216804.
Follow the road that leaves this car park northeastwards for a few hundred yards until it ends at a T-junction with a road. Turn left along this road and follow it as it curves to head northwards for about a kilometre, before taking another road that leads off to the left. This road heads uphill for a mile, eventually reaching the car park for the South Stack lighthouse.
Continue past the car park until it ends at the gate leading down to the lighthouse. At the gate take a footpath that leads off to the right, climbing up to the northeast and passing some aerials before the path splits many ways. I used my judgement to find a path that led past Holyhead Mountain before descending down to the buildings at North Stack; the area is extensively used by climbers so there are many tracks in the area and care is sometimes needs.
From North Stack I followed a footpath that climbed uphill away from a track, which it eventually joined. Follow this track as it heads eastwards until it reaches a memorial to a bomber that crashed here in 1944. Just after this memorial turn left along a footpath that follows the coast around towards the breakwater of Holyhead Harbour.
When the breakwater is reached at Soldiers' Point head inland along a dirt track until you meet a road, and then follow this road eastwards into the town. The road becomes the promenade as it passes the harbour, and soon after it passes the coastguard station it turns sharply to the right and becomes the A5 road. Follow the A5 south until the station is reached.
Immediately past the station turn left to climb over the railway tracks on a bridge, and on the other side turn left along a road that leads to a roundabout. At the roundabout take a road that heads northeastwards before ending at a car park by the sea. Turn right and follow a footpath that heads eastwards along the coast, passing Ynys Peibio before diverting around a little bay.
The path then passes through the land of the Holyhead Aluminium Works; the path is well marked until it ends at the western end of the Stanley Embankment. Cross the embankment and continue along the A5 on the other side into the village of Valley. Take the first road that leads to the left northwards through the village before turning to the right and heading eastwards for a couple of kilometre until it ends at a T-junction with the A5025 road. At the A5025 turn left and head north for a mile along the road until it approaches the village of Llanfachraeth, where this walk ends.
---
Distances
| From | To | Distance (m) | Ascent (ft) | Descent (ft) |
| --- | --- | --- | --- | --- |
| Trearddur | South Stack | 6.9 | 1030 | 830 |
| South Stack | Holyhead Station | 5.2 | 991 | 1181 |
| Holyhead Station | Llanfachaeth | 6.9 | 285 | 289 |
This makes a total distance of 19.0 miles, with 2306 feet of ascent and 2300 feet of descent.


For more information on profiles, ascents and descents, see this page
---
Accommodation
We parked in a lay-by immediately to the south of Llanfachaeth village, and as we did not need to use any facilities this was ideal.
---
Disclaimer
Please note that I take no responsibility for anything that may happen when following these directions. If you intend to follow this route, then please use the relevant maps and check the route out before you go out. As always when walking, use common sense and you should be fine.
If you find any information on any of these routes that is inaccurate, or you wish to add anything, then please email me.
All images on this site are © of the author. Any reproduction, retransmissions, or republication of all or part of any document found on this site is expressly prohibited, unless the author has explicitly granted its prior written consent to so reproduce, retransmit, or republish the material. All other rights reserved.
Although this site includes links providing convenient direct access to other Internet sites, I do not endorse, approve, certify or make warranties or representations as to the accuracy of the information on these sites.
And finally, enjoy your walking!
---
This walk was mentioned in the following routes:
---
Nearby walks
---