Walk #493: Clounlaid to Bunavullin
| | | |
| --- | --- | --- |
| | | |
| P20037085035 A bridge over the Abhainn Ghlinne Ghil at Alltachonaich. | | P20037085039 An old road bridge over the River Aline. |
General Data
| | |
| --- | --- |
| Date Walked | 08/07/2003 |
| County | Highlands |
| Start Location | Clounlaid |
| End Location | Bunavullin |
| Start time | 10.32 |
| End time | 17.50 |
| Distance | 20.1 miles |
| Description | This was a long walk, mostly along roads but also including some tracks. |
| Pack | Today I carried my 30-litre Karrimor HotRock rucksack, which was filled with my packed lunch, waterproof leggings, water bottle and a couple of spare shirts, together with the usual assortment of odds and ends. |
| Condition | I feel better after today's walk than I have done for some time, and I could easily have walked further if I needed to. My calves gave me no trouble today, and my neck and shoulder only ache on rare occasions, which was a welcome relief. |
| Weather | Today started of overcast, with occasional drizzle and rain showers. Fortunately these were never heavy, and in the afternoon it cleared up, altough the sun never really made an appearance. |
| OS map | Landranger number 49 (Oban & East Mull) and Landranger number 47 (Tobermory & North Mull) |
| | | |
| --- | --- | --- |
| | | |
| P20037085049 Loch Aline. | | P20037085053 The Silica mine. |
| | | |
| --- | --- | --- |
| | | |
| P20037085063 The mouth of Loch Aline, with Mull on the right. | | P20037085071 Cottages at Fiunary. |
---
Map of the walk
Maps courtesy of Google Maps. Route for indicative purposes only, and may have been plotted after the walk. Please let me
have comments
on what you think of this new format. For a detailed table of timings for this walk, please see
the table file
.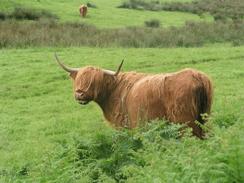 P20037085077 A Higland Cow beside the B849.
---
Notes
I woke up with a massive hangover this morning, and I did my best to roll over and go back to sleep. This failed totally, and so I got up and joined Sam, who was sitting bleary-eyed downstairs. A couple of coffees helped to wake me up, along with one of Sam's lovely breakfast, and I was soon ready to face yet another day of road walking, although my headache was still very much with me.
We had to use my GPS to find out exactly where I had finished yesterday's walk, as it was in a passing place on the long road. The GPS showed us exactly which place it was, but we drove on for another couple of hundred yards so that there was some overlap. The initial stretch of the walk was quite boring and the views were hardly expansive in the grey weather, so I turned off at the first possible opportunity at Ardtornish. I passed the lovely imposing castle, before joining a nice track that ran down the western bank of Loch Aline. This track was exceedingly pleasant, and I stopped occasionally so that I could have a look at the views over the loch. It was therefore a little shock when I suddenly emerged into the grounds of the sand mine. The sand is ninety-nine percent silica, and is used to create optical glass, and Guinness bottles. I was amazed by how white the sand was - it looked more like snow than sand, and I could not resist stooping down to run my hands through it and feel the texture. I find it quite weird that sand is mined; I have walked past so many thousands of tons of the stuff on this trip, but I suppose that this silica-rich sand must be quite rare. At the mine I met a man who had been in the pub last night, and we had a quick chat about the work that they do at the mine before I continued walking the short distance to the ferry terminal in Lochaline.
I met Sam for lunch by the hotel at Lochaline. Sam made me some absolutely lovely salad sandwiches, which I wolfed down as we watched the ferry plough to and from between Lochaline and Mull. I was enjoying Sam's company, and I was not very keen to continue on with the walk. We chatted to some holidaymakers outside the pub for a while, before, I was forced to go back into Mervan to put my pack on and set off. The next stretch of the walk was pretty enough, but I still found the long plod along the road more than a little boring. To while away the time, I phoned up a fee friends and chatted to them - something that I do not do to often due to cost, but is a good way of making the miles go quicker.
Lochaline means 'the loch of the ford of the pool', although quite where the ford was I do not know! The little village has quite a rich and varied history, and is well noted as being he place where many of the inhabitants of the remote island of St Kilda came to when the island was evacuated in 1930. The area was also severely affected by the Highland Clearances, including villages such as Inniemore, near Loch Arienas, which was cleared in 1824 to make way for sheep farming. The Forestry Commission is now preserving the ruins so that visitors can study the old village, although sadly I did not have time to visit it. The effect of the clearances and the Potato Famine, which also effected this area, were severe, and led to mass emigration to new world, and the population of the area halved in just a few years.
The small communities in this part of Scotland are extremely friendly. Sam had been looking for somewhere to park for the night, and a man allowed us to park in the driveway of the house that he is building. Whilst she waited for me Sam chatted to many of the locals, and as I walked along the road people knew who I was and what I was doing, and I ended up chatting to many of them. Later on this evening there was a knock on the door, and a man dropped of a frozen loaf for us - Sam had mentioned that we were short of bread, and the local grapevine produced one for us - an extremely kind act.
I am quite looking forward to tomorrow's walk, as there will be hardly any road walking involved. Instead I shall be walking along a combination of forestry tracks, paths and a short section of unpathed forest that I will have to negotiate. This is all going to be wild walking, and it should be fun as long as it remains dry. It is going to be a long walk to get to the next stretch of road, at Liddesdale, where Sam can pick me up, and so I am intending to have an early start.
---
Directions
This walk starts off on the A884 road about half a mile to the south of Clounlaid, at grid reference NM748514. Head south along the road and follow it as it turns to head westwards for a couple of miles along Gleann Gal, before it turns to the left to head southwestwards. It crosses over the River Aline, and about a mile further on a road leads off to the left. Turn down this road and follow it downhill until a sharp right-hand bend is reached by a house. At the bend a track leads off to the right; follow this track as it heads along the western bank of Loch Aline for a couple of miles. It eventually emerges out into the Lochaline sand mine, and here a footpath leads off to the left of the track (keep to the path, which is separated from the track or safety). The path ends at the road by the ferry terminal in Lochaline, and join the road and follow it southwestwards to the Lochaline Hotel, near the west pier.
Leave the hotel and turn right up a minor road that heads above the hotel and goes through the village until it ends at the A884 road. Turn left up this road for a couple of hundred yards and then turn left to head westwards along the B849 road. Continue along this road for over ten miles as it skirts the shore of the Sound of Mull. When it enters the little hamlet of Bunavullin follow the road along until it reaches the jetty at Port nam Freumh, where this walk ends.
---
Distances
| From | To | Distance (m) | Ascent (ft) | Descent (ft) |
| --- | --- | --- | --- | --- |
| Clounlaid | Lochaline | 8.7 | 853 | 1283 |
| Lochaline | Bunavullin | 11.4 | 1473 | 1457 |
This makes a total distance of 20.1 miles, with 2326 feet of ascent and 2740 feet of descent.


For more information on profiles, ascents and descents, see this page
---
Accommodation
A nice gentleman called Richard was kind enough to allow us to park in the driveway of the house that he is building near the pier in Bunavullin. This was a lovely place to spend the night, with some great views over towards Mull.
---
Disclaimer
Please note that I take no responsibility for anything that may happen when following these directions. If you intend to follow this route, then please use the relevant maps and check the route out before you go out. As always when walking, use common sense and you should be fine.
If you find any information on any of these routes that is inaccurate, or you wish to add anything, then please email me.
All images on this site are © of the author. Any reproduction, retransmissions, or republication of all or part of any document found on this site is expressly prohibited, unless the author has explicitly granted its prior written consent to so reproduce, retransmit, or republish the material. All other rights reserved.
Although this site includes links providing convenient direct access to other Internet sites, I do not endorse, approve, certify or make warranties or representations as to the accuracy of the information on these sites.
And finally, enjoy your walking!
---
This walk was mentioned in the following routes:
---
Nearby walks
---