Walk #509: Applecross to Ardheslaig
| | | |
| --- | --- | --- |
| | | |
| P20037255823 Applecross Bay. | | P20037255825 The River Applecross. |
General Data
| | |
| --- | --- |
| Date Walked | 25/07/2003 |
| County | Highlands |
| Start Location | Applecross |
| End Location | Ardheslaig |
| Start time | 09.30 |
| End time | 16.03 |
| Distance | 20.2 miles |
| Description | This was quite an enjoyable little plod along a quiet road, with some superb views over the Isles of Raasay and Rona, and later on Loch Torridon. |
| Pack | Today I carried my 30-litre Karrimor HotRock rucksack, which was filled with my packed lunch, waterproof leggings, water bottle and a couple of spare shirts, together with the usual assortment of odds and ends. |
| Condition | I feel absolutely fine after this walk, and I could easily have walked further if I had needed to. The biggest problem that I have is with the many midge bites that I picked up this afternoon, which were more than a little annoying. |
| Weather | This was a day of sunshine and showers; for much of the day there were glimpses of the sun, but there were also some signs of rain. During the morning there was only one light shower, but in the afternoon there was prolonged drizzle for a few hours, but in the evening this was replaced by bright sunshine. |
| OS map | Landranger number 24 (Raasay & Applecross, Loch Torridon & Plockton) |
| | | |
| --- | --- | --- |
| | | |
| P20037255830 The view out towards the Isle of Raasay. | | P20037255833 Looking north as the road winds its way over the morland. |
| | | |
| --- | --- | --- |
| | | |
| P20037255837 The view out towards the Isle of Raasay. | | P20037255838 Callakille. |
---
Map of the walk
Maps courtesy of Google Maps. Route for indicative purposes only, and may have been plotted after the walk. Please let me
have comments
on what you think of this new format. For a detailed table of timings for this walk, please see
the table file
.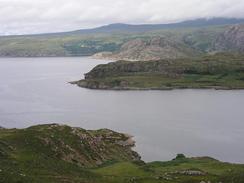 P20037255852 Loch Torridon.
---
Notes
I woke up a bit bleary again this morning after my slight overindulgence in Belaven Beer in the Applecross Inn last night. One look at Sam convinced me that I had done the right thing in leaving early - she looked quite rough, and had fallen down a muddy slope trying to take the shortcut up the hillside in the dark and rain. I had three cups of coffee before I fully woke up, and in the meantime I did a little work on the website, mainly preparing a CD for update.
As it had rained overnight I expected it to rain again, especially as the clo7uds overhead were grey and menacing. For this reason I set off with my coat on, and this proved to be a mistake - it was a warm day, and apart from one short drizzle shower it remained dry until lunchtime. I soon overheated, but I was loathe to take my coat off, especially as I would have to take all of my kit out of the pockets and redistribute it in the pack, and so I left my coat on until lunchtime. I was tying to make a good pace, and I averaged about three and a half miles an hour for the entire day - not a bad pace for me. Despite this I found myself sad to be leaving Applecross, as I had really enjoyed myself last night and the people were extremely friendly. It is true that people make a place, and when it has lovely scenery as well then it could hardly be bettered.
The views from the road out west towards the Isle of Raasay and the Island of Rona were superb, and the mountains of Skye were clearly visible behind them. The views made the walk well worth doing, and when I approached a trig point on a little hillock by the road to the southwest of Cuaig I climbed it so that I could admire the views from a higher viewpoint, from where the islands and the Applecross mountains were laid out in all their glory. The road that I followed was opened in 1976, and in places I could see the old postman's route, a narrow track, now covered in heather, that used to be the only route into town if the high road over the Pas of the Cattle was shut. A local in Applecross told me that if the high road was shut the doctor had to ride a motorbike over the old route to get to Applecross - a massive diversion.
A short distance later I turned a corner and I got the first sight of the magnificent Torridon Mountains, which I shall be passing tomorrow. The views of them were not the best as their tops were wreathed in cloud, but nonetheless they made for a stunning sight - the sandstone having been eroded to make mountains consisting of a series of steps. If the weather is nice it would be extremely tempting to climb one of them - perhaps Liathach - the day after tomorrow, but this would be a big diversion away from my core ain, which is to finish the CoastWalk.
I met Sam for lunch in a lay-by on the road near Reaulay, and I used the opportunity to take my coat off and reorganise my kit as I ate. It was not the best place to park, and so I was keen to get off once again and restart walking. We arranged where I was going to finish the walk today, and I set off. Within twenty minutes it started to rain - a light, persistent drizzle that was being blown by the wind. I found that the rain was not too bad, however, and I preferred to get wet rather than overheat in my coat. I still had my waterproof trousers on, and so it was only my top that was getting wet. As I was walking in the rain I was listening to Radio 2, and the Electronic song 'Getting away with it' came on, which begins with the line 'I was walking in the rain, just to get wet on purpose', which rather matched what I was doing.
Later on I suddenly walked into a swarm of midges, and they instantly started attacking me in droves. I got midges in my eyes in my ears and nose; I started to jog to try and lose them and did a variation of the Highland midge dance - my arms waving in the air trying to whack the wee beasties away, a rather futile endeavour. I ended up getting many bites on my arms, and a resolution always to carry repellent with me whatever the weather. As usual these bits were not too bad when I first got them, but a few hours later I started to come up in the standard little red swellings that I always seem to get after being attacked by these beasties. In particular my left forearm was quite badly bitten, and one of them even managed to bite me under my watch!
I was glad to meet Sam just beyond the little village of Ardheslaig, if only because it meant that I could escape from the midges and put some ointment onto the bites. Although today was a long road plod, it was well worth it if only for the views, and the last stretch was no exception, with Loch Torridon looking beautiful in the sunshine, and I am looking forward to the walk around the loch.
This campsite is very unusual - the local church runs it and there is a donations box to put money in. This is left to the campers to do, and it is nice to see that people can still rely on good faith. The views from the site down Loch Torridon are superb, and I can easily see why the site was full of motorhomes this evening. Unfortunately I could not see the Torridon Mountains as the 125-metre Doire-chlaigonn was in the way, but that was a small loss.
---
Directions
This walk starts off at the campsite in the village of Applecross. Leave the campsite and head down the road into the village proper. When the road ends at a T-junction beside the post office turn to the right and follow the road as it heads around Applecross Bay. The rest of this walk is simply a case of following the road as it heads northwards towards Fearnmore, and then southeastwards through Fearnbeg and Kenmore. This walk ends a few hundred yards beyond the road junction that leads down to Ardleshaig.
---
Distances
| From | To | Distance (m) | Ascent (ft) | Descent (ft) |
| --- | --- | --- | --- | --- |
| Applecross campsite | Fearnmore | 13.2 | 1486 | 1424 |
| Fearnmore | Adheslaig | 7.0 | 1175 | 1250 |
This makes a total distance of 20.2 miles, with 2661 feet of ascent and 2674 feet of descent.


For more information on profiles, ascents and descents, see this page
---
Accommodation
There was nowhere suitable to park for the night around Ardheslaig, so we drove to Sheldaig for the night. In the village there is a campsite that is run by the church, and you leave a voluntary contribution in a box. Nearby there is a toilet, and there is a hotel / pub a short distance away in the village.
---
Disclaimer
Please note that I take no responsibility for anything that may happen when following these directions. If you intend to follow this route, then please use the relevant maps and check the route out before you go out. As always when walking, use common sense and you should be fine.
If you find any information on any of these routes that is inaccurate, or you wish to add anything, then please email me.
All images on this site are © of the author. Any reproduction, retransmissions, or republication of all or part of any document found on this site is expressly prohibited, unless the author has explicitly granted its prior written consent to so reproduce, retransmit, or republish the material. All other rights reserved.
Although this site includes links providing convenient direct access to other Internet sites, I do not endorse, approve, certify or make warranties or representations as to the accuracy of the information on these sites.
And finally, enjoy your walking!
---
This walk was mentioned in the following routes:
---
Nearby walks
---