Walk #788: Romsey to Salisbury
| | | |
| --- | --- | --- |
| | | |
| P2007A089353 A stream in Tadburn Meadows Nature Reserve. | | P2007A089361 Romsey. |
General Data
| | |
| --- | --- |
| Date Walked | 08/10/2007 |
| County | Hampshire, Wiltshire |
| Start Location | Home in Romsey |
| End Location | Salisbury station |
| Start time | 08.30 |
| End time | 17.03 |
| Distance | 23.1 miles |
| Description | This was a long walk westwards to Salisbury, following parts of the Test Valley Way and Clarendon Way. |
| Pack | Today I carried my 30-litre Karrimor rucksack, filled with waterproofs, a book and other odds and ends. |
| Condition | I am tired yet feel otherwise fine after this walk. |
| Weather | Today was mainly overcast, with only a few brief preiods of sunshine. Occasionally dark clouds came over that looked as though they could give rain, but fortunately there was not any. |
| OS map | Landranger number 185 (Winchester & Basingstoke, Andover & Romsey) and Landranger number 184 (Salisbury & The Plain, Amesbury) |
| | | |
| --- | --- | --- |
| | | |
| P2007A089364 The River Test from the A27 bridge. | | P2007A089367 Saddler's Mill. |
| | | |
| --- | --- | --- |
| | | |
| P2007A089370 A footbridge over a stream on the Test floodplain. | | P2007A089377 The path through Squabb Wood. |
---
Map of the walk
Maps courtesy of Google Maps. Route for indicative purposes only, and may have been plotted after the walk. Please let me
have comments
on what you think of this new format. For a detailed table of timings for this walk, please see
the table file
.
| | | |
| --- | --- | --- |
| | | |
| P2007A089379 A curiously-deformed tree in Squabb Wood. | | P2007A089381 Heading through a field of corn on the way to Hilberry Farm. |
| | | |
| --- | --- | --- |
| | | |
| P2007A089391 Following the Test Way towards Kimbridge. | | P2007A089395 A conveyor belt on the railway bridge. |
---
Notes
I'd only managed to do one walk in the couple of weeks since we completed the move to Romsey, a situation that I wanted to rectify. My time had been taken up by moving and lots of trips to Cambridge, unpacking, assembling furniture, and dealing with all the minutiae of life, so it was nice to finally be able to get out and explore the area some more. I chose to head northwest from my home, doing a long walk that headed into an area that I hardly knew.
The path down into Romsey headed alongside a stream in an area of rather dishevelled parklanf, and proved easy to follow. In the Tadburn area I think I saw what could be a Kingfisher near the water, little more than a flash of blue amongst the branches. I headed towards the station in Romsey, which may be a more natural place for people to start this walk, then nipped down to buy some food from Reeve's Bakers shop in the centre of the town.
Middlebridge Street in Romsey is a pleasant place, with some pretty streets. My planned route followed the Test Way from Romsey towards Mottisfont, and this proved to be the first scenic part of the day. Initially the trail headed up towards Saddler's Mill, with the river on the right. Swans were floating in the river, and it was a pleasant spot even though the noise from the nearby A27 intruded. The mill itself appears to have been recently restored. A short stretch of footpath follows, passing a fairly dilapidated farm; the river is away, unseen to the right.
After this, the path passed through Squabb Wood; a beautiful and very pleasant walk, although slightly muddy in places. The path rose and fell as it headed through the woods; in one place there was a tree that had fallen over, the branches having twisted to grow upwards. This type of broadleaved woodland is so much more enjoyable to walk through than the common, sterile coniferous forests. The moment I emerged from the trees the sun start to beat down, so I took my fleece off to stop myself overheating. After this I saw an unusual green and yellow bird, perhaps some type of parrot, but it's call was nothing like a parrot. It was one of those situations where I did not want to get my camera out, just in case I spooked it. In the end we stared at each other for a minute, before it shuffled on its perch and flew away.
After Squabb Wood the path crossed a road and then headed across a field with head-high vegetation; halfway through the next field, thankfully easier to walk through, it turned to the right to head northeastwards towards the B3084. More paths took me onwards along a pleasant if non-spectacular stretch of countryside. Near Kimbridge the path crosses the Romsey to Salisbury railway line; part of the bridge now carries a conveyor belt that was transporting sand from a nearby quarry, an unusual and unexpected sight. A little further on the path crosses the pretty little River Dun, and then a long track took me north to Mottisfont.
I nipped into the church to have a quick look around; it is small but pretty, and is un derstandably grade-1 listed. Fortunately it was open, and I went in to have a look around. The roof is barrel-vaulted, and on the wall there was a 17th-Century clock movement, allowing you to see the mechanism. It was well worth the diversion to have a look. Mottisfont is also home to the Mottisfont Abbey, now owned by the National Trust, which has a famous rose garden.
At Mottisfont I left the Test Way behind, and started off on a westerly walk. Initially this followed a road, but this soon ended and I was forced to take footpath through some patchy woodland before ending at another road to the north of Lockerley Water Farm. I followed this road north, tahnkful of having some firm tarmac under my feet, to reach a pub near Lockerley Hall Park. Unfortunately I had called in on the one lunchtime of the week when it was closed, so I was forced to walk on. A bridleway too me northwestwards from nearly opposite the pub, skirting the northern edges of Holbury Wood and Upper Frenchmoor Copse. The track felt like it was failry ancient, and it had been badly churned up by vehicles, with some large expanses of puddles.
Some roads and footpaths took me across Tytherley Common, and then a footpath headed westwards through Bentley Wood. This was an enjoyable stroll, and the cycle routes through the woodland shows that it is fairly popular. By the time I reached Farley I was feeling fairly tired, and I stopped off on a bench near the church to eat my sandwiches. Opposite were some pretty Almshouses, and I got up to read the plaques on the exterior. The church itself is pretty, and its brickwork were smart enough to make it look much newer than it must be.
Eventually I had to set off once again, and a series of footpaths took me on westwards. It soon entered an area of woodland, leaving it to join the Clarendon Way just before the ruins of Clarendon Palace were reached. This was a royal residence used by Henry II and III, before falling into disuse. There are not many remains left, and signs forbid me from entering the field to get a better view. This was a shame, and I headed off westwards. Initially I took the wrong route, before scrambling down the hill to join a track. The Clarendon Way was easy to follow as it headed westwards towards the outskirts of Salisbury.
I was quite tired by the time I reached the city, but aside from this I did not feel too bad. For this reason I diverted off the Clarendon Way to visit the cathedral, which I never tire of seeing. It is one of the classic cathedrals in Britain, and just looks right (tm). I love it. I took a few photographs, and then headed off towards the railway station. As I waited for the train, I could look back on a lovely and memorable day's stroll.
| | | |
| --- | --- | --- |
| | | |
| P2007A089398 The River Dun. | | P2007A089407 Mottisfont church. |
| | | |
| --- | --- | --- |
| | | |
| P2007A089408 The clock in Mottisfont church. | | P2007A089421 The path heading northwest past Holbury Wood. |
---
Directions
This walk starts off at my new home on Saxon Way in Halterworth in Romsey. The first stage of this walk is a mile to Romsey station, which is an alternative start point. The route I took was to walk down Halterworth Close, and when this bends to the left go past a house and turn left to join a footpath. Follow this behind houses, and then turn right to descend to a bridge over the Tadburn Stream. On the other side of the bridge turn left to walk westwards along a track with the stream on the left. This runs through the Tadburn Meadows Nature Reserve; when this ends at a road walk alongside the stream, initially with it on the left. A couple of roads are crossed before the path crosses over so that the stream is on the right, It ends at Botley Road.
Cross Botley road and continue on along a path with the stream on the right. The path squeezes under a railway bridge and ends at a road. Turn right to cross a road bridge over a stream, and then head straight on along a path that squeezes behind houses before ending at the A3090 Winchester Road. Cross the road and turn left, and at a road junction on the left turn right along a path that squeezes to the left of a theatre. It joins a stream on the right; just before a railway bridge is reached turn left along a footpath that heads westwards, joining a minor road. A few yards along this there are some steps leading up; climb these and turn right to reach Romsey railway station.
Now the walk proper begins. Leave the station and head down the station approach to the A3057. Cross this, and head straight on down Station Road. This curves to the left and becomes Latimer Street before it ends at The Hundred. Turn left for a few yards and then right, to head along a narrow alleyway between buildings that ends at a road. Turn right past the bus station to a stream, and then turn left with the stream on the right towards a co-op. Keep the stream on the right as a path heads down some steps and ends at a road. Turn left down this road and then right to start walking down Middlebridge Street southwestwards. This ends at the A27 near a bridge; continue straight on for a few yards to a bridge over the River Test.
Just after the bridge turn left to follow a track northwards, with the river on the right. When Saddler's Mill is reached turn left and then right, to join a footpath that heads northwestwards along the floodplain of the river, heading to the east of the sewage works. A couple of small plank footbridge lead over a couple of streams, and three-quarters of a mile after the mill the path reaches Squabb Wood near Monk's Cottages.
Enter the woodland, and follow a footpath that leads northwestwards through the trees, heading to the west of Roke Manor. At SU333222 turn right down a path that heads northeastwards off the main path; this soon leaves the trees into a small clearing, before re-entering the trees for a short period. After it leaves the trees again it turns to the left, skirting the northern edge of the woods to the edge of a field, and then turning right to head northwestwards for a short distance to Old Salisbury Lane.
Cross the road and head across two fields; halfway across the second the Test Way heads off to the right to head northeastwards. Follow the path as it joins a track, passing Hilberry Farm before reaching the B3084 road. Cross the B3084, and then turn right to join another footpath that soon turns to the left to head behind some houses, before quickly ending at a road. Turn right to head eastwards down this road, and as it curves to the right turn left along a track. A short distance along this turn left, to head northwestwards along another footpath for a little over half a mile, crossing a stream and then climbing up a slight hill before the path ends at the B3084 road once more.
Turn right to follow the B3084 road northwards for about a third of a mile, then turn right along a narrow footpath that heads northwards, skirting a pond on the left before it soon ends at another road. Turn right down this road for a short distance until it approaches a level crossing over a railway line. Just before the crossing turn left along another footpath; this heads westwards, and when a crossing is reached with another footpath turn to the right. This crosses the railway line on a footbridge (with a conveyor belt beside it).
On the other side the path descends down a slight slope to a footbridge over the River Dun; cross this and then continue on northwards on the other side. This becomes a track as it continues for a little under half a mile. It curves sharply to the left and then the right to reach Mottisfont Church. Continue on past this for a few yards until the track ends at a road in Mottisfont.
Turn left to follow the road westwards; it soon curves to the right to head northwards. Take the first road off to the left, leaving the Test Way in the process. Follow this road westwards for half a mile until the B3084 road is reached. Cross this road, and then continue on westwards, initially along a track and then a footpath. After about a mile and a quarter the footpath finally ends at a road near Lockerley Water Farm at SU295270.
Turn right and follow this road northwards for 0.4 miles; just before a pub is reached turn left to join a bridleway. Follow this track as it heads northwestwards; it is muddy in places as it skirts the northern edge of Holbury Wood. After a mile another road is reached. Cross this road, and continue on along another track that skirts the northern edge of Upper Frenchmoor Copse. This track becomes a road, which soon ends at a junction at SU271289 near Tytherley Common.
Continue straight on along a road for a short distance before it ends at a T-junction with another road. Turn left down this road for a few yards, and then turn right along another footpath that heads northwestwards for 0.4 miles until it ends at another road. Turn right to head north along this road for 0.4 miles until a gateway leading into Home Farm is reached on the right.
Here turn left to follow a footpath westwards. This crosses a field before entering some woodland. After a little over half a mile a track is reached; turn left down this track and then right to start heading northwestwards along another track. After half a mile this emerges from the trees, and then climbs uphill on a more westerly course. The path then drops down to meet a road near SU240309.
Turn right along this road for a few yards, and then turn left to join a track that heads south before curving sharply to the right to head westwards towards Hound Wood. A track heads southwestwards through the wood; half a mile from the entrance to the wood a junction with another bridleway is reached at SU331304. Turn left and follow this bridleway as it heads southwards. It soon leaves the trees, and a track continues onwards. This passes Farley Farm, before finally ending at a bend in a road in Farley.
Follow this road as it heads westwards, passing Farley Church before taking another road near Parsonage Farm that heads off to the right. At SU219297 turn left along a footpath that heads westwards. After 0.6 miles a track is crossed; continue on the other side along another footpath that heads roughly westwards. After another 0.4 miles this enters more woodland, and it continues along a track for about two-thirds of a mile until the western edge of the woodland is reached. Here the footpath turns to the right, heading northwestwards along the western edge of the woods, before turning sharply to the left to head westwards for 0.7 miles until the ruins of Clarendon Palace is reached, joining the Clarendon Way in the process.
Pass the ruins, and when a track junction is reached at the western end of the ruins (SU181300) turn right down a track. This heads westwards, heading downhill. When the track curves to the right continue straight on along a footpath that crosses a field to join the same track one more. Follow this on past Ranger's Lodge Farm. Continue on past the farm as the track heads westwards before ending at a road. Turn right and follow the road as it heads westwards, immediately crossing the River Bourne before entering Milford.
When this road ends at a T-junction turn left along another road. This climbs uphill and curves sharply to the right to continue westwards, crossing a railway line in a bridge. Continue on along this road westwards; it heads under the A36(T). When Exeter Street is reached on the left turn left to head southwards down it. Pass one crossroads with Ive Street on the left, and then continue on until there is a gateway on the right. Turn tight to head westwards through this gate, and follow a path that leads towards Salisbury Cathedral.
When a grassy area starts on the left cross the grass to reach the front of the cathedral. At the main doors turn right and follow a path that heads northwards. This becomes High Street, which heads through another gateway; on the other side of the gateway, turn left down Crane Bridge Road. This crosses a stream; the road curves around and becomes Mill Road. This soon curves sharply to the right, crosses a mini-roundabout and heads up a slight hill. Here turn left to walk westwards up to Salisbury Station, where this walk ends.
| | | |
| --- | --- | --- |
| | | |
| P2007A089438 The path leading towards Farley. | | P2007A089441 Farley church. |
| | | |
| --- | --- | --- |
| | | |
| P2007A089454 The ruins of Clarendon Palace. | | P2007A089461 Heading west towards Salisbury. |
---
Distances
| From | To | Distance (m) | Ascent (ft) | Descent (ft) |
| --- | --- | --- | --- | --- |
| Home in Romsey | Romsey | 1.6 | 16 | 82 |
| Romsey | Mottisfont | 5.8 | 351 | 295 |
| Mottisfont | Farley | 8.8 | 604 | 469 |
| Farley | Salisbury station | 6.9 | 371 | 436 |
This makes a total distance of 23.1 miles, with 1342 feet of ascent and 1282 feet of descent.


For more information on profiles, ascents and descents, see this page
---
Transport
There are regular and speedy train services from Salisbury direct to Romsey, costing about five pounds thirty pence for a single ticket.
| | | |
| --- | --- | --- |
| | | |
| P2007A089469 A sundial near St Anne Gate, Salisbury. | | P2007A089478 Salisbury Cathedral. |
| | | |
| --- | --- | --- |
| | | |
| P2007A089483 Salisbury Cathedral. | | P2007A089489 A new housing development in Salisbury. |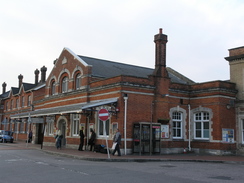 P2007A089492 Salisbury station.
---
Disclaimer
Please note that I take no responsibility for anything that may happen when following these directions. If you intend to follow this route, then please use the relevant maps and check the route out before you go out. As always when walking, use common sense and you should be fine.
If you find any information on any of these routes that is inaccurate, or you wish to add anything, then please email me.
All images on this site are © of the author. Any reproduction, retransmissions, or republication of all or part of any document found on this site is expressly prohibited, unless the author has explicitly granted its prior written consent to so reproduce, retransmit, or republish the material. All other rights reserved.
Although this site includes links providing convenient direct access to other Internet sites, I do not endorse, approve, certify or make warranties or representations as to the accuracy of the information on these sites.
And finally, enjoy your walking!
---
Nearby walks
---