Walk #277: Battlebridge to Wallasea
| | | |
| --- | --- | --- |
| | | |
| P2002B250001 The remains of an old steam traction engine at Battlesbridge. | | P2002B250016 A view of the slipway in Hullbridge. |
General Data
| | |
| --- | --- |
| Date Walked | 25/11/2002 |
| County | Essex |
| Start Location | Battlesbridge |
| End Location | Wallasea |
| Start time | 09.10 |
| End time | 14.28 |
| Distance | 15.4 miles |
| Description | This was a nice mixture of riverbank and road walking along the southern bank of the River Crouch onto the island of Wallasea. |
| Pack | Today I carried my 30-litre Karrimor HotRock rucksack, which was filled with my packed lunch, waterproof leggings, water bottle and a couple of spare shirts, together with the usual assortment of odds and ends. |
| Condition | I am absolutely fine after this trip, the only slight problem being that I am very, very tired after the walk. I have started having a little problem with my right achilles. The skin on it is becoming very dry and little pieces of skin are starting to flake off, so I have covered the area which is causing problems with a plaster which I hope will stop rubbing, which I assume is the cause of the problem. |
| Weather | Today the weather started off fairly foggy, but as the day went on this slowly started to clear. As can be imagined there was not much wind, and when the fog finally did clear it was replaced with a mixture of sunshine and high cloud. It was consequently quite mild, and I did not wear my fleece at all today having decided that it was better not to as on the last couple of days I had been getting rather hot. |
| OS map | Landranger number 167 (Chelmsford, Harlow & Bishop's Stortford) and Landranger number 168 (Colchester, Halstead & Maldon) |
| | | |
| --- | --- | --- |
| | | |
| P2002B250019 The path leading northwards from Lowlands Farm. | | P2002B250020 Looking down the track leading to South Fambridge. |
| | | |
| --- | --- | --- |
| | | |
| P2002B250024 A boat moored in South Fambridge. | | P2002B250039 Looking eastwards towards Wallasea Marina. |
---
Map of the walk
Maps courtesy of Google Maps. Route for indicative purposes only, and may have been plotted after the walk. Please let me
have comments
on what you think of this new format. For a detailed table of timings for this walk, please see
the table file
.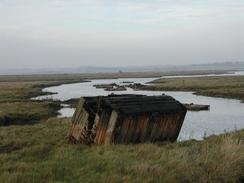 P2002B250042 Lion Creek viewed from Creeksea Ferry Road.
---
Notes
I woke up early this morning so that I could do some work on the computer so that Terry could take a CD with him to update the website with. I managed to do a fair amount of work, but the early start coupled with staying up late last night to watch BBC 2's 'Greatest Britains' series meant that I was exceedingly tired all day. It had been my intention to do a short walk and then go back with Terry to Cambridge to drop the van off with Sam, but I was so tired that I decided not to do this and to just do a longer walk. I had been concerned that Sam may not be able to find the fairly remote place that I was intending to end the walk, but on further reflection (and with giving Terry an OS map which had the place marked on) I decided that she would have no problems, which proved to be the case.
Whilst I was walking eastwards along the road from Hullbridge I received a phone call from a lady who was involved with Tom Isaac's Coastin' walk around Britain. I have been following Tom's progress since he started from London in April, and it is a truly magnificent thing for him to be doing. Tom has Parkinson's Disease, and if it was not for drugs he could not walk at all, so doing a 4,500 mile walk is far more of an achievement than my walk will ever be. We are waking around the coast in opposite directions, and they are very interested in meeting up when our routes intersect, which should be sometime in January or February in Devon or Cornwall.
I had a fairly long stretch of road walking to do today along a fairly busy stretch of road. This was to avoid the large tidal creek to the east of Hullbridge that did not appear to have any suitable footpaths around it. This diversion was fairly long, but it did make an interesting diversion from the long featureless riverbanks which I have had to endure recently. For the next two days there will be yet more riverbanks to walk until I get to Southend-on-Sea, which I am looking forward to reaching.
It is so nice to be back with Sam again - she is really an absolutely superb person and I have really missed her over the last ten days. It sounds as if she had a great time in Egypt, and she spent the evening telling me all the stories of the trip. Even Wally, her stuffed toy Wombat, got a dive. I think that it will take a day or two to get back into the system that we had before she went away and tonight felt quite strange, perhaps because I was so tired. It is just so nice to be back with her again - it is like a piece of me has been missing whilst she has been away.
Indeed, I was so tired that I slept for two hours in the afternoon (which is highly unusual for me) and for eight and a half hours during the night, which is by far the longest I have slept in ages. Hopefully this may have done me some good, as it is obvious that I needed it.
---
Directions
This walk starts in the car park of a pub in Battlesbridge. Turn right pout of the car park and follow the road as it heads for a short distance eastwards towards the bridge over the River Crouch. Continue on along the other side of the bridge and then take the first road to the left, which heads eastwards. At Beeches Farm the road turns sharply to the left and then sharply to the right. At the right-hand bend turn left down a footpath that joins the southern bank of the river and follows it around as it heads eastwards into Hullbridge. In Hullbridge the path rises up and runs behind some houses before reaching Ferry Road.
Turn right to walk southwards down Ferry Road for a mile until it ends at a T-junction with Lower Road. Turn left to head eastwards out of Hullbridge, and continue along this road as it twists and turns and reaches a sharp right-hand bend at Lowlands Farm. At the bend turn left to head up a footpath, which heads through a farmyard before entering a very narrow section between two hedges, and continue on northwards across fields. The path across these fields is quite indistinct, but I found it quite easy to keep to the route. The path eventually meets a rough track that heads uphill before ending at a public road. Continue straight on down this road as it descends into South Fambridge and when it ends take a footpath that leads off to the left and continues for a short distance to the riverbank.
Climb up onto the top of the riverbank and turn right to follow the path along the top of it eastwards. It continues on for many miles, passing Landsend Point and Black Point before turning to head southeastwards alongside Cliff Reach. When the riverbank reaches Lion creek it turns to the right to head inland along the western bank of the creek until Creeksea Ferry Road is met. Note that on the OS map the footpath makes a large diversion around a lake; on the ground this diversion is not necessary and you can just continue on along the top of the bank. At the road turn left to follow it as it turns to pass Paglesham Creek, where there is a layby, which is handy for a pick-up, before turning to head northeastwards onto Wallasea Island. When the road turns sharply to the right at the entrance to a caravan park take a concrete track that leads off to the right and heads to a public house beside the river, where this walk ends.
---
Distances
| From | To | Distance (m) | Ascent (ft) | Descent (ft) |
| --- | --- | --- | --- | --- |
| Battleridge | Hullbridge | 2.9 | 52 | 52 |
| Hullbridge | Landsend Point | 7.0 | 167 | 171 |
| Landsend Point | Wallasea Island | 5.5 | 62 | 62 |
This makes a total distance of 15.4 miles, with 281 feet of ascent and 285 feet of descent.


For more information on profiles, ascents and descents, see this page
---
Accommodation
There was a distinct lack of accommodation within an easy drive of where I ended this walk (there is a campsite right next door to the pub, but it is shut at this time of year). For this reason we drove into Rochford and parked the van on a quite side street. At least it should have been a quiet side street, but there were lots of youths outside the van in the evening talking and arguing loudly, which I found more than a little annoying.
---
Disclaimer
Please note that I take no responsibility for anything that may happen when following these directions. If you intend to follow this route, then please use the relevant maps and check the route out before you go out. As always when walking, use common sense and you should be fine.
If you find any information on any of these routes that is inaccurate, or you wish to add anything, then please email me.
All images on this site are © of the author. Any reproduction, retransmissions, or republication of all or part of any document found on this site is expressly prohibited, unless the author has explicitly granted its prior written consent to so reproduce, retransmit, or republish the material. All other rights reserved.
Although this site includes links providing convenient direct access to other Internet sites, I do not endorse, approve, certify or make warranties or representations as to the accuracy of the information on these sites.
And finally, enjoy your walking!
---
This walk was mentioned in the following routes:
---
Nearby walks
---