Walk #480: Tangy Lodge to Clachan
| | | |
| --- | --- | --- |
| | | |
| P20036244532 A bridge carrying the old road over a stream. | | P20036244533 The remains of a boat on a beach. |
General Data
| | |
| --- | --- |
| Date Walked | 24/06/2003 |
| County | Strathclyde |
| Start Location | Tangy Lodge |
| End Location | Clachan (Argyll) |
| Start time | 09.10 |
| End time | 17.21 |
| Distance | 20.7 miles |
| Description | This was a long road plod that was made worthwhile by the views over to the Isle of Gigha, the Paps of Jura and Islay. |
| Pack | Because my neck was still hurting me I thought that it would be best for me to use a bumbag with minimal kit in it rather than carry all the weight of my pack on my shoulders. Hence I only had a one-litre water bottle and spare batteries with me, which worked quite well. |
| Condition | My shoulder was the biggest problem that I had during today's walk, as this was hurting me a lot at times. It seemed to get better in the afternoon, and only occasionally gave me gip. Aside from this I had no other problems, which is nice after a long distance. |
| Weather | Today was another day of sunshine and cloud, which was quite nice. It got quite hot in the afternoon, especially after the early morning breeze had died down. All in all it was a lovely day for walking. |
| OS map | Landranger number 68 (South Kintyre & Campbeltown) and Landranger number 62 (North Kintyre & Tarbert) |
| | | |
| --- | --- | --- |
| | | |
| P20036244539 Glenbarr Abbey. | | P20036244550 A Highland Cow in Muasdale. |
| | | |
| --- | --- | --- |
| | | |
| P20036244554 Looking south along the coast. | | P20036244558 Looking north from Ronachan Bay. |
---
Map of the walk
Maps courtesy of Google Maps. Route for indicative purposes only, and may have been plotted after the walk. Please let me
have comments
on what you think of this new format. For a detailed table of timings for this walk, please see
the table file
.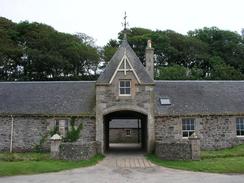 P20036244552 The entrance to Killean House.
---
Notes
When I woke up this morning my neck was still hurting, so Sam phoned up the health centre in Campbeltown to make an appointment for me to see a doctor at 12.15. I did not fancy waiting all morning, so I decided to do a gentle six-mile walk as far as Glenbarr before driving back to Campbeltown. The first part of the walk as far as Glenbarr was lovely, and I made better progress than I expected to.
I had arranged to meet Sam at Glenbarr Abbey, so that she could pick me up and drive me back to Campbeltown for the doctor's appointment. When I reached the abbey I was disappointed to see that it was closed, as I would not have minded having a look around it, but I had a quick look round the outside of it instead. It is quite an impressive building, and I would not mind knowing more about it's history - the house was the family seat of the MacAlister Clan, an offshoot of the Clan Donald. Glenbarr was also the home of Captain Barclay, a man who was mentioned much earlier this year. In the last century he walked 1,000 miles in 1,000 hours, having to walk at least one mile each hour. A group of competitor's did the same thing before this year's marathon, and when they ended after six weeks they had to run the marathon! I had walked fairly fast to get there, so I decided to walk on for another twenty minutes before Sam picked me up outside the school in the village.
We arrived at the medical centre in Campbeltown quite early, and so we sat down and waited. Service was fast and courteous, and I was amused to find that the doctor who saw me was called Dr Lazarus (I worked on a computer project for a couple of years called Lazarus). He did an examination of me, and he thinks that I have either pulled a muscle in my neck or slipped a disk, and this would explain the symptoms that I have. Before I went in I had been worried that he would advise me to stop walking for some time, but he said that I could continue, but to reduce the load on my shoulders for a bit and to exercise my neck regularly. This was good news, and I hope that I can recover by the time that I reach Knoydart, when I will have to carry a heavy load once again.
Sam dropped me back off at the school in Glenbarr, and I continued on my walk along the A83. The road was not too busy, and I actually enjoyed the walk and made quite a fast pace - over all of today I managed to average three and a half miles an hour, which is not bad going for me. The views from the road were frequently superb, and I could clearly make the Paps of Jura (the mountains on the island of Jura), their tops smothered in a cloud layer. The sea was sparkling blue, and I stopped for a few seconds occasionally so that I could just soak up the view. Graham has stated that he hated this stretch of road but I cannot really see why - it was far busier further north past Inveraray, and I found it to be a very pleasant walk.
Kintyre is absolutely lovely, and is one of he few places that we have visited on this trip where Sam has said that she could live. The people have also been exceedingly friendly and welcoming, and more than anything else this makes an area. It is known as 'the mainland island', as a result of the fact that it is surrounded by other Scottish islands and is only barely connected to the mainland of Scotland at Tarbert. This is quite an admission from Sam (Australia is her natural home), and it makes me somewhat hopeful that she may find a place in this country where she would want to spend the rest of her life.
The campsite that we are staying in tonight was basic but reasonable, and by eight o'clock we fancied a drink. There is no pub in the village, but we were told that about half a mile away there was the Balinakill country house hotel, so we went into this lovely and historic hotel for a quick drink. The bar was shut, but they kindly let us have a drink in another room that was absolutely gorgeous, and looked older than the 1890's it was dated at. When we got back we were both a bit peckish, but we did not have any snacks in. When I go camping I often take corned beef with me so that I can make corned beef hash. Sam had never tasted corned beef before, so we opened a can. Her instant reaction was 'it smells like dog food!'. This did not seem to put her off, however, and we had a few slices that enlivened my taste buds.
Tomorrow I have another long day to do to reach Kilberry. As the crow flies this is not a massive distance, but I have to negotiate West Loch Tarbert on the way. If the weather is nice then this promises to be a superb day, and I am very much looking forward to it. My schedule states that I will reach Fort William in a week, and as I have walked to there from Edinburgh this means that I have walked a massive lop around he coast south of the Edinburgh to Fort William line. I also intend to climb Ben Nevis whilst I am there, and so hopefully the weather will be nice for that.
---
Directions
This walk starts off at a car park at Tangy Lodge on the A83, a little under a mile to the north of Westpool, where the A83 meets the coast. Head north along the A83; the only diversion that I made off the road was one to the right down a local road to visit Glenbarr Abbey; this road soon rejoins the A83. Head north along the A83 for many more miles until the village of Clachan is reached; turn left down into the village and then turn left to the campsite in the village, where this walk ends.
---
Distances
| From | To | Distance (m) | Ascent (ft) | Descent (ft) |
| --- | --- | --- | --- | --- |
| Tangy Lodge | Glenbarr Abbey | 6.0 | 712 | 659 |
| Glenbarr Abbey | Tayinloan | 6.5 | 384 | 449 |
| Tayinloan | Clachan | 8.2 | 427 | 430 |
This makes a total distance of 20.7 miles, with 1523 feet of ascent and 1538 feet of descent.


For more information on profiles, ascents and descents, see this page
---
Accommodation
We stayed at a caravan park in the little village of Clachan. This site cost us eight pounds for the night (it should have been ten pounds, but they age us two pounds off). The site mainly caters for static caravans, and it was nice of them to let us stay.
---
Disclaimer
Please note that I take no responsibility for anything that may happen when following these directions. If you intend to follow this route, then please use the relevant maps and check the route out before you go out. As always when walking, use common sense and you should be fine.
If you find any information on any of these routes that is inaccurate, or you wish to add anything, then please email me.
All images on this site are © of the author. Any reproduction, retransmissions, or republication of all or part of any document found on this site is expressly prohibited, unless the author has explicitly granted its prior written consent to so reproduce, retransmit, or republish the material. All other rights reserved.
Although this site includes links providing convenient direct access to other Internet sites, I do not endorse, approve, certify or make warranties or representations as to the accuracy of the information on these sites.
And finally, enjoy your walking!
---
This walk was mentioned in the following routes:
---
Nearby walks
---