Walk #349: Pendeen Watch to St Ives
| | | |
| --- | --- | --- |
| | | |
| P20032070001 Pendeen Watch Lighthouse. | | P20032070006 The path along Morvah Cliff. |
General Data
| | |
| --- | --- |
| Date Walked | 07/02/2003 |
| County | Cornwall |
| Start Location | Pendeen Watch |
| End Location | St Ives |
| Start time | 08.10 |
| End time | 15.10 |
| Distance | 13.1 miles |
| Description | This was a highly enjoyable but quite hard walk, with lots of ascents and descents over rough terrain to be coped with. |
| Pack | Today I carried my 30-litre Karrimor HotRock rucksack, which was filled with my packed lunch, waterproof leggings, water bottle and a couple of spare shirts, together with the usual assortment of odds and ends. |
| Condition | I have had a couple of short periods of aching from my left ankle today, but nothing as bad as I was expecting considering the terrain. The worst thing about today is my left knee, which I banged earlier on and has been hurting whenever I lifted it up a long way, for instance when I was climbing steps. |
| Weather | Thankfully the weather was much better than it has been recently, with sunshine and cloud. It was quite mild as well, which meant that I never needed to get my fleece out of my bag. There was no sign of any rain, and that was just as well considering the terrain that I had to walk over. |
| OS map | Landranger number 203 (Land's End & Isles of Scilly, St Ives & Lizard Point) |
| | | |
| --- | --- | --- |
| | | |
| P20032070009 A large rock outcrop on Trevean Cliff. | | P20032070025 A stream running into Porthglaze Cove. |
| | | |
| --- | --- | --- |
| | | |
| P20032070035 The trig point on Trevega Cliff. | | P20032070043 The view southeastwards from Clodgy Point. |
---
Map of the walk
Maps courtesy of Google Maps. Route for indicative purposes only, and may have been plotted after the walk. Please let me
have comments
on what you think of this new format. For a detailed table of timings for this walk, please see
the table file
.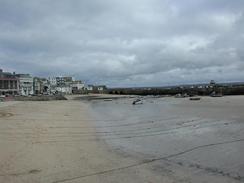 P20032070052 The beach in St Ives.
---
Notes
Frankly I had been dreading this walk, for a general multitude of reasons. Firstly there was the fact that this section of the South West Coast Path is generally seen as being one of the hardest on the whole path. The main reason was the fact that when I was doing my walk from Land's End to Taunton in 2000 I had reached Trevean Cliff in sone fairly awful weather. I then came across an American man with a gashed leg where he had fallen on some of the rocks. Looking at his state I decided that walking along the path was silly in the conditions and so I diverted inland and walked along the B3306 road to Zennor. I was very upset about having to do this at the time, and although I have little doubt that it was the right thing to do it was still hard to accept. When I woke up this morning and saw that the weather was quite reasonable I was very pleased, and it helped make this an exceedingly good walk. I was also quite pleased with the length of tie it took me to do the walk, as the guidebook states that few will average two miles an hour, and I managed to do that.
This walk is quite hard, not just because of steep ascents or descents to be tackled but because of the terrain, which is either boggy, with deep sections of bog beside the path that seemed bottomless when I plunged my walking pole in, or rocky, with large boulders to climb over. Sometimes these were in combination, with stones thrown into the boggy sections to make them passable. Having said all this I have seen worse terrain, and in a very strange way it reminded me of some parts of Scotland such as the hills around Rannoch Moor. As I was walking along I found it quite amusing that I was comparing the very southwestern tip of Britain with somewhere in the Highlands of Scotland!
As I was leaving Zennor Head there was a particularly large slab of rock that had to be climbed up. It was sloping away from me and about at waist height, and quite smooth from everyone who had negotiated it in the past. I managed to get my right foot on top of it, but as I lifted my left leg up to join it I banged my knee hard against the face of the rock. This sent a big jolt of pain all the way down my leg, I stopped for a few minutes and rubbed the knee, but unfortunately it remained sore for the rest of the walk. It is one of these stupid little incidents that cause no real harm and are just very annoying. On a similar note, I am still picking little thorns out of my left had after I fell into the bush a few days ago - on average I am finding to new tiny thorns in my fines every day!
The views northwards over the last couple of miles were quite superb, and I could see a long way ahead along the coast. This view cheered me up no end, and made me feel much better as I walked down to the Tate Gallery in St Ives, where I met Sam. We then walked together around St Ives Head as far as the lifeboat station and here I was faced with a choice. I felt fit enough to walk further around the coast as far as Hayle, but I also wanted to check my emails and reply to some of them. In the end I decided to go to the library and check my emails, as it may be my last chance to do this until I get to Newquay.
I am quite glad that today is over, and I am very much looking forward to the next few days' walks. They promise not to be too difficult but also give some great views, so I should be able to get some good distances under my belt over the course of the next week.
---
Directions
During this walk I followed the South West Coast Path, the route of which is detailed in the Ordnance Survey National Trail Guide 9, Padstow to Falmouth (ISBN 1-854108-50-6). Unfortunately the route description is written in reverse to the direction that I am walking, but the 1:25,000 maps in the book are clear and the signs on the ground are very good. Also to be recommended is the South West Coast Path Association guidebook (ISBN 0-907055-04-4), which has less concise directions and no maps, but includes accommodation details and grades each section of the walk according to difficulty. They also publish reverse directions, which are suitable for walking in the direction that I walked the route. They have a website at www.swcp.org.uk, which is well worth a visit.

National Trail Guide: Padstow to Falmouth

SWCP Association guide 2004
---
Distances
| From | To | Distance (m) | Ascent (ft) | Descent (ft) |
| --- | --- | --- | --- | --- |
| Pendeen Watch Lighthouse | Zennor Head | 6.6 | 1808 | 1745 |
| Zennor Head | St Ives | 6.5 | 1503 | 1719 |
This makes a total distance of 13.1 miles, with 3311 feet of ascent and 3464 feet of descent.


For more information on profiles, ascents and descents, see this page
---
Accommodation
We parked in the highest car park in St Ives, which was free for the night but was also unfortunately not very level. We parked at the most level section that we could find, but we were still on quite an angle overnight, and this led to poltergeist-style moving plates at strange times.
---
Disclaimer
Please note that I take no responsibility for anything that may happen when following these directions. If you intend to follow this route, then please use the relevant maps and check the route out before you go out. As always when walking, use common sense and you should be fine.
If you find any information on any of these routes that is inaccurate, or you wish to add anything, then please email me.
All images on this site are © of the author. Any reproduction, retransmissions, or republication of all or part of any document found on this site is expressly prohibited, unless the author has explicitly granted its prior written consent to so reproduce, retransmit, or republish the material. All other rights reserved.
Although this site includes links providing convenient direct access to other Internet sites, I do not endorse, approve, certify or make warranties or representations as to the accuracy of the information on these sites.
And finally, enjoy your walking!
---
This walk was mentioned in the following routes:
---
Nearby walks
---