Walk #814: Lulworth to Weymouth
| | | |
| --- | --- | --- |
| | | |
| P20084264258 Looking up to Hambury Tout from Lulworth Cove car park. | | P20084264269 The view east from Hambury Tout. |
General Data
| | |
| --- | --- |
| Date Walked | 26/04/2008 |
| County | Dorset |
| Start Location | Lulworth Cove |
| End Location | Weymouth |
| Start time | 08.54 |
| End time | 14.58 |
| Distance | 12.2 miles |
| Description | This was a lovely and varied walk following the South West Coast Path westwards past Durdle Dor to Weymouth. |
| Pack | Today I carried my 30-litre Karrimor rucksack, filled with waterproofs, a book and other odds and ends. |
| Condition | I feel absolutely fine after this walk; however, Sencan got two massive blisters on the back of her her heels that caused us to cut this walk short. I was surprised to find that I had a little sunburn on the back of my neck. |
| Weather | Today was dominated by hazy sunshine with very little wind. It was a beautiful day for a walk; not too hot and not too cold. |
| OS map | Landranger number 194 (Dorchester & Weymouth, Cerne Abbas & Bere Regis) |
| | | |
| --- | --- | --- |
| | | |
| P20084264275 Durdle Dor. | | P20084264280 Durdle Dor. |
| | | |
| --- | --- | --- |
| | | |
| P20084264287 The ascent up to Swyre Head. | | P20084264296 A stack near Bat's Head. |
---
Map of the walk
Maps courtesy of Google Maps. Route for indicative purposes only, and may have been plotted after the walk. Please let me
have comments
on what you think of this new format. For a detailed table of timings for this walk, please see
the table file
.
| | | |
| --- | --- | --- |
| | | |
| P20084264300 An Adder on the path. | | P20084264310 A monument by the path. |
| | | |
| --- | --- | --- |
| | | |
| P20084264322 Heading west towards Ringstead. | | P20084264326 Heading west towards Ringstead. |
---
Notes
It had been some time since Sencan and I had last done a walk along the South West Coast Path, for illness, work and other reasons, but today looked like a good opportunity. After making some sandwiches and filling the water bottles, we set off for Lulworth Cove. It was a good drive; not too far, and we were soon pulling up at the steeply-sloping car park at Lulworth Cove. This was fairly quiet, with only a handful of cars parked, and as I went out to get a ticket (four pounds to park for the day), Sencan got her boots on.
We had to walk down to the road to meet up with where we had previously walked on the last trip, before heading back through the car park and up the ultra-wide path towards the top of Hambury Tout. It is very clear that the path was walked by many people, although there was no sign of these people at nine in the morning. Looking back there was mist out to sea past Lulworth Cove, and the sky above was cloudless but hazy. It looked like it was going to be a good day for a walk.
From Hambury Tout the path descended towards the headland that contains Durdle Door. This natural rock arch is a famous landmark on the south coast, and looked superb in the sunshine. Standing by it on the beach were three scuba divers about to go into the water, and their bodies gave an idea of the impressive scale of the arch. Last year a man got injured tombstoning - jumping - from the top of the arch - plainly an incredibly stupid thing to do.
A small climb came next, followed by a ahsort descent down to the wonderfully-named Scratchy Bottom. A steep climb up to Swyre Head was enlivened by the discovery of a sanitary towel on the steepest section of the path - we both wondered how it had got there. The climb was steep, but did not last too long, and was followed by a steep descent into a little valley beside Bat's Head, a triangular promontory into the sea. There is a pretty little limestone stack in the bay, and a small cave in the headland itself. It was a pretty spot, with a small band of beach that someone had written 'Kris' on using stones.
Another steep ascent was followed by a descent to Middle Bottom, and then a more gradual ascent started uphill. On this ascent we came across an Adder on the path - the first time that I have seen one in years, and the first time Sencan had ever seen one. It slithered away, but not before I had managed to get a couple of good photos of it. Sencan is very much like me - she takes joy in such encounters, and we chatted animatedly for a few minutes about previous times we had seen snakes.
The last significant ascent of the day took us up towards the cottages at Whitenothe. At a large triangular beacon we stopped, so Sencan could put some zing oxide tape on the back of her heels, where she was starting to get some rubbing. This did not look too bad, and I hoped that the tape would work well enough.
From Whitenothe a long and fairly gentle descent followed towards Ringstead, with a large expanse of land to our left below the cliffs, looking like material that had slumped down from the top of the cliffs. At Ringstead there was some toilets and a café - we bought an ice cream each, and started the gentle walk westwards towards Osmington Mills. The views were good on this stretch, and the walk was pleasant, but before we knew it the path had dumped us off by the Smuggler's Inn at Osmington Mills. We resisted the temptation to enter the pub, which seemed reasonably busy, and instead continued along the path, which followed a road inland for a while before climbing uphill along a path onto Black Head.
A little descent took me down to a large holiday camp, where there was a series of rope swings and zip lines; we stopped as a child went down a zip line. It all looked like good fun, and we continued on passing large gorse bushes. Sencan was starting to flag, and as we continued the descent down to Bowleaze Cove she was obviously in some difficulty. At the Cove a digger was clearing out the channel of a stream, and a little further on there was no sign of the pub marked on the map.
Instead, we sat with out backs against a stone wall outside a couple of shops. One of these was a chip shop, and I went inside to get a small portion and a bottle of Ribena whilst Sencan took off her boots. When I got out, I could see that her feet were not in a good condition. She had two large blisters, each larger than a fifty-pene piece, emerging from under the zinc oxide tape. It was obvious that we could not continue the circular walk back to Lulworth Cove with her feet in that condition, so we put some Compeeds on her heels, and then set off or Weymouth, where we could get a taxi back.
Initially Sencan walked slowly and with difficulty as we headed up a small hill following a road. We passed a bus stop, but Sencan decided she could continue. Fortunately we were soon over the hill and walking southwestwards along the wide promenade towards Weymouth. This was a very pleasant walk, with the shingle beach to the left and a road to the right. As we headed down the promenade it slowly got busier, and after a while we diverted off to dip our boots into the sea. This proved a mistake, as Sencan found walking on the shingle to be painful.
Eventually we reached Weymouth, and walked along through the town past a couple of war memorials, a clock tower and various amusements on the beach, including some donkey rides. The beach was fairly packed, and it was no wonder, for although the haze had gone it was quite a warm day. We nipped into the Tourist Information ofice to ask them where the taxi ranks were, and then continued on towards the ferry pier.
This is the place where the old boat trains used to come in, running on the streets through the city centre. The on-street running use dto cause a little chaos, and although the last one run in 1999 there are some plans that could see it reopening in time for the Olympics in 2012 - some of the sailing competitions are taking place off Weymouth, and it would save the poor IOC people a traipse through the town from the main station.
From the ferry terminal we turned right and walked up past the harbour. This was a lovely little walk, with boats tied up on the left and the old train tracks on the right. At one point there were a couple of fishing boats, and there was a pile of nets and other fishing gear stacked up on the quayside. A lifeboat came in past us as we walked, and soon we reached the Town Bridge, which the train line plunged through.
We turned right to walk into the town centre, and almost immediately we found a taxi. He told us the price would be 25 or 30 pounds, and we set off. The taxi driver was a friendly chap, and we talked almost continuously as he drove us back. Unlike our last experience with a taxi driver in Swanage he got the ticket price on the money - 27 pounds - and we got out, thanking him. Sencan walked with difficulty to the car, and after getting her settled in I went down to the cove to buy some ice cream. The blisters on her heels are quite bad, but cutting the walk short did not spoil the day's walk - we have done more of the SWCP, and we got out of the house for a day to see some truly spectacular scenery.
---
Directions
During this walk I followed the South West Coast Path, the route of which is detailed in the Ordnance Survey National Trail Guide 11, Exmouth to Poole (ISBN 1-854109-88-X). Unfortunately the route description is written in reverse to the direction that I am walking, but the 1:25,000 maps in the book are clear and the signs on the ground are very good. Also to be recommended is the South West Coast Path Association guidebook (ISBN 0-907055-04-4), which has less concise directions and no maps but does include accommodation details and grades each section of the walk according to difficulty. They also publish reverse directions, which are suitable for walking in the direction that I walked the route. They have a website at www.swcp.org.uk, which is well worth a visit.

National Trail Guide: Exmouth to Poole

SWCP Association guide 2004
| | | |
| --- | --- | --- |
| | | |
| P20084264336 The path heading west from Osmington Mills. | | P20084264349 Sencan near the Osmington Bay Holiday Centre. |
| | | |
| --- | --- | --- |
| | | |
| P20084264351 Gorse bushes. | | P20084264361 Sencan on the path. |
---
Distances
| From | To | Distance (m) | Ascent (ft) | Descent (ft) |
| --- | --- | --- | --- | --- |
| Lulworth Cove | Osmington Mills | 6.3 | 1804 | 1808 |
| Osmington Mills | Bowleaze Cove | 2.7 | 453 | 505 |
| Bowleaze Cove | Weymouth Town Bridge | 3.2 | 167 | 180 |
This makes a total distance of 12.2 miles, with 2424 feet of ascent and 2493 feet of descent.


For more information on profiles, ascents and descents, see this page
---
Transport
We used a taxi (cost about 27 pounds) to get back from Weymouth to Lulworth Cove.
| | | |
| --- | --- | --- |
| | | |
| P20084264363 The view over Bowleaze Cove. | | P20084264376 Heading southeast from Bowleaze to Weymouth. |
| | | |
| --- | --- | --- |
| | | |
| P20084264379 A monument on the beach. | | P20084264392 A Coastguard helicopter above Weymouth. |
| | | |
| --- | --- | --- |
| | | |
| P20084264395 Weymouth war memorial. | | P20084264407 Donkeys at Weymouth seafront. |
| | | |
| --- | --- | --- |
| | | |
| P20084264412 A boat in Weymouth. | | P20084264416 A lifeboat in Weymouth. |
| | | |
| --- | --- | --- |
| | | |
| P20084264417 Fishing tackle in Weymouth. | | P20084264421 Fishing boats in Weymouth. |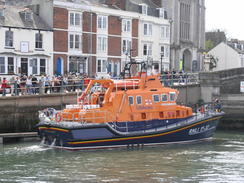 P20084264422 A lifeboat in Weymouth.
---
Disclaimer
Please note that I take no responsibility for anything that may happen when following these directions. If you intend to follow this route, then please use the relevant maps and check the route out before you go out. As always when walking, use common sense and you should be fine.
If you find any information on any of these routes that is inaccurate, or you wish to add anything, then please email me.
All images on this site are © of the author. Any reproduction, retransmissions, or republication of all or part of any document found on this site is expressly prohibited, unless the author has explicitly granted its prior written consent to so reproduce, retransmit, or republish the material. All other rights reserved.
Although this site includes links providing convenient direct access to other Internet sites, I do not endorse, approve, certify or make warranties or representations as to the accuracy of the information on these sites.
And finally, enjoy your walking!
---
Nearby walks
---