Walk #138: Market Harborough to Leicester
| | | |
| --- | --- | --- |
| | | |
| AD01 The eastern end of the canal tunnel. | | AC32 A signpost on the Grand Union Canal - Leicester 17 miles. |
General Data
| | |
| --- | --- |
| Date Walked | 18/02/2001 |
| County | Leicestershire |
| Start Location | Market Harborough |
| End Location | Leicester Bus Station |
| Start time | 08.55 |
| End time | 15.30 |
| Distance | 17.7 miles |
| Description | This was a fairly nice walk follwing roads and canals north-westwards from Market Harborough to Leicester. |
| Pack | Today I carried my 70-litre Craghopers rucksack with no tent or sleeping bag. |
| Condition | I am feeling generally fine after what was a fairly long walk. The biggest problem all day was a slight tightness in my left thigh that developed about five miles from the end. This was not enough to cause me to stop, so I stomped on regardless. I have a couple of little blisters again on two small toes, but nothing else. My pack was slightly heavier than the last walk, and my shoulers did not suffer because of this. |
| Weather | It started off mostly sunny but cold, with a fre clouds in the sky. It soon warmed up and thereafter I was only cold when the wind gusted whilst I was in exposed places. Later on it started clouding over and at times became qute dark overhead, but fortunately there was no sign of any rain. The wind was not too strong, and hence when I was in the sun I felt the warmest I had doen during a walk for many months. |
| OS map | Landranger number 140 (Leicester, Coventry & Rugby) and Landranger number 141 (Kettering, Corby & surrounding area) |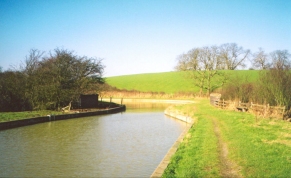 AC34 Another view along the canal.
---
Map of the walk
Maps courtesy of Google Maps. Route for indicative purposes only, and may have been plotted after the walk. Please let me
have comments
on what you think of this new format. For a detailed table of timings for this walk, please see
the table file
.
---
Notes
This was a very pleasant walk, with the long canal towpath sections making up for a fairly long and dreary approach into Leicester from the south. The weather was fairly nice as well, which always helps in making a walk enjoyable.
When planning the route from market Harborough to Leicester the most obvious route is following the Grand Union (Leicester) Canal. This canal is not very direct however, partiularly at the start at market Harborough and at the end where it joins the River Soar in Leicester. Sicne I wanted to make the journey in one day I decided to mix the canal towpath with some handy footpaths and towards the end a long road walking section north into Leicester.
There was not a great deal of note on this walk - I missed the flights of locks at Foxton which are apparently a major tourism draw because I shortcutted through the village itself, and the only other thing of any major note was the canal tunnel at Saddington, which was not walked through as the towpath goes over the top of the tunnel and was hence of far less excitement than the two tunnels doen the previous Saturday south of Market Harborough.
I had a short fiftenn minute break at Spinney Lock in Newton Harcourt just before I left the canal. I sat back against a lock beam on some brickwork and had some sandwiches and a couple of Tracker bars. There was a man performing some meaintenance on the lower set of lock gates, and he was cutting bricks ready to place them on some steps. It was quite entertaining wathcing his head bob up to cut another brick using a circular saw, duck down to place it and then come up for another brick. It certainly whiled away a pleasant time.
Having completed this walks sets me up well for many other walks; I could walk north for two days to Long Eaton via Loghborough, east to Oakham, northeast to Melton Mowbray or northwestwards to Coalville via Bardon Hill, Leicestershire's highest point. I could also walk south-westwards towards Hinckley and thereafter Birmingham to meet up with my walk along the Grand Union Canal from London. Because of this it could easily become a fairly major node on my walks network, with walks coming in from five directions.
I am very pleased that I have completed this walk with no major problems, as it was a nice distance to walk and I had a fairly heavy pack on. I am now well on schedule for getting fit enough to do the section of my Land's End to John O'Groats walk from Crieff to Spean Bridge in Scotland in late April or early May. I would like the next few walks to be fifteen to twenty milers, slowly increasing the weight carried each trip. Hopefully within two or three trips I will be carrying full Pennine Way-specification kit over eighteen miles.
Market Harborough is a very nice little town with some very nice and interesting buildings in it. The car parks are quite strange - all the car parks that I have tried say short stay, with a maximum wait of two hours. There was a sign pointing to a car park beside Tesco's that said long stay, but there a sign on the wall saying that that was only a two hour stop as well! After asking a couple of locals it appeared that they were never checked anyway, so I left it in the 'long stay' one and everything was fine.
The going along the canal towpaths was quite hard and muddy in places, particularly where the towpaths were very muddy such as at the northern end of Saddington Tunnel. This made the walk far more energetic than it would otherwise have been, but was quite fun nonetheless.
When I got into Leicester I headed straight for the railway station, where I could have caught a train back to Market Harborough. I was feeling relatively fit however, so I decided to walk on to the bus station.
I had an early scare when I fond a notice that the first canal bridge just north of Market Harborough was shut, and a (thankfully relatively small) detour woud have to be made. When I went down to look at the bridge however it was clear with no signs of any work being done on it, so I crossed over with a little trepidation (the concrete surface of the bridge was quite cracked and very ready for replacement).
Have a look at Jim Shead's canal pages for more details of the Grand Union Canal Market Harborough Branch and Grand Union Canal Leicester Section.
---
Directions
Leave the centre of Market Harborough and walk north up the B6047 Leicester Road. Just past the second entrance to the hospital a layby leads off downhill to the left. Go down this layby and near the bottom a footpath leads off to the left.
Cross a bridge over the canal and take a fooptath that leads north-westwards across fields towards a large grey building, which is actually a prison. Early on on this section you pass through what looks suspiciously like a shooting range. There are two paths towards the prison; I took the slightly more direct one that followed field boundaries rather than crossing directly across them.
Once the prison had been reached turn right and walk north along an old road beisde the prison to meet Gallow Field Road. Turn right down the road and almost immediately left, to take a footpath that leads downhill to meet the canal once again. Cross the canal by a footbridge and take a footpath that heads to the northwest across fields into the village of Foxton.
The footpath ends at the end of a lane. Walk down this lane for a short distance to meet a road. Turn right down Swingbridge Street and take the first road to the left and then when it ends turn right down Vicarage Drive. Turn left at the end of Vicarage Drive and when the old village green is reached take North Lane. Ignore the footpath to the right and walk on along the lane until you reach a bridleway leading off to the right (north-west). Take this bridleway as it follows a stream. When a field boundary is reached turn right and follow the hedge northwards. After a short distance the canal appears on the other side of the hedge and the path descends through the hedge to meet it.
Turn right along the canal and walk north to Debdale Wharf. Do not leave the canal but continue walking along it for a few miles until you reach the south-eastern portal of Saddington Tunnel. The towpath leaves the canal and goes over the top of the hill directly above the tunnel, crossing a road before it descends down to meet the canal again. Continue along the canal past Kibworth Bridge and into the outskirts of Newton Harcourt. Leave the canal at the road bridge just after Lock Number 24 (Newton Middle (or Spinney) Lock) and turn right, crossing the railway line and meeting another road junction. Continue along this road (Newton Lane) as it heads uphill past Glebe and Highfield Farms before descending into the ouskirts of Leicester at Wigston, and eventually meeting the A5199.
Turn right down the A5199 and follow it as it heads northwards for a couple of miles through Knighton and into the centre of Leicester. As the centre of the city approaches, turn right down University Road past the university campus until the road ends at a T-junction with London Road (the A6(T)). Turn left and head down London Road to the bottom of the hill, where the railway station is situtated to the right. Cross over Waterloo Way and continue along Granby Street into the centre of the city. Granby Street slowly starts to curve to the north and becomes Gallowtree Gate and Church Gate. Leicester bus station is situtated to the right down Gravel Street just before the A594 dual carriageway is reached.
---
Distances
| From | To | Distance (m) | Ascent (ft) | Descent (ft) |
| --- | --- | --- | --- | --- |
| Market Harborough | Foxton | 3.1 | 184 | 131 |
| Foxton | Newton Harcourt | 7.5 | 312 | 299 |
| Newton Harcourt | Leciester | 7.1 | 312 | 443 |
This makes a total distance of 17.7 miles, with 808 feet of ascent and 873 feet of descent.


For more information on profiles, ascents and descents, see this page
---
Transport
There are regular X7 National Express busses running from Leicester to Market Harborough and then onto Northampton, calling at various villages en route. There are also less frequent local bus services that run on a similar route. Trains also run from the station in Leicester to the station in Market Harborough every half an hour which makes it a very attractive service compared to the bus. The station in Market Harborough is about half a mile from the town centre, however.
---
Disclaimer
Please note that I take no responsibility for anything that may happen when following these directions. If you intend to follow this route, then please use the relevant maps and check the route out before you go out. As always when walking, use common sense and you should be fine.
If you find any information on any of these routes that is inaccurate, or you wish to add anything, then please email me.
All images on this site are © of the author. Any reproduction, retransmissions, or republication of all or part of any document found on this site is expressly prohibited, unless the author has explicitly granted its prior written consent to so reproduce, retransmit, or republish the material. All other rights reserved.
Although this site includes links providing convenient direct access to other Internet sites, I do not endorse, approve, certify or make warranties or representations as to the accuracy of the information on these sites.
And finally, enjoy your walking!
---
Nearby walks
---