Walk #322: Lympstone to Dawlish
| | | |
| --- | --- | --- |
| | | |
| P20031100050 The bridge over the river in Topsham. | | P20031100051 The river in Topsham. |
General Data
| | |
| --- | --- |
| Date Walked | 10/01/2003 |
| County | Devon |
| Start Location | Lympstone |
| End Location | Dawlish |
| Start time | 08.03 |
| End time | 14.50 |
| Distance | 16.0 miles |
| Description | This was a simple and flat walk up the Exe Estuary to the first bridge and then down it again as far as the town of Dawlish. |
| Pack | Today I carried my 30-litre Karrimor HotRock rucksack, which was filled with my packed lunch, waterproof leggings, water bottle and a couple of spare shirts, together with the usual assortment of odds and ends. |
| Condition | I was trying out me new boots today, and as expected these made my left ankle ache considerably. When I met Sam at Countess Wear I put a thick sock on that foot, which improved matters slightly. I am hoping that the new boots break in quickly so I do not have to suffer too much. Aside from this I did not have an other problems, on what was a nice and easy flat walk. |
| Weather | It was a lovely and sunny day, and although it was not as cold as it has been over the last few days it was still not warm. There were a few clouds, but there was no sign of any rain or snow. |
| OS map | Landranger number 192 (Exeter & Sidmouth, Exmouth & Teignmouth) |
| | | |
| --- | --- | --- |
| | | |
| P20031100064 The Exeter Canal at Turf Lock. | | P20031100071 Turf Lock. |
| | | |
| --- | --- | --- |
| | | |
| P20031100081 The little harbour at Cockwood. | | P20031100083 The little harbour at Cockwood. |
---
Map of the walk
Maps courtesy of Google Maps. Route for indicative purposes only, and may have been plotted after the walk. Please let me
have comments
on what you think of this new format. For a detailed table of timings for this walk, please see
the table file
.
| | | |
| --- | --- | --- |
| | | |
| P20031100088 Langstone Rock. | | P20031100090 The view northwards towards Langstone Rock. |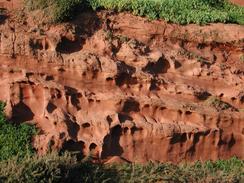 P20031100092 A close-up view of the Old Red Sandstone cliffs.
---
Notes
Today was a very busy day, but an exceedingly good one nonetheless. Yesterday Sam organised an interview for me at Countess Wear at ten in the morning with Radio Devon, and so I had to walk there for the interview first thing in he morning. I arrived there five minutes late, which is not bad after a six-mile walk, and met the lady for the interview. She is a walker herself, and the interview went very well, and Sam even answered a question - she does not like talking on the radio. This was broadcast on Radio Devon this evening, and it was a good slot except they did not mention my website, which is probably my fault as I did not mention it myself in the interview.
I also realised that I had not been in contact with BBC Radio Cambridgeshire recently, so I phoned them up and did a five-minute slot this afternoon. This also went well, and I sat on the sea wall beside the railway line as I talked, with the red cliffs, the blue sky and blue sea forming a lovely view that I attempted to describe to the listeners. The seawall at Dawlish is a famous place as it is where many photographs of trains have been taken over the years - it is a stunning place, particularly when waves break over the seawall and passing trains.
To add to all this I did a little interview with a local newspaper, the Exeter-based Express and Echo yesterday, and a little 250-word article appeared in the paper today. All in all this was a little media blitz, and it was actually most enjoyable, and will hopefully help us get some more money for the charity. The media side of this walk is quite interesting, and although I am not completely at ease with it doing them is becoming easier with time.
Dawlish Warren is very nice, and the views over the Exe estuary to Exmouth were superb on this clear day. By the station there are a couple of rows of railway coaches that used to be used as holiday accommodation (called camping coaches) - whether they are still used for this purpose I do not know. The walk from Dawlish Warren into Dawlish gave me some lovely close-up views of the red sandstone cliffs, which looked quite magnificent in the bright sunshine and took me back to when I saw them as a child.
Sam and I decided to go out into Dawlish for a drink tonight. We went into a couple of pubs with our collecting pot, and in the second one, the Hole in the Wall, we met three teachers and a male nurse who made us feel very welcome. Whenever someone came in who they knew they called them over and got them to give us some money. They were all very nice and we had a great, funny evening and collected a nice amount for the charity. I am now getting slightly more used to doing interviews, although I sill think that my voice sounds awful - Sam's voice is far better as she has much more tone in her voice.
Our family own a little plot of land just above Bishopseignton, so this afternoon I took Sam to have a look around the land before it got dark. This was an enjoyable little diversion, and it was great to see the place where I spent so many holidays one again. It was even the place where I took my first steps, so visiting it on this walk seemed like a singularly apt idea.
Tomorrow I will be going through areas that I know very well from when I was a child and I have not visited for some time. I am looking forward to walking along the seawall beside the railway line in Teignmouth, seeing Teignmouth pier, walking over Shaldon Bridge, and then seeing the Ness, the Smugglers Tunnel through the Ness and maybe, just maybe, having a strawberry milkshake and rock bun in the Clipper Cafe, as I did when I was a child. I can only hope that the sun will be shining and the weather nice tomorrow just to make the day perfect.
At Countess Wear there is a lift bridge and a swing bridge over the Exeter Canal, which is one of the oldest canals in the country. The bridges played an important role in the Second World War as a bridge that was practiced on for three days and nights prior to the attack on the Pegasus Bridge in France on the nights of the 5/6/ June 1944. This is yet another link with the Second World War that I have found on this south coast, although this had probably more to do with the nearby Commando base at Lympstone that I passed early on in the day.
The walk along the Exeter Canal was very nice albeit slightly boring until I got to the end at Turf Lock. The canal was built in three stages; the first being completed in 1563 from Exeter Quay and Matford Brook (this was the first canal to be built in Britain since Roman times), a later extension in 1676 when it was extended to Topsham and finally another two miles was added on in 1827 to Turf Lock, bringing the total length of the canal to five and a quarter miles. Turf Lock is very pleasant, and beside the lock is a pair of old lock gates that were recently replaced, but instead of removing the old ones for disposal they have been placed together along with an information board, which is a nice touch.
---
Directions
During this walk I followed the South West Coast Path, the route of which is detailed in the Ordnance Survey National Trail Guide 10, Falmouth to Exmouth (ISBN 1-854108-90-5). Unfortunately the route description is written in reverse to the direction that I am walking, but the 1:25,000 maps in the book are clear and the signs on the ground are very good. Also to be recommended is the South West Coast Path Association guidebook (ISBN 0-907055-04-4), which has less concise directions and no maps, but includes accommodation details and grades each section of the walk according to difficulty. They also publish reverse directions, which are suitable for walking in the direction that I walked the route. They have a website at www.swcp.org.uk, which is well worth a visit.

National Trail Guide: Falmouth to Exmouth

SWCP Association guide 2004
To reach the SWCP, this walk starts off at Lympstone Station, which is on the Exeter to Exmouth railway line. Leave the station and descend down the approach road. At the end of his turn left and head under a railway bridge and continue on through Lympstone. Take the next road to the left, which heads uphill, turns sharply to the right near the entrance to Hutwell Court and then slowly curves around to the left before ending at a junction with the A376 road. Turn left along this road and follow it as it heads past the Commando training centre on the left. The road continues on in a roughly northerly direction, passing through the villages of Exton and Ebford before a roundabout is reached to the north of Ebford.
At the roundabout turn left down another road, passing a public house as the road heads down onto the floodplain. It crosses a river on a bridge before climbing up to enter Topsham, where it heads through the town northwestwards. Just before the church is reached turn left to pass the station and cross the railway on a level crossing. Shortly after this the road ends at a T-junction; at this junction turn right along a road and head northwestwards out of the town. The road passes under the M5 and enters Countess Wear. Continue on until a large roundabout is reached at the junction with the A3015 road. Turn left at this roundabout and head southwestwards towards Lower wear before crossing the River Exe on a bridge, and immediately after cross the Exeter Canal.
On the far, southern, side of the Exeter Canal turn left to walk southeastwards along the canal. This passes under the M5, which goes overhead on a long viaduct, before passing the landing point of the passenger ferry over from Topsham. The rest of this walk from Topsham Ferry south to Dawlish is detailed in the books mentioned above.
---
Distances
| From | To | Distance (m) | Ascent (ft) | Descent (ft) |
| --- | --- | --- | --- | --- |
| Lympstone Station | Countess Wear | 6.1 | 410 | 436 |
| Countess Wear | Powderham Church | 4.5 | 39 | 49 |
| Powderham Church | Dawlish Station | 5.4 | 187 | 194 |
This makes a total distance of 16.0 miles, with 636 feet of ascent and 679 feet of descent.


For more information on profiles, ascents and descents, see this page
---
Accommodation
We stayed in the railway station car park in Dawlish, which was quite near to the centre of the town. We could not see any signs forbidding us from doing this, and it was very quiet in the car park anyway.
---
Disclaimer
Please note that I take no responsibility for anything that may happen when following these directions. If you intend to follow this route, then please use the relevant maps and check the route out before you go out. As always when walking, use common sense and you should be fine.
If you find any information on any of these routes that is inaccurate, or you wish to add anything, then please email me.
All images on this site are © of the author. Any reproduction, retransmissions, or republication of all or part of any document found on this site is expressly prohibited, unless the author has explicitly granted its prior written consent to so reproduce, retransmit, or republish the material. All other rights reserved.
Although this site includes links providing convenient direct access to other Internet sites, I do not endorse, approve, certify or make warranties or representations as to the accuracy of the information on these sites.
And finally, enjoy your walking!
---
This walk was mentioned in the following routes:
---
Nearby walks
---