Walk #351: Portreath to Holywell
| | | |
| --- | --- | --- |
| | | |
| P20032090002 The harbour at Portreath. | | P20032090004 The daymark above Portreath Harbour. |
General Data
| | |
| --- | --- |
| Date Walked | 09/02/2003 |
| County | Cornwall |
| Start Location | Portreath |
| End Location | Holywell (Cornwall) |
| Start time | 08.40 |
| End time | 15.47 |
| Distance | 16.9 miles |
| Description | This was a lovely walk along cliff top paths that were not too demanding and which made for good walking, with some excellent views available. to the southwest and the northeast. |
| Pack | Today I carried my 30-litre Karrimor HotRock rucksack, which was filled with my packed lunch, waterproof leggings, water bottle and a couple of spare shirts, together with the usual assortment of odds and ends. |
| Condition | I feel absolutely fine after this walk, and I have no major problems to report. My feet feel better than they did after yesterday's walk, which is a big relief, |
| Weather | The main factor in today's weather was the wind, which was strong and gusty all day. At times, particularly early on in the day, it was so strong that it promised to blow me off my feet if I was not careful. Up above it was a mixture of sunshine and cloud that made for quite a mild day. Annoyingly it would have been an absolutely superb day if it had not been for the wind, although thankfully it did not rain, as rain and the wind in combination would have been quite chilling. |
| OS map | Landranger number 203 (Land's End & Isles of Scilly, St Ives & Lizard Point) and Landranger number 200 (Newquay & Bodmin, Camelford & St Austell) |
| | | |
| --- | --- | --- |
| | | |
| P20032090008 Looking over the valley leading towards Sally's Bottom. | | P20032090014 The view north over Chapel Porth. |
| | | |
| --- | --- | --- |
| | | |
| P20032090018 Wheal Coates Mine. | | P20032090029 The cliffs to the southwest of Cligga Head. |
---
Map of the walk
Maps courtesy of Google Maps. Route for indicative purposes only, and may have been plotted after the walk. Please let me
have comments
on what you think of this new format. For a detailed table of timings for this walk, please see
the table file
.
| | | |
| --- | --- | --- |
| | | |
| P20032090035 Perranporth. | | P20032090037 Perranporth beach. |
| | | |
| --- | --- | --- |
| | | |
| P20032090044 Perran Beach. | | P20032090050 Looking south over Perran Beach. |
---
Notes
I have very mixed memories of Perranporth from the last time that I visited here. That day had been very wet, and when I reached the B&B that I had booked myself into I found it to be less than perfect. In a bad mood, I went down onto the beach to discover that the sun had come out for the first time in the day. Still in a grumpy mood, I went into a hotel and had the largest plate of fish and chips that I had ever seen - it is unusual for me not to be able to finish fish and chips, but that serving beat me. This cheered me up no end, and if I had finished today's walk in Perranporth then I would have been severely tempted to go back there for a meal tonight.
I met Sam in an upper car park in Perranporth, but before I had a chance to meet her she got the front wheels of the van stuck in the mud. There followed five minutes of work with the planks of wood and ramps that we keep for such occasions, coupled with occasional profanities, before we eventually got the wheels out and onto firmer ground. This allowed me to get into the van and eat my lunch; I had not done earlier in the day as I did not want to sit down in the wind. Even if I had found a sheltered place the wind was such that I would still probably have got cold.
The strong, gusting winds came quite close to spoiling today's walk, but fortunately they did not. If it had been raining as well it may well have been a different matter, but fortunately there was no sign of any rain all day despite a night of heavy rain last night. The wind was blowing in from the sea, and this led to a quite magical moment early on in the walk. A little stream lead over the cliff edge, and the wind was blowing the spray from this stream back over the cliff and path. As I walked through this spray I was greeted to a perfect miniature rainbow in the spray - a sight that I have never seen before. I have seen partial ones, but never complete ones.
The old mining relics in this area are all quite impressive, and there were not many stretches of path without the remains of ruined yet noble buildings related to the once-flourishing mining industry. There were also many strange pyramid structures made out of steel scattered about; my guidebook informed me that these were the caps of old mineshafts that had to be left open so that bats could fly in and out. In particular the remains of the 19th-century Wheal Coates pumping engine house was quite impressive. When I got back to the van this evening I was amazed to find that Wheal Coates was featured in the Sunday Times' 100 Amazing Places in today's paper - a strange coincidence that I should have visited it on the same day that it was in the paper.
The view along the cliffs in both directions were quite spectacular today - from St Agnes Head I could clearly see the lighthouse on Godrevy Island to the southwest and, beyond that, I could just make out the white-painted houses of St Ives in front of another headland. The views in the northeasterly direction were not quite as spectacular, but I got a great view of the wide expanse of Perran Beach from the climb through the army camp to Ligger Point. The sun was shinning on the wet sand on the beach, and it was quite a lovely sight, especially as by this time the wind was not as strong as it had been.
With hindsight I wish that I had walked on further today; as it was low tide when I finished the walk I could have walked a further three miles to Crantock and then crossed the Gannel river to the southern outskirts of Newquay. This would have extended today's walk, but reduced the mileage that I have to do tomorrow by about five miles as I would not need to walk around the Gannel - it is likely that by the time I reach the river tomorrow morning the state of the tide would be such that the tidal bridge will be impassable, and I shall have to walk around it to get to the nearest bridge at Trevemper. I felt fit enough to walk on to Crantock, but whilst the body was willing my mind was not and I felt that I had done enough walking for today.
We soon found out that we did not have any television reception in the car park, so after doing some work on my Psion whilst Sam was reading a book, I suggested that we went to one of the local pubs, the Treguth Arms. This is a lovely pub, and is based on a thirteenth century building that has been much adapted. As we walked in the heat from a roaring and welcoming fire hit us, and I nearly hit my head on one of the low beams in the bar. We stayed there for a few hours, and we did a collection for the charity. I also introduced Sam to the joys of bar billiards, and she seemed to enjoy the game a great deal.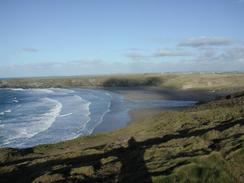 P20032090057 Looking northeastwards over Holywell Beach.
---
Directions
During this walk I followed the South West Coast Path, the route of which is detailed in the Ordnance Survey National Trail Guide 9, Padstow to Falmouth (ISBN 1-854108-50-6). Unfortunately the route description is written in reverse to the direction that I am walking, but the 1:25,000 maps in the book are clear and the signs on the ground are very good. Also to be recommended is the South West Coast Path Association guidebook (ISBN 0-907055-04-4), which has less concise directions and no maps, but includes accommodation details and grades each section of the walk according to difficulty. They also publish reverse directions, which are suitable for walking in the direction that I walked the route. They have a website at www.swcp.org.uk, which is well worth a visit.

National Trail Guide: Padstow to Falmouth

SWCP Association guide 2004
---
Distances
| From | To | Distance (m) | Ascent (ft) | Descent (ft) |
| --- | --- | --- | --- | --- |
| Portreath | Trevaunance Cove | 8.6 | 2198 | 2156 |
| Trevaunance Cove | Perranporth | 3.8 | 1240 | 1322 |
| Perranpporth | Holywell | 4.5 | 951 | 906 |
This makes a total distance of 16.9 miles, with 4389 feet of ascent and 4384 feet of descent.


For more information on profiles, ascents and descents, see this page
---
Accommodation
We parked the van in a National Trust car park in Holywell that was very convenient for the village and the coastal path. There was a sign at the entrance to the car park forbidding camping, but Sam and myself simultaneously decided that sleeping in Mervan was not camping, which was rather convenient.
---
Disclaimer
Please note that I take no responsibility for anything that may happen when following these directions. If you intend to follow this route, then please use the relevant maps and check the route out before you go out. As always when walking, use common sense and you should be fine.
If you find any information on any of these routes that is inaccurate, or you wish to add anything, then please email me.
All images on this site are © of the author. Any reproduction, retransmissions, or republication of all or part of any document found on this site is expressly prohibited, unless the author has explicitly granted its prior written consent to so reproduce, retransmit, or republish the material. All other rights reserved.
Although this site includes links providing convenient direct access to other Internet sites, I do not endorse, approve, certify or make warranties or representations as to the accuracy of the information on these sites.
And finally, enjoy your walking!
---
This walk was mentioned in the following routes:
---
Nearby walks
---