Walk #421: Seaforth to Southport
| | | |
| --- | --- | --- |
| | | |
| P20034221794 A wind turbine near Liverpool container port. | | P20034221796 The beach in Crosby. |
General Data
| | |
| --- | --- |
| Date Walked | 22/04/2003 |
| County | Merseyside |
| Start Location | Seaforth |
| End Location | Southport |
| Start time | 08.38 |
| End time | 15.35 |
| Distance | 20.0 miles |
| Description | This was a highly enjoyable walk, mostly along beaches and footpaths, north towards the town of Southport. |
| Pack | Today I carried my 30-litre Karrimor HotRock rucksack, which was filled with my packed lunch, waterproof leggings, water bottle and a couple of spare shirts, together with the usual assortment of odds and ends. My right ankle was fine today, despite wearing my new pair of boots. |
| Condition | Aside from a slight ache on the underside of my feet I feel absolutely fine after this walk, and I could easily have walked further if I had wanted to. |
| Weather | The weather today was bright and sunny, with only a few clouds to be seen in the sky. There was a little wind that cooled me down, but as it was not a very hot day I could have done without this. All in all it was not a bad day. |
| OS map | Landranger number 108 (Liverpool, Southport & Wigan) and Landranger number 102 (Preston & Blackpool, Lytham St Anne's) |
| | | |
| --- | --- | --- |
| | | |
| P20034221798 The beach between Crosby and Hightown. | | P20034221802 A view along the mouth of the River Alt. |
| | | |
| --- | --- | --- |
| | | |
| P20034221806 The beach to the south of Formby. | | P20034221809 The beach between Formby and Southport. |
---
Map of the walk
Maps courtesy of Google Maps. Route for indicative purposes only, and may have been plotted after the walk. Please let me
have comments
on what you think of this new format. For a detailed table of timings for this walk, please see
the table file
.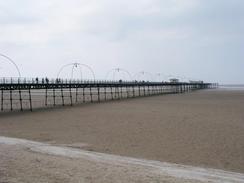 P20034221823 Southport pier.
---
Notes
Today was my two hundredth day of walking on this trip (not including the four rest days that I have had). For the last fortnight I have had the idea of reaching an average of seventeen miles a day by this time (which would mean exceeding 3,400 miles by the end of today), and I am pleased to say that I have managed it. This is significantly above the sixteen miles a day that I had been planning to do before I started this walk, and this extra mile a day means that I am 200 miles ahead of where I would otherwise heave been. For the last five days I have not walked for less than nineteen miles, which is quite pleasing, especially as I have not suffered from doing this.
I wore my third pair of boots today, and this was a little gamble as they have been causing my right ankle trouble. Last night I stretched the leather at the point the pain was happening, and this morning I placed a cotton wool pad between my ankle and my ankle brace. Rather amazingly these worked, and I managed the entire walk with absolutely no pain from my right ankle. This is highly pleasing, as I had been concerned that my third pair of boots were unwearable because of the pain that they had been causing my ankle. It is quite perverse that I have had years of trouble and many operations on my left ankle, and yet it is my right ankle that is actually giving me trouble at the moment.
Sam was waiting for me at a car park to the southwest of Formby, and it was a relief when I reached there. I sat down and ate my lunch, but there was a dawning realisation that I would have to go to the toilet fairly urgently. Sam was getting ready to drive me into the town so that we could find a public toilet when the car park attendant pointed out some portaloos nearby. They were quite dingy inside, but my need to go overwhelmed my sense of smell. It is something that non-walkers would not appreciate, but planning toilet stops is one of the most vital things you can do, particularly in populated areas. In wild areas I carry a folding trowel suitable for digging holes, but this cannot really be used in this sort of area. The woodland in this area is apparently one of the last haunts of red squirrels in England, and my dad told me that he once fed them by hand.
The walk from Formby Point to Southport was along a wide sweeping beach. The sand was fairly firm underfoot, and I managed to keep quite a good speed up. I could see Southport Pier about five miles before I reached it, and I enjoyed watching it as it slowly grew as I approached. The beach is so firm that in places cars were parked on it, and in season light aircraft used to land on it for pleasure rides. It was quite an enjoyable walk, and I listened to my Walkman as the miles went past.
Sam had arranged for me to meet a photographer from a local paper at four, so when I reached Southport I walked on for another couple of miles before she came to pick me up and drive me back to Southport. We met the photographer by the pier, which has recently been restored. The photographer was quite nice and we had a little chat as he took photographs of me in various poses, and this did not take long. When we got back to the van a couple in a car said that two men had been walking and driving past, and that they had been looking through the windows of Mervan and of another nearby motor home, and had generally been acting suspiciously. They had written down the number of the car, but fortunately Mervan was intact.
Southport is a nice little town, and it is quite unusual. The pier is quite long (three quarters of a mile), but only part of that is out at sea, with the rest of the structure stretching further inland. As I walked along the coast road through the town this intrigued me, and as I walked along I could see some very attractive older building further inland on the other side of the 86-acre marine lake. This caused me to think that when the pier was built when the sea came up to where the promenade now is, but since then land has been reclaimed, the marine lake and coast road has been built. The photographer confirmed this, and I find it quite strange that the inland section of the pier was never demolished.
Tomorrow I may try and get as far as Preston. This is somewhere between twenty-five and thirty miles away, but it looks as though the terrain is easy. As I have been managing to walk or nineteen miles a day for the last five days, I think it is time to try and push myself a little more. Unfortunately I will not be able to set off until at least nine in the morning, as we have a deposit on a key that cannot be returned until eight thirty.
---
Directions
This walk starts off at the car park on the southeastern corner of the Marine Lake in Seaforth, on the southern outskirts of Crosby. Leave the car park and walk west along the south side of the lake, and when the path meets the seawall turn right to walk northwestwards along the promenade through Crosby. When the promenade ends follow a well-defined track northwards through sand dunes. The path becomes less distinct as it heads northwards, skirting the western side of Hightown before meeting the eastern bank of the River Alt.
Follow the path along the eastern bank of the river until the houses end and the Alt army ranges begin. At this point turn to the right and follow the footpath eastwards until it meets the railway line, at which point it turns to the left to head northwards beside the railway line. It crosses a bridge over the River Alt, and when it meets a track shortly afterwards turn left to head southwestwards for a mile down the track until it meets the beach.
At the beach turn right to follow it northwestwards for a couple of kilometres towards Formby Point. Here a couple of tracks lead off to the right inland to a car park if you want to visit it; otherwise continue along the beach for over six miles towards Southport. I joined the Coastal Road at a roundabout near grid reference 321164, or you could continue along the beach. Pass the pier and continue on along the Coastal Road for a couple of miles until a car park is reached on the right, where this walk ends.
---
Distances
| From | To | Distance (m) | Ascent (ft) | Descent (ft) |
| --- | --- | --- | --- | --- |
| Seaforth | Car park near Formby | 8.9 | 151 | 135 |
| Car park near Formby | Car park north of Southport | 11.1 | 121 | 141 |
This makes a total distance of 20.0 miles, with 272 feet of ascent and 276 feet of descent.


For more information on profiles, ascents and descents, see this page
---
Accommodation
We stayed at the Willowbank Holiday Home and Touring Park, Coastal Road, Ainsdale, Southport PR8 3ST. This site cost us twelve pounds fifty pence for the night, which was reasonable as it is a lovely site with some great hot showers. They can be contacted on (01704) 571566m or by email at info@willowbankcp.co.uk, and they have a website at www.willowbankcp.co.uk.
---
Disclaimer
Please note that I take no responsibility for anything that may happen when following these directions. If you intend to follow this route, then please use the relevant maps and check the route out before you go out. As always when walking, use common sense and you should be fine.
If you find any information on any of these routes that is inaccurate, or you wish to add anything, then please email me.
All images on this site are © of the author. Any reproduction, retransmissions, or republication of all or part of any document found on this site is expressly prohibited, unless the author has explicitly granted its prior written consent to so reproduce, retransmit, or republish the material. All other rights reserved.
Although this site includes links providing convenient direct access to other Internet sites, I do not endorse, approve, certify or make warranties or representations as to the accuracy of the information on these sites.
And finally, enjoy your walking!
---
This walk was mentioned in the following routes:
---
Nearby walks
---