Walk #476: Sannox to Grogport
| | | |
| --- | --- | --- |
| | | |
| P20036184354 The river at Sannox. | | P20036184361 The A418. |
General Data
| | |
| --- | --- |
| Date Walked | 18/06/2003 |
| County | Strathclyde |
| Start Location | Sannox |
| End Location | Grogport |
| Start time | 07.59 |
| End time | 17.21 |
| Distance | 16.4 miles |
| Description | This was a fairly nondescript walk in two halves; an initial section to the ferry at Lochranza was followed by a walk down the eastern side of the Kintyre peninsular. |
| Pack | For the first part of today's walk I carried my 70-litre Craghoppers rucksack with full camping gear, including four days food. On the second part of the walk I carried my Karrimor 30-lite rucksack, with just a water bottle in it. |
| Condition | I was out of form on today's walk, and found it hard at times to walk. At first it was my left ankle that was aching, and later on the side of my right foot hurt a lot. I had no trouble with my shoulders, which was nice considering the weight that I have carried over the last three days. |
| Weather | It rained heavily overnight, and had continued to do so into this morning. This changed into a persistent drizzle once I had started walking, and by far the worst part of the weather which would gust and blow me from one side of the road to the other. Later on the sun came out, although there were still some squally showers to contend with. |
| OS map | Landranger number 62 (North Kintyre & Tarbert) and Landranger number 69 (Isle of Arran) |
| | | |
| --- | --- | --- |
| | | |
| P20036184366 Lochranza Castle. | | P20036184370 Lochranza Castle. |
| | | |
| --- | --- | --- |
| | | |
| P20036184378 The Allt a' Bhuic Burn. | | P20036184381 Crossaig Glen. |
---
Map of the walk
Maps courtesy of Google Maps. Route for indicative purposes only, and may have been plotted after the walk. Please let me
have comments
on what you think of this new format. For a detailed table of timings for this walk, please see
the table file
.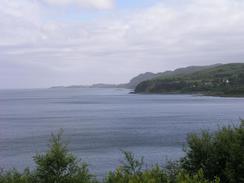 P20036184386 The view south along the coast towards Grogport.
---
Notes
When I woke up this morning the rain was drumming on the outside of the tent, and the wind was doing its best to bend the hoops flat. I struggled out to see a radically different view to the one that I had last night; instead of being able to see the tops of the mountains I could only see their bases, and the Ayrshire coast was obscured by low cloud. I had to meet Sam by eleven at the Lochranza distillery, so I packed up my pack and quickly laid down he tent, only to have to chase the flysheet halfway across the grass when it got picked up by the wind.
Fortunately once I had set off it was not raining as hard as it had been, although there were still some squally showers. The road ascends up to 199 metres along a pass, and the wind was blowing down it and during gusts it was blowing me from one side of the road to the other. The traffic was light so this was no bother, but at the top of the pass my tent actually fell off the top of my pack, the first time that this has ever happened to me, and so I must learn to pack it better in future! The descent down the road was far easier as the bulk of the hills protected me from the wind, and I made good progress down to the Lochranza distillery. I realised that it would be a while before Sama arrived, so I climbed up the stairs to a restaurant and ordered myself a Scottish breakfast. This arrived and was absolutely superb - a veritable feast for the taste buds, especially when it was backed up with a couple of cups of coffee. Sam then arrived, and we both went on a tour of this distillery, which opened in 1995 and is thus the newest distillery in Scotland. I have never been on a distillery tour before, and I found it extremely interesting. I should really visit attractions more on this walk, especially now that the days are so long enough for me to take a few hours off during the day. At the end of he tour there was a little whisky tasting section, and I must admit that I did quite like Isle of Arran whisky - it is nice and light, which is nice after a days walk. Some whiskies, such as Laphroig or Talisker, are very heavy and make me more thirsty after a long days walk. We both went into the shop and bought ourselves bottles of whatever we wanted, before setting out once more.
The walk down to the ferry terminal in Lochranza was very stop and start, as we called in at several shops en route. In one I found a guidebook for the Arran Coast Path, which apparently is an unofficial path that is in the process of being constructed. I wish that I had known about this book before I arrived on the island, as it may have been nice to follow some of the paths rather than just sticking to the roads. On the other hand, walking on the roads has allowed me to make quick progress, see many things and get used to the heavy pack without risking twisting my ankle on rough ground. It also means that I have yet another excuse to come back and visit Arran! Fortunately it had stopped raining as we walked through the village, and there were even some occasional glimpses of the sun visible through gaps in the cloud. The ferry was late coming in as the sea was choppy, and on the trip across on the ferry a combination of the whisky that I had tasted in the distillery and the rocking of the boat made me feel slightly green - I am obviously not a natural sailor! When we reached the ferry terminal at Claonaig we went into Mervan and it felt strangely alien - I had only been way from it for three nights, but I had got used to being in the tent and the roomy spaciousness (now, I never thought that I would say that!) of Mervan seemed slightly alien.
Eventually I felt better, and I set off to do the last stretch of the walk as far as Grogport. After a while my right foot started to hurt where I twisted it a month ago, and this got bad enough to cause me to limp quite severely at times. I was tempted to call Sam out to pick me up, but I had a fixation on reaching 4,500 total miles on the trip today. I had reckoned that when I reached Grogport I would have reached that target, but the only place that Sam could pull up on the narrow roads in the area, so I ended today on a total of 4,499.9 miles! This is so ridiculously close to 4.500 miles that we celebrated by drinking the whisky and liqueur that we bought at the distillery. 4,500 miles is more or less the same distance that Tom and Spud did on their walks, and this makes me realise exactly how far I have walked. I talked to Graham this evening as we will be meeting up in a few days, and he has not yet completed 3,000 miles, and he set off three weeks before me. The fact that I have walked this far has made me proud - it is far further than I could ever have dreamed walking a few short years ago.
Graham and I should be meeting up sometime on Saturday (although we may not meet on the path - Graham may take a different route around the southern end of Kintyre), and we are planning to meet up during the evening for a drink or three. We will have a lot to discuss - general reminisces of our walks so far, and also the routes that we took - I certainly want to know the route that he took through Knoydart, for example. Only someone who has walked for a few thousand miles can know how I feel, and so it will be nice to chat to someone who is going through it as well.
---
Directions
This walk is very much one of two halves, the first half of which takes you from Sannox to the ferry terminal in Lochranza. This route simply follows the A841 road northwestwards as it heads over the 199-metre high pass between two ranges of hills, one to the north and the other to the south. This road eventually descends to pass the Lochranza distillery and the youth hotel, before reaching the ferry terminal.
The second half of the walk starts off at the ferry terminal in Claonaig. Leave the jetty and turn left to head northwestwards up the B8001 road for about half a kilometre until a junction with the B842 road is reached. At the junction turn left and follow the B8432 road southwestwards towards Crossaig and then finally onto Grogport, where this walk ends.
---
Distances
| From | To | Distance (m) | Ascent (ft) | Descent (ft) |
| --- | --- | --- | --- | --- |
| Sannox Bay | Lochranza Pier | 7.2 | 889 | 879 |
| Claonaig Pier | Grogport | 9.2 | 1060 | 1056 |
This makes a total distance of 16.4 miles, with 1949 feet of ascent and 1935 feet of descent.


For more information on profiles, ascents and descents, see this page
Please note; this profile includes a few miles of the ferry crossing; this is the level section in the middle.
---
Accommodation
We spent the night at the Carradale Bay Caravan Park, Carradale, Kintyre, Argyll PA28 6QG. They can be contacted on (01583) 431665 or by email at sales@carradalebay.abelgratis.com. This site was in a great situation, but the toilets and showers were not the best that we have ever had. It cost us ten pounds for he night, and we stayed here for two nights in a row.
---
Disclaimer
Please note that I take no responsibility for anything that may happen when following these directions. If you intend to follow this route, then please use the relevant maps and check the route out before you go out. As always when walking, use common sense and you should be fine.
If you find any information on any of these routes that is inaccurate, or you wish to add anything, then please email me.
All images on this site are © of the author. Any reproduction, retransmissions, or republication of all or part of any document found on this site is expressly prohibited, unless the author has explicitly granted its prior written consent to so reproduce, retransmit, or republish the material. All other rights reserved.
Although this site includes links providing convenient direct access to other Internet sites, I do not endorse, approve, certify or make warranties or representations as to the accuracy of the information on these sites.
And finally, enjoy your walking!
---
This walk was mentioned in the following routes:
---
Nearby walks
---