Walk #70: Thorpe to Matlock
| | | |
| --- | --- | --- |
| | | |
| H29 Photo from Tissington Trail looking north towards Parwich. | | H28 My frosty tent. |
General Data
| | |
| --- | --- |
| Date Walked | 19/03/2000 |
| County | Derbyshire |
| Start Location | Thorpe |
| End Location | Matlock station |
| Start time | 07.40 |
| End time | 13.55 |
| Distance | 13.0 miles |
| Description | This was a pleasant walk following the Limestone Way. |
| Pack | Full Pennine Way-spec kit. |
| Condition | No great problems. No blisters, although I was quite fatigued at the end of the day. |
| Weather | Very sunny and warm for the time of the year. the early morning frost disappeared very quickly. It was generally a beautiful walking day. |
| OS map | Outdoor Leisure number 24 (The Peak District - White Peak Area) |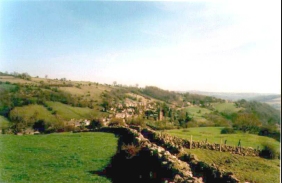 H32 Looking over Bonsall from near Upper Town
---
Map of the walk
Maps courtesy of Google Maps. Route for indicative purposes only, and may have been plotted after the walk. Please let me
have comments
on what you think of this new format. For a detailed table of timings for this walk, please see
the table file
.
---
Notes
This was a very hot and tiring day, and in many ways was harder than many of the days on the Pennine Way. This was mainly down to a quite aggressive timescale (I had to get to Matlock for 14.00) and the fact that the day consisted of a large amount of up-and-down'ing over hills and into valleys, and in some cases these climbs were very steep.
I am pleased because even after a relatively hard day yesterday my legs stood up well to the shocks and impacts of the walk. This is a distinct difference to the situation I found myself in on many of the days of the Pennine Way, where my legs ran out of energy. It appears that all the walking that I have been doing recently has been worth the effort.
The scenery on this stretch is marvellous, with some excellent views being available, particularly above Ballidon Church and near Brassington, from where Carsington Water is visible.
I was starting to develop a hotspot on the ball of my left foot, so I stopped at Brassington and sat down outside the telephone exchange so that I could apply a compeed plaster to the afflicted area.
I woke in the morning to find a heavy frost covering my tent. Despite this, the early morning air temperature was not too cold and I did not need to wear gloves to attempt to keep my hands warm. Packing up my tent and the morning ablutions were completed quickly, and I was soon ready to hit the road.
I was ready to depart from the campsite at 07.00, but unfortunately the campsite is one of those that require the user to give a £2.50 deposit for a key to use the facilities. Unfortunately, they did not open in the morning until 09.00 for the return of keys and the deposit. Fortunately I managed to come to an agreement with the campsite warden that allowed me to drop off the key and regain my deposit at 07.30 instead.
---
Directions
| | |
| --- | --- |
| This walk follows the Limestone Way. See 'Walking the Limestone Way', by R&E Haydock and B&D Allen, ISBN 0 907758 92 4 for excellent details and route maps of this walk. | |
---
---
Distances
| From | To | Distance (m) | Ascent (ft) | Descent (ft) |
| --- | --- | --- | --- | --- |
| Thorpe | Tissington | 1.3 | 154 | 128 |
| Tissington | Brassington | 4.7 | 1030 | 771 |
| Brassington | Ible | 2.7 | 394 | 482 |
| Ible | Matlock | 4.3 | 610 | 1207 |
This makes a total distance of 13.0 miles, with 2188 feet of ascent and 2588 feet of descent.


For more information on profiles, ascents and descents, see this page
---
Transport
As with yesterady's walk, this is an area where transport links are nowhere near as good as they could be. Thorpe and the campsite near Fenny Bentley are both quite near the main A515 Ashbourne to Buxton road, and Matlock has both frequent bus services to Derby, Buxton, Chesterfield and Sheffield and a train service to Derby. Bus services can also be caught from Matlock to Ashbourne, and then a change of bus can take you into Thorpe.
As usual, weekday services generally tend to far superior to those at weekends, particularly on Sundays. During high season, however, some services run to cater for holidaymakers that do not run during the rest of the year.
---
Disclaimer
Please note that I take no responsibility for anything that may happen when following these directions. If you intend to follow this route, then please use the relevant maps and check the route out before you go out. As always when walking, use common sense and you should be fine.
If you find any information on any of these routes that is inaccurate, or you wish to add anything, then please email me.
All images on this site are © of the author. Any reproduction, retransmissions, or republication of all or part of any document found on this site is expressly prohibited, unless the author has explicitly granted its prior written consent to so reproduce, retransmit, or republish the material. All other rights reserved.
Although this site includes links providing convenient direct access to other Internet sites, I do not endorse, approve, certify or make warranties or representations as to the accuracy of the information on these sites.
And finally, enjoy your walking!
---
This walk was mentioned in the following routes:
---
Nearby walks
---