Walk #180: Mablethorpe to Skegness
| | | |
| --- | --- | --- |
| | | |
| P2090002 The beach just to the north of Mablethorpe. | | P2090004 The sea wall and beach at Sutton on Sea. |
General Data
| | |
| --- | --- |
| Date Walked | 09/02/2002 |
| County | Lincolnshire |
| Start Location | Mablethorpe |
| End Location | Skegness Station |
| Start time | 10.15 |
| End time | 15.47 |
| Distance | 15.6 miles |
| Description | This was a very nice walk along the seafront, with the sea never being far away. The going was good with long stretches of sea wall saving me from having to walk on the beach. |
| Pack | I used my small 30-litre rucksack for this walk, carrying a set of spare clothes, my Psion 5, a battery charger and a few other little items. |
| Condition | I am not feeling too bad after this walk, and I have no new blisters. I got a fairly fast pace on early in the walk, and I am pleased that I feel so good after this. I appear to have no blisters, and my feet and legs are all fine. I fear that my cold may have got worse, however. |
| Weather | Today's weather was okay, with a fierce wind blowing out to sea from inland. Because of the wind the weather was changeable, but fortunately it was mostly sunny. Nearing Chapel St Leonards there was a brief but fierce rainstorm, which due to the wind was not very pleasant. It was fairly mild for the time of the year, but the wind negated much of this. |
| OS map | Landranger number 122 (Skegness & Horncastle) |
| | | |
| --- | --- | --- |
| | | |
| P2090005 Looking north along the beach. | | P2090010 Looking north along the bottom of the sea wall. |
---
Map of the walk
Maps courtesy of Google Maps. Route for indicative purposes only, and may have been plotted after the walk. Please let me
have comments
on what you think of this new format. For a detailed table of timings for this walk, please see
the table file
.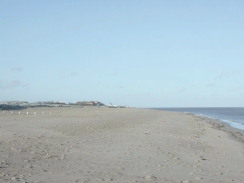 P2090014 The view north along the beach.
---
Notes
I very much needed to do this walk, as I had missed doing a walk the previous week due to having a heavy cold which also meant that I missed my first open water dive which I had been very much looking forward to it. I have been thinking about something in great depth over the last few days, and this walk allowed me to think things though uninterrupted and make some decisions.
Mablethorpe was surprisingly quiet, with only a few people walking along he beach or sea wall whilst I was there. The Tourist Information office was shut for the winter, and some slightly faded pieces of paper on a noticeboard inside the window showed that there were remarkably few B&B's available.
I stopped for lunch in Chapel St Leonards, in the Vine Hotel where I had one and a half pints of Tetley's and a couple of packs of crisps. The place was very quiet, and yet again I saw all the signs of how depressing a seaside resort can be out of season.
The approach to Ingoldmells was dominated by a funfair, with a large roller coaster winding its way up, down and through itself. Whilst on the bus on the way back to Mablethorpe I managed to get a better view of this roller coaster, and it looks brand new - the paint is immaculate.
The major feature to the north of Skegness was the large Butlins camp, which had its own monorail system running around it. The buildings looked identical to the ones that I had seen in Minehead - I wonder if the same style of building is used in all seaside Butlins camps? The Butlins camp was the first one that Billy Butlins opened, and is apparently still famous.
I was surprised that I found Skegness to be quite a nice resort town, and it was quite busy on this winter's Saturday afternoon. I stopped between the pier and the lifeboat station to have a quick chat to an old gent, who told me that the pier was once three or four times the present length, but the rest of it got swept away about twelve years ago. This was a great shame, as the current truncated pier looks slightly odd. I was glad to see work occurring on the pier, and indeed it looks as though the base of it was being widened.
I have since found out that the pier was built in 1881 and was originally 1,843 feet long by 25 feet wide, making it the fourth longest pier in England. It cost 20,840 pounds to build (against an estimate of 18,000), and had a 700-seat theatre on the end of it. The majority of the pier was destroyed in a storm in 1978 (which varies massively with the 12-year estimate made by the gentleman I was chatting to).
The fact that most of this walk was on concrete seawalls rather than the sand allowed me to get a fair pace on. At times I reckon that I was doing over four mile an hour along the sea wall, which for me is a fast pace. I am glad to say that I did not seem to suffer any ill effects as a result of the pace, although he fact that it was all flat with no hills must have helped this.
I am considering doing a long walk next year (although currently this is only a pipe dream), so I stopped in Skegness to get contact details from the newly formed Cancer Research UK (formed from a merger between the Imperial Cancer Research Fund and the Cancer Research Campaign). If I do do the walk in question then I will probably split any sponsorship money raised between the Cancer Research UK and the Riding for the Disabled Association.
When the bus got back to Mablethorpe in the early evening it was starting to get dark. I had to walk back along the beach in the dark to get to my car, which was in a car park about half a mile north of the town. In doing so I could see three yellow lights out to sea, which must have been lights (or flames) from oil or gas rigs out to sea.
Whilst I was waiting at the bus station at Skegness a man was waiting with three young boys. These boys talked to me incessantly, wanting to know exactly what I was doing any why I was doing it. Whilst their curiosity was nice, they were far too enthusiastic for me and eventually started becoming tiring. The man who was with them listened in, and when I said that I needed to find some accommodation in Mablethorpe he said that his parents ran one, and he gave me their number. Unfortunately that B&B was full, but they gave me some contact number for some other establishments.
I managed to get myself some accommodation in a B&B in Mablethorpe, which cost me fifteen pounds for the night, which is very reasonable. I had some difficulty finding a place to stay as many of the B&B's were shut for the winter. I tried three places on Victoria Road before eventually finding one that had a room available. When I got there it was full of bikers (apparently bike races are held once a fortnight on the beach), and everyone seemed very nice.
---
Directions
This walk starts off at the car park at TF505858, beside the beach just to the north of Mablethorpe. This car park is just off Quebec Road which parallels the sea as it heads north out of the town. Leave the car park and descend down to the beach. Turn right and walk along the beach southwards. After a few hundred yards a seawall is reached on the northern outskirts of Mablethorpe.
Follow either the sea wall or the beach southwards, as it passes Mablethorpe, Trusthorpe and Sutton on Sea. The sea wall eventually ends at the car park below Cob Hill at TF54187854, and from where the beach has to be followed. After three and a half miles the sea wall starts again at Chapel Point, just to the north of Chapel St Leonards.
In Chapel St Leonards you can continue walking along the beach or head inland as I did to find a local watering hole. If you do divert into the town head inland along The Pullover road, and then turn left to follow South Road southwards. Once you reach an old pub (the White House) turn right down a driveway into a caravan park that heads eastwards back to the beach. Once on the beach turn right and proceed southwards once more as the sea wall has disappeared again. As Ingoldmells is approached a funfair becomes visible, and the sea wall restarts.
Pass Ingoldmells Point and continue southwards past the highly visible Butlins Holiday Village, complete with its own monorail system. As Seathorpe is approached the sea wall ends once more and the beach has to be joined for a short distance until the northern outskirts of Skegness is reached. Here join the sea wall once more and follow it south, passing under the pier and onwards for a couple of hundred yards to the lifeboat station.
At the lifeboat station turn right to head inland along Tower Esplanade towards a clock tower in the middle of a roundabout. Continue straight over the roundabout along the B1451 Lumley road to head south-northwestwards for about half a kilometre to a junction with the A52. The railway and bus stations are immediately to the left from this junction along Richmond Drive.
---
Distances
| From | To | Distance (m) | Ascent (ft) | Descent (ft) |
| --- | --- | --- | --- | --- |
| Mablethorpe | Sutton On Sea | 2.6 | 46 | 46 |
| Sutton on Sea | Chapel St Leonards | 6.4 | 102 | 102 |
| Chapel St Leonards | Skegness | 6.6 | 138 | 135 |
This makes a total distance of 15.6 miles, with 286 feet of ascent and 283 feet of descent.


For more information on profiles, ascents and descents, see this page
---
Transport
Bus services run between Skegness and Mablethorpe, calling at several place on route. These bus services do not run on Sundays, so this is a walk that would probably best be done on a weekday or a Saturday. The bus was a route 90, and it departed from the bus station (which is beside the railway station) in Skegness.
---
Accommodation
I stayed at the Greyburns Guest House, at 78/80 Victoria Road, Mablethorpe, LN12 2AG, Tel. 01507 477524. This was cheap (15 pounds for a single room with a shared bathroom), and it was reasonable (although not startling) for the price.
---
Disclaimer
Please note that I take no responsibility for anything that may happen when following these directions. If you intend to follow this route, then please use the relevant maps and check the route out before you go out. As always when walking, use common sense and you should be fine.
If you find any information on any of these routes that is inaccurate, or you wish to add anything, then please email me.
All images on this site are © of the author. Any reproduction, retransmissions, or republication of all or part of any document found on this site is expressly prohibited, unless the author has explicitly granted its prior written consent to so reproduce, retransmit, or republish the material. All other rights reserved.
Although this site includes links providing convenient direct access to other Internet sites, I do not endorse, approve, certify or make warranties or representations as to the accuracy of the information on these sites.
And finally, enjoy your walking!
---
Nearby walks
---