Walk #248: Skegness to Gibraltar Point
| | | |
| --- | --- | --- |
| | | |
| P2002A270002 Skegness Pier viewed from the south. | | P2002A270007 A stream that I had to cross. |
General Data
| | |
| --- | --- |
| Date Walked | 27/10/2002 |
| County | Lincolnshire |
| Start Location | Skegness Lifeboat Station |
| End Location | Gibraltar Point North car park |
| Start time | 07.05 |
| End time | 08.55 |
| Distance | 4.8 miles |
| Description | This was an exceptionally short walk due to the very high winds which were present at the time. The wind totally spoilt what should have been an enjoyable longer walk, and caused me to cut the walk short for safety reasons. |
| Pack | Today I carried my 30-litre Karrimor HotRock rucksack, which was filled with my packed lunch, waterproof coat, water bottle and a couple of spare shirts, together with the usual assortment of odds and ends. |
| Condition | I feel absolutely find after this walk, which is to be expected after such a short walk. The main problem I had was that my right eye started weeping constantly after a while, which was probably down to having some sand in it. |
| Weather | Heavy eighty or ninety mile an hour winds were forecast for today, and for once the weathermen got it totally and utterly right. As soon as I walked to the beach I was being blown all over the place, even with my walking poles helping me keep upright. There was a small amount of drizzle in the air at times, but mostly overhead it was a mixture of sunshine and cloud. The strong wind, however, was the thing that I will always remember about this day. By late afternoon the winds had died down significantly and we were no longer afraid of the van being blown over, but it was still fairly windy outside. |
| OS map | Landranger number 122 (Skegness & Horncastle) |
| | | |
| --- | --- | --- |
| | | |
| P2002A270011 Gibraltar Point nature reserve. | | P2002A270008 A view in Gibraltar Point nature reserve. |
---
Map of the walk
Maps courtesy of Google Maps. Route for indicative purposes only, and may have been plotted after the walk. Please let me
have comments
on what you think of this new format. For a detailed table of timings for this walk, please see
the table file
.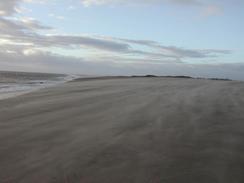 P2002A270005 Sand being blown along the beach.
---
Notes
The clocks went back today, which should have given us an extra day in bed. This did not happen however, as the van rocking in the high winds kept waking me up at regular intervals during the night. When I woke up to go to the toilet at four in the morning I realised that all power was out so I was left fumbling in the dark for he head torch that we keep by the door. The wind was gusting quite strongly outside, but despite this is was quite warm when I went outside to see if the external power trip had tripped. It had not, so I went back into the van and switched over to using 12-volt battery power so that I could actually see what I was doing. More investigation showed that the trips had gone inside the van and that a fuse had blown during the night. Later on it transpired that there had been a power blackout due to the wind that had caused all these problems.
As I was walking along the beach the wind was coming at me nearly head-on, and as it was blowing across the beach it was picking up sand which was sand-blasting me as I walked. When Sam picked me up from the car park in Gibraltar Point I got in the van and started to find sand everywhere - in my balaclava, fleeces, and even down my back! As the waves were breaking the spray was getting picked up by the wind and blown down the beach as well, which was a very impressive sight. Gusts of the wind knocked me over twice, and after about fifty minutes I decided that as the wind was scheduled to reach a height at about one in the afternoon it would be wise, if regrettable, to cut the walk short. I therefore phoned Sam up so that she could meet me at Gibraltar Point. Although this was regrettable I have no hesitation in saying that it was the sensible thing to do - the wind was just too strong to even contemplate walking along seawalls.
I am in two minds whether to register this as a proper walk or whether to walk the route again tomorrow, when the weather promises to be quite (at least relatively) nice. In the end I decided to count it as part of the walk and I will therefore start from Gibraltar point again tomorrow. It was really quite nice to have a day when I did not have much to do, and Sam and I stayed in the van until the early afternoon whilst the wind tried its best to literally turn our world upside down. Once the wind had started to subside, we went out to a local pub and played some pool to while away a little time. Doing this has actually relaxed me a great deal, and I do not feel as stressed as I did yesterday evening.
Gibraltar Point is a strange place. Apparently the sea has been retreating from this part of the Wash for three hundred years, and this has left a series of dunes and marshes. Unlike other such areas it has not been drained and reclaimed for agricultural use, which makes it an ideal refuge for wildlife. The point nature reserve consists of 1,200 acres of dunes, rough grazing, freshwater and saltwater marshes, beach and foreshore. The highest point of the whole reserve is at Mill Hill which had some lovely views over the reserve once I had summoned up the courage to stand up for any long period. The field station near the south car park used to be a coastguard house and dates from 1859, when it was on the edge of the sea. After a few weeks of seeing land eroded away at fast rated, it is strange to be at a place where the land is slowly encroaching on the sea and not vice versa.
---
Directions
The directions for this walk are very simple as the walk is so short. From the lifeboat station in Skegness go down onto the beach and turn right to walk south along the beach, heading away from the pier. Follow the coast as it heads south with a small area of marshland on the right for a couple of miles and then head inland towards Mill Hill, which is the highest point in the nature reserve. From Mill Hill descend and take a good track southwards until it ends at a T-junction with a larger track. At this junction turn right and follow it westwards out of the reserve. This track soon become surfaced and reaches a bridge over a stream and then the Gibraltar Point south car park. At the car park turn right and head northwards up a public road to the north car park.
I headed inland towards Mill Hill due to the high winds; I was hoping that the vegetation would give me some cover, and this assumption proved correct. There may be a more coastal route available by walking right around the point and not heading inland through the reserve as I did; however I cannot comment on this as I have not done it.
---
Distances
| From | To | Distance (m) | Ascent (ft) | Descent (ft) |
| --- | --- | --- | --- | --- |
| Skegness lifeboat station | Gibraltar Point north car park | 4.8 | 15 | 15 |
This makes a total distance of 4.8 miles, with 15 feet of ascent and 15 feet of descent.

For more information on profiles, ascents and descents, see this page
---
Accommodation
We stayed at the Skegness Sands caravan park for a second night as it was not too far away from Gibraltar Point. The address of the site is Skegness Sands, Winthorpe Avenue, Skegness PE25 1QZ, telephone 01754 761484. This site cost us nine pounds and ninety-five pence for the night, and was nice and clean, which made a change from some recent sites. This site was a site that I would come to again if I were in the area.
---
Disclaimer
Please note that I take no responsibility for anything that may happen when following these directions. If you intend to follow this route, then please use the relevant maps and check the route out before you go out. As always when walking, use common sense and you should be fine.
If you find any information on any of these routes that is inaccurate, or you wish to add anything, then please email me.
All images on this site are © of the author. Any reproduction, retransmissions, or republication of all or part of any document found on this site is expressly prohibited, unless the author has explicitly granted its prior written consent to so reproduce, retransmit, or republish the material. All other rights reserved.
Although this site includes links providing convenient direct access to other Internet sites, I do not endorse, approve, certify or make warranties or representations as to the accuracy of the information on these sites.
And finally, enjoy your walking!
---
This walk was mentioned in the following routes:
---
Nearby walks
---