Walk #191: Alltsigh to Lewiston
| | | |
| --- | --- | --- |
| | | |
| AR11 The view southwest along Loch Ness. | | AR12 A view southwest along Loch Ness. |
General Data
| | |
| --- | --- |
| Date Walked | 26/04/2002 |
| County | Highlands |
| Start Location | Alltsigh |
| End Location | Lewiston |
| Start time | 10.06 |
| End time | 14.43 |
| Distance | 9.5 miles |
| Description | This was a nice walk, with some lovely views being available on the stiff initial climb up from the youth hostel. Although there is much climbing, the going is good underfoot along forestry paths and quiet roads. |
| Pack | Full pack with 3 days food. |
| Condition | I feel fine after this walk. The only thing that is giving me any problems are the underside of my feet which acheslightly, but nowhere near as bad as they did the other day. My right knee hurt slightly on the ascents but generally not at other times, which made it bearable. |
| Weather | Today's weather we very much a mixture of sunshine and showers, with the two changing to and fro at regular intervals. There was a fairly bitter wind, which meant that when it was raining along the tops it was really quite chilly. |
| OS map | Landranger number 26 (Inverness & Loch Ness) and Landranger number 34 (Fort Augustus, Glen Albyn & Glen Roy) |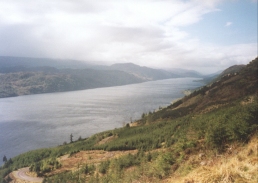 AR13 A view southwest along Loch Ness.
---
Map of the walk
Maps courtesy of Google Maps. Route for indicative purposes only, and may have been plotted after the walk. Please let me
have comments
on what you think of this new format. For a detailed table of timings for this walk, please see
the table file
.
---
Notes
This was a fairly pleasant walk with some great views down Loch Ness to Fort Augustus being available early on. I also got some great views of Royal Air Force fighters flying at low level along the loch, which was not hard as the noise that they made announced there presence minutes before I could see them!
I am now at the stage of this walk where the days of the week cease to have a meaning and time above the hour scale simply becomes a geographical entity - instead of saying last Thursday I say "when I was at Gairlochy". As the walk goes on and I become increasingly separated from my desk bound existence days simply have no meaning - the walk consists simply of where I will be at the end of the day. Which on days like today is a great feeling.
This hostel is really nice, with a good crowd including an Australian and a Czech girl. The atmosphere is far better then the hostel in Edinburgh where I met Sam, and the girls cooked the nine of us a lovely meal, which is apparently unusual so I was lucky to get here tonight. I really want to stay here for another night, but I should really move on, which is a great shame. I am so relaxed.
I stopped to have a bite of lunch beside the old fort at Grotaig, which I was disappointed to find was covered in Gorse bushes and therefore I could not really find anything of interest. The place where I chose to sit had seem nice views including the Grotaig Burn falling down the hillside, but it was very exposed and I found myself getting very cold whilst I was waiting.
There has been another sighting of the American - apparently he was seen today walking down the main road towards Inverness, which means that he is ahead of me by now. Some people in the hostel noticed him because of the bags he had in each hand!
When I reached Woodend I realised that I did not have far still to walk, so I decided to sit down on the bank opposite the house for a short rest. A man came out and I had a quick chat with him - he is a joiner from Cleethorpes who is building a shed behind the house for the owners. We had a long chat and then we parted. This whole rest was very probably a mistake, as soon after I started walking again the rain came down heavier then ever before - with hindsight I should just have continued on.
The path today was quite easy, along good forest tracks or roads for the vast majority of the way. There is a long climb at the beginning, however; this was not to bad as it was along forest haul roads and therefore even the switchback's in the route were not too steep and I made good time over them. A nice path has been made along parts of the three mile road section which helped me not to tire out my feet. These sections of path were brand new and seems slightly unnecessary along such a quiet road but I was thankful for them nonetheless.
The weather was absolutely awful for the last part of the walk, with the sunny periods becoming scarcer and the rain heavier. For the last half-hour to the hostel I was walking in near continuous rain, which was anything but fun. When the sun was out and I was protected from the wind I was okay and I could dry off; these happened less frequently as the day went on.
I am undecided about what I am going to do tomorrow. I was considering walking up to Inverness, but I will probably head up the A833 which is apparently quiet up to Beauly or Muir of Ord and see what accommodation I can find. Not going to Inverness should save me about a day as I will not be heading further east. Unfortunately this means that I will be doing an extra day of road walking, but that is probably worth the extra effort.
This hostel is really nice and has a really nice atmosphere, which is good as it is helping to relax me no end. It is now a quarter to eleven and I am still up drinking beer and chatting to this Czech girl, which is pleasant and a nice change from yet another early night. Independent hostels can be so much nicer than Youth Hostel Association ones, and this one is a case in point. Earlier on the Czech and Australian girls who are wardens for this place made the nine people staying a large and varied meal, which was very pleasant and went down a treat.
When I got into Drumnadrochit I decided that the first thing to do was to drop off my pack somewhere, which involved finding accommodation. There is a pub mentioned on the map, but this was only open on Friday, Saturday and Sunday evenings and both the B&B's opposite the pub were full. I therefore went back down to the A82(T) and crossed it to enter the very obvious Loch Ness Backpackers hostel, where I dropped off my rucksack. I then went to a local hotel, the Benleva, where I whiled away a couple of hours writing my notes, having a few pints and chatting to the barman. All in all it was a very pleasant way to spend an afternoon.
---
Directions
This walk starts off at the Loch Ness Youth Hostel, about three miles to the northeast of Invermoriston on the A82(T). Turn right from the front of the youth hostel and walk northeastwards along the road for about fifty yards to a little entrance on the left. Cross over into this area and then start taking a dirt track that leads uphill past a white house.
This track soon ends at a T-junction. Take the right hand track (not the left hand one that leads over the bridge and heads back to Invermoriston) and follow it as it starts slowly to climb.
Over the course of the next few miles the track climbs and it is followed as it does so; all junctions are well marked with both cycle track and Great Glen Way signs. After the second of two big switchback's in the track it starts to level off after a climb of about 300 metres.
The track then heads through a forest which, fortunately for me, had recently been cut down allowing some expansive views of Loch Ness to become available. It then continues in a north-easterly direction until it suddenly ends.
At the end of the track a narrow and rocky path starts a slight descent. This path is also used by the Great Glen Cycle Route, but I would not like to have to cycle over it. This path continues for under a mile until it meets another track.
This track starts to descend before rising again, and after a short distance a Great Glen Way signpost points off to the left along a path. Take this path as it climbs up towards the old fort at Grotaig and the lovely Grotaig Burn.
At Grotaig the path meets a newly-surfaced road at a little car park. Turn right and follow this road as it heads north-eastwards for about three miles. Along sections of the road a new path has been created that will undoubtedly be easier on the feet than the surfaced road.
When the road reaches the little house at Woodend and starts to descend follow it until signs lure you off to the left. The path continues along a track for a short distance before turning off to the right and plunging downhill south-westwards. At the bottom of the hill the at the meets a track near Clunebeg House.
Once the track is met turn right and follow it as it winds around the valley floor to the south of the River Coiltie. After about a kilometre it meets up with the road that has descended from Woodend and this can then be followed for a short distance to the bridge in Drumnadrochit.
---
Distances
| From | To | Distance (m) | Ascent (ft) | Descent (ft) |
| --- | --- | --- | --- | --- |
| Alltsigh | Grotaig | 5.0 | 1427 | 958 |
| Grotaig | Drumnadrochit Bridge | 4.5 | 302 | 810 |
This makes a total distance of 9.5 miles, with 1729 feet of ascent and 1768 feet of descent.


For more information on profiles, ascents and descents, see this page
---
Accommodation
I stayed at the Loch Ness Backpackers, an independent hostel in Drumnadrochit. This hostel cost 9.50 pounds for a night, plus 1.50 pounds for a continental-style breakfast. The address of the hostel is the Loch Ness Backpackers Lodge, Coiltie Farmhouse, East Lewiston, Drumnadrochit, IV63 6UJ. Telephone 01463 450 807 and email hostel@lochness-backpackers.com
---
Disclaimer
Please note that I take no responsibility for anything that may happen when following these directions. If you intend to follow this route, then please use the relevant maps and check the route out before you go out. As always when walking, use common sense and you should be fine.
If you find any information on any of these routes that is inaccurate, or you wish to add anything, then please email me.
All images on this site are © of the author. Any reproduction, retransmissions, or republication of all or part of any document found on this site is expressly prohibited, unless the author has explicitly granted its prior written consent to so reproduce, retransmit, or republish the material. All other rights reserved.
Although this site includes links providing convenient direct access to other Internet sites, I do not endorse, approve, certify or make warranties or representations as to the accuracy of the information on these sites.
And finally, enjoy your walking!
---
This walk was mentioned in the following routes:
---
Nearby walks
---