Walk #352: Holywell to Porthcothan
| | | |
| --- | --- | --- |
| | | |
| P20032100061 The bridge over the stream behind Portcothan Beach. | | P20032100063 The view from the sand dunes at Holywell Bay. |
General Data
| | |
| --- | --- |
| Date Walked | 10/02/2003 |
| County | Cornwall |
| Start Location | Holywell (Cornwall) |
| End Location | Porthcothan |
| Start time | 08.23 |
| End time | 16.55 |
| Distance | 21.4 miles |
| Description | This was a long but most rewarding day, with some lovely views available when the clouds parted enough for me to see them. |
| Pack | Today I carried my 30-litre Karrimor HotRock rucksack, which was filled with my packed lunch, waterproof leggings, water bottle and a couple of spare shirts, together with the usual assortment of odds and ends. |
| Condition | The biggest problem is with my left ankle, which by the end of today was aching. Fortunately this was not too bad, and was more annoying than anything else. Aside from this I do not feel very bad at all, and could even have walked further if I had needed. |
| Weather | The weather today was definitely in two halves; the morning was cloudy but dry, and the afternoon was cloudy and wet. Fortunately the wind that had dominated yesterday had subsided considerably, but the rain more than made up for that. The rain was not heavy, but it was continuous and because of this I got quite wet. I did not put the hood up on my coat, but walked with my woolly hat instead. |
| OS map | Landranger number 200 (Newquay & Bodmin, Camelford & St Austell) |
| | | |
| --- | --- | --- |
| | | |
| P20032100069 The mouth of the River Gannel. | | P20032100078 Fistral Beach. |
| | | |
| --- | --- | --- |
| | | |
| P20032100086 Newquay Harbour. | | P20032100008 The view over the beach at Mawgan Porth. |
---
Map of the walk
Maps courtesy of Google Maps. Route for indicative purposes only, and may have been plotted after the walk. Please let me
have comments
on what you think of this new format. For a detailed table of timings for this walk, please see
the table file
.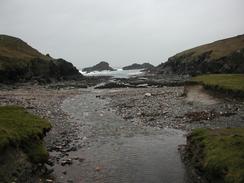 P20032100017 The stream at the bottom of Porth Mear.
---
Notes
This was a long but highly rewarding day, and one that was very enjoyable despite some highly dubious weather. In the afternoon the weather tried its best to spoil the day, but fortunately it did not succeed and I ended up really enjoying this long stroll.
I had been very unsure about how I was going to cross the Gannel River. There are various ways of crossing, and of these the ferry was out for two reasons; firstly I am trying not to taking ferries on my trip; and secondly the ferry was not even running. The next option is the tidal bridge to the southeast of Pentire. This bridge is passable all the time except for two and a half hours each side of high tide, and when I reached the banks above it I could not see it, so I assumed that it was submerged. I therefore had no option but to go to either the second tidal bridge, which is passable except for an hour each side of high tide, or by the main road bridge. Of these I chose the latter, as it was not much further away and I could not guarantee that the second tidal bridge was passable. As it happens it was, and as I walked along he road past it after having crossed the river at the Trevemper Bridge I saw this higher bridge, looking as though it would be impossible for it to ever flood.
I am exceedingly pleased that I have managed to walk over twenty miles in a day, as this was a target that I have not reached for some time. It is also nice that I managed to take a reasonably long lunch break off in the middle of the walk, and that it was done over terrain that was far from flat. There were no really steep ascents or descents, however, so I would generally call this a fairly easy day's walk. Note that at low tide this walk could be much shorter, as it would be possible to take the tidal bridge mentioned above.
At lunchtime I met up with Sam in Newquay, and we nipped into a local cafe where I had a drink. The cafe was fairly posh, and I was by far the scruffiest person in it, and I must admit that I did look rather dishevelled. Despite this I enjoyed a pint whilst we chatted about various topics, and tried ignoring some of the strange looks that we were getting from some of the other patrons. Just before we went into the cafe I had a look around the W.H. Smiths in the town, and I ended up buying myself a copy of the first part of Simon Schama's 'Hitory of Britain' on audiotape. This is a total of eight tapes, and I listened to it for most of the afternoon until I finally descended into Porthcothan at the end of the walk. I think that these tapes were a very good buy, and although I have only listened to the first one I think I shall be listening to them time and time again as I walk.
The last part of the walk from Newquay to Portothan was quite nice, but any views were spoilt by the sadly persistent drizzle that hung in the air. Listening to the radio, and later a tape, helped keep my mind off the weather and on the path, which at times approached closer to the cliff edge than I was comfortable with. Indeed some of the path to the north of Newquay has recently been moved inland as the old path was slowly being eroded away.
Tomorrow I fancy doing another long day - this time what shoukld be a nineteen-mile day through Padstow and down to Wadebridge. The second half of this walk follows an old railway line alongside the River Camel, and so I am expecting this to be fairly easy going. The weather forecast is also predicting far better weather, which I am very pleased about - I could not stand another rainy day (or even afternoon) like yesterday.
---
Directions
During this walk I followed the South West Coast Path, the route of which is detailed in the Ordnance Survey National Trail Guide 9, Padstow to Falmouth (ISBN 1-854108-50-6). Unfortunately the route description is written in reverse to the direction that I am walking, but the 1:25,000 maps in the book are clear and the signs on the ground are very good. Also to be recommended is the South West Coast Path Association guidebook (ISBN 0-907055-04-4), which has less concise directions and no maps, but includes accommodation details and grades each section of the walk according to difficulty. They also publish reverse directions, which are suitable for walking in the direction that I walked the route. They have a website at www.swcp.org.uk, which is well worth a visit.

National Trail Guide: Padstow to Falmouth

SWCP Association guide 2004
---
Distances
| From | To | Distance (m) | Ascent (ft) | Descent (ft) |
| --- | --- | --- | --- | --- |
| Holywell | Newquay | 11.3 | 1850 | 1798 |
| Newquay | Porthcothan | 10.1 | 2156 | 2254 |
This makes a total distance of 21.4 miles, with 4006 feet of ascent and 4052 feet of descent.


For more information on profiles, ascents and descents, see this page
---
Accommodation
We stayed at Old MacDonalds Farm, Porthvothan Bay, Padstow, Cornwall PL28 8LW. They can be contacted on (01841) 540829. This was a nice little site that cost us ten pounds for the night.
---
Disclaimer
Please note that I take no responsibility for anything that may happen when following these directions. If you intend to follow this route, then please use the relevant maps and check the route out before you go out. As always when walking, use common sense and you should be fine.
If you find any information on any of these routes that is inaccurate, or you wish to add anything, then please email me.
All images on this site are © of the author. Any reproduction, retransmissions, or republication of all or part of any document found on this site is expressly prohibited, unless the author has explicitly granted its prior written consent to so reproduce, retransmit, or republish the material. All other rights reserved.
Although this site includes links providing convenient direct access to other Internet sites, I do not endorse, approve, certify or make warranties or representations as to the accuracy of the information on these sites.
And finally, enjoy your walking!
---
This walk was mentioned in the following routes:
---
Nearby walks
---