Walk #434: Ravenglass to Wasdale Head, via Seascale
| | | |
| --- | --- | --- |
| | | |
| P20035052338 The river and tidal ford in Ravenglass. | | P20035052342 The Holme packhorse bridge over the River Irt. |
General Data
| | |
| --- | --- |
| Date Walked | 05/05/2003 |
| County | Cumbria |
| Start Location | Ravenglass |
| End Location | Wasdale Head |
| Start time | 09.10 |
| End time | 17.11 |
| Distance | 17.7 miles |
| Description | This was very much a positional walk to get me to the base of Scafell Pike, so that I can climb it tomorrow morning. |
| Pack | Today I carried my 30-litre Karrimor HotRock rucksack, which was filled with my packed lunch, waterproof leggings, water bottle and a couple of spare shirts, together with the usual assortment of odds and ends. |
| Condition | I feel fine after this walk, and have no significant problems to report. My left ankle and knee did not give me any trouble, which is a relief after the way they were yesterday. |
| Weather | Today was rather a grey day, with not much sunshine available all day. Fortunately this did not mean that it was a wet day, with only a couple of drizzle showers falling on me (and I missed one of these as I was inside Mervan at Seascale). |
| OS map | Landranger number 96 (Barrow-in-Furness & South Lakeland) and Landranger number 89 (West Cumbria, Cockermouth & Wast Water) |
| | | |
| --- | --- | --- |
| | | |
| P20035052348 The beach near Burn Scar. | | P20035052354 Wellington Bridge. |
| | | |
| --- | --- | --- |
| | | |
| P20035052356 The track leading eastwards near Guard's End. | | P20035052360 Wastwater. |
---
Map of the walk
Maps courtesy of Google Maps. Route for indicative purposes only, and may have been plotted after the walk. Please let me
have comments
on what you think of this new format. For a detailed table of timings for this walk, please see
the table file
.
| | | |
| --- | --- | --- |
| | | |
| P20035052362 Wastwater. | | P20035052364 The stream at Netherbeck Bridge. |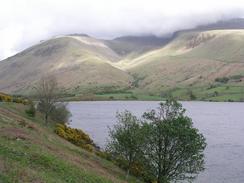 P20035052367 Wastwater.
---
Notes
I left Mervan and walked to the railway bridge over the railway bridge to the north of Ravenglass. The tide was low and I could just have made it across the ford, but I could not see the point as the footbridge beside the rail bridge was so near, and I could guarantee that I would not get my feet wet. A short distance later I had to cross the River Irt, and here again I could have done a shortcut by walking across a tidal ford. The tide was quite low, but the ford was a kilometre away and as I did not want to get there and have to walk back again I found that the ford was impassable, I chose to do the longer route via the packhorse bridge at Holme Bridge. This bridge is lovely, and I took a few photographs of it before I moved on.
As I was walking to the packhorse bridge I had a phone call from an old friend, Vince. He wanted to know when I was going to be in Liverpool so that he could come and join me for a day, and I had to tell him that I was there a fortnight ago! He is hopefully coming to join us sometime later on, but I am getting further north from Derbyshire, where he lives, every day.
The walk towards Seascale along the beach saw the towers and buildings of the Sellafield nuclear complex slowly grow larger in front of me. I met Sam at the car park in Seascale and wondered how she got Mervan under the railway bridge there - it had a height sign saying that it was only ten feet six inches tall, and Mervan is eleven feet! The reason was simple - the bridge was arched, and it was higher than eleven feet at the point where the top box (the highest point of Mervan) passed under it.
I went into the pub in Gosforth and had a pint of Bombardier whist I wrote up some notes for yesterday's walk. I also used he opportunity to collect some donations from some rugby players who were at the bar. Sam eventually joined me in the pub, and we chatted about where we were going to meet later on. One of he worst things about being on the walk is having to leave Sam each day; each time I leave her I leave a part of my heart with her. I am someone is fairly independent, and so I find it amazing that this lovely woman has come into my life and removed my independence. I need her, I want her, I love her, and every time I see her my heart sings.
The rest of the walk should have just been a long road plod to Wasdale Head, but I decided to divert uphill along a track that allowed me to get some better views, and this also got me off the road. Unfortunately at the eastern end of this track I got slightly lost and it took me some time to find the track that led back downhill to the road. This annoyed me, and he more annoyed I got the less I thought through the situation. Looking at the map when I got back it was obvious where I was meant to have gone, but I did not see it at the time.
We were always aware that we had no chance of getting any television reception at Wasdale Head, trapped as we were in a bowl in the surrounding mountains, and we therefore sat down to read. Sam read Spud Talbot-Ponsonby's book, laughing out loud at her witticisms and comment (many of which only people who have spent seven months travelling around the country in a motor home can truly understand). I sat down with the latest Private Eye, and digested the latest irreverent going-on's in the world. Neither of us really missed the television, especially as the pub was nearby, and naturally we retired to the pub later on for a while. I left fairly early on after only one pint, as I was exceedingly tired and wanted to get a good night's sleep, but Sam stayed on for another pint. On the way back to Mervan I saw a Ewe give birth to a lamb - quite a gross sight in one way, but in another way it was totally wondrous, the fight of a new life being born. One thing that has surprised me is that we saw lambing in South Wales back in early March, and we have been following the lambing season as we have been travelling north.
I am quite nervous about tomorrow's walk, especially as the weather is not looking too promising (although it should be better than it was today). The walk promises to be quite hard, and I am hesitant after the little fall that I had this time last year in Scotland. I survived that with only a few bruises, a sprained knee and much embarrassment, but it has made me nervous about walking in mountains in wet weather and cloud. Snowdon was different; I was well aware that the paths were clear and obvious, and he weather was quite clear until near the summit. I really need to get my hill walking confidence back again, and this is as good an opportunity as any.
---
Directions
This walk starts off at the car park in the village of Ravenglass. Leave the car park and head down the road into the village towards the railway viaduct. Just before the viaduct is reached a footbridge leads off to the across the river beside the viaduct. Once on the other side turn left and follow a footpath that leads to the end of a road at Low Saltcoats. Follow this road northwards for a few hundred yards before taking another road off to the left that continues towards Hall Carleton, where it turns to the right to pass under the railway line. Continue on along this road until it curves sharply to the right. Here a footpath heads off across field before descending down to the attractive packhorse bridge at Holme Bridge.
On the other side of the bridge follow a footpath that heads northwestwards across fields, initially heading under some power lines before veering away from them. Eventually the path ends at the B5344 road; turn left down this road and follow it westwards into Drigg before turning left down a road that passes the station and continues on before ending at the beach. Once on the beach turn to the right and follow it northwards towards the village of Seascale. Pass some houses before climbing up off the beach and into a car park.
Turn right and leave the car park to join the B5344 road, which heads under the railway line before heading northeastwards out of the village. Continue on for a little under three miles until the A595(T) is reached; cross this road and enter the village of Gosforth. Continue through Gosforth and head eastwards through the village, and when the road forks take the left-hand fork that heads eastwards past the church into Wellington, crossing the River Bleng at Welligton Bridge before climbing steeply uphill. Shortly after a right-hand bend a bridleway leads off to the left along a track; this heads uphill and passes Guards End and continues on until it ends at a footbridge. Here the path curves around along an indistinct path (I got slightly lost here) and starts to head downhill, skirting above Yew Tree before joining a track that runs downhill beside a stream that ends at a road.
Turn to the left and follow this road eastwards, passing Harrow Head, Gill, Buckbarrow and Greendale before ending at a T-junction at the western shore of Wastwater. At the junction turn left and follow a road northeastwards along the northern shore of the lake, passing Netherbeck bridge and Overbeck bridge, before reaching the eastern shore of the water. A little way beyond here is the entrance to the campsite to the right, and this walk ends at a lay-by opposite this junction.
For more details of the Cumbria Coastal Way, see the excellent little book, The Cumbria Coastal Way: A Walker's Guide", by Ian and Krysia Brodie, ISBN 187355110X. This book is a lovely and detailed description of the walk, and unfortunately I did not manage to get a copy until after I fnished the walk, for it would have been quite handy.
---
Distances
| From | To | Distance (m) | Ascent (ft) | Descent (ft) |
| --- | --- | --- | --- | --- |
| Ravenglass | Seascale | 6.4 | 292 | 295 |
| Seascale | Gosforth | 2.8 | 230 | 79 |
| Gosforth | Wasdale Head | 8.5 | 997 | 951 |
This makes a total distance of 17.7 miles, with 1519 feet of ascent and 1325 feet of descent.

For more information on profiles, ascents and descents, see this page
---
Accommodation
We parked Mervan in a car park just before the pub is reached in Wasdale Head. This was quite a remote place to park, but the pub had all the facilities that we needed to use.
---
Disclaimer
Please note that I take no responsibility for anything that may happen when following these directions. If you intend to follow this route, then please use the relevant maps and check the route out before you go out. As always when walking, use common sense and you should be fine.
If you find any information on any of these routes that is inaccurate, or you wish to add anything, then please email me.
All images on this site are © of the author. Any reproduction, retransmissions, or republication of all or part of any document found on this site is expressly prohibited, unless the author has explicitly granted its prior written consent to so reproduce, retransmit, or republish the material. All other rights reserved.
Although this site includes links providing convenient direct access to other Internet sites, I do not endorse, approve, certify or make warranties or representations as to the accuracy of the information on these sites.
And finally, enjoy your walking!
---
This walk was mentioned in the following routes:
---
Nearby walks
---