Walk #435: Wasdale Head to Gosforth via Mickleden and Scafell Pike
| | | |
| --- | --- | --- |
| | | |
| P20035062376 The ascent up Scafell Pike. | | P20035062379 Looking back over Wastwater. |
General Data
| | |
| --- | --- |
| Date Walked | 06/05/2003 |
| County | Cumbria |
| Start Location | Wasdale Head |
| End Location | Gosforth |
| Start time | 09.55 |
| End time | 17.05 |
| Distance | 13.4 miles |
| Description | This was a highly enjoyable walk up to the highest point in England and back down again, followed by an absolutely disastrous walk back to Gosforth. |
| Pack | Today I carried my 30-litre Karrimor HotRock rucksack, which was filled with my packed lunch, waterproof leggings, water bottle and a couple of spare shirts, together with the usual assortment of odds and ends. |
| Condition | After I came down from Scafell Pike I rather stupidly managed to twist my right ankle stupidly (see below). I walked for another eight miles after this, but for the last mile I was quite lame and limping badly. The ankle is quite swollen, and I can only hope that this subsides tonight, or I may be in some trouble about tomorrow's walk. |
| Weather | I am pleased to say that today's weather is the best that it has been for some time. It was raining first thing this morning and there were some dirty looking clouds, but these soon cleared up. I was treated to some sunshine, but from Mickledore to the summit I was in periodic cloud layers, and there were negligible views from the summit. On the scramble up Mickledore the wind was blowing ferociously from behind me, and the wind at the summit was also very strong. Although I did not get any good views from the summit, at least it was dry and it could have been much worse. |
| OS map | Outdoor Leisure number 6 (The English Lakes - South Western Area) |
| | | |
| --- | --- | --- |
| | | |
| P20035062389 The view from Mickledore. | | P20035062395 The trig point at the summit of Scafell Pike. |
| | | |
| --- | --- | --- |
| | | |
| P20035062405 The view from near the summit of Scafell Pike. | | P20035062421 The descent down Scafell Pike. |
---
Map of the walk
Maps courtesy of Google Maps. Route for indicative purposes only, and may have been plotted after the walk. Please let me
have comments
on what you think of this new format. For a detailed table of timings for this walk, please see
the table file
.
| | | |
| --- | --- | --- |
| | | |
| P20035062427 The descent down Scafell Pike. | | P20035062433 Lingmell, Scafell Pike and Scafell. |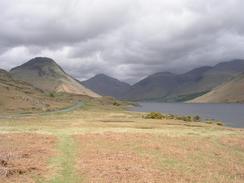 P20035062436 The view back along Wastwater.
---
Notes
This morning we went to the little camping shop at Wasdale Head to see if they had any waterproof trousers. I have had some trouble with two pairs of Lowe Alpine over trousers, and after chatting to the salesman (who is a member of the local mountain rescue team) I settled for a cheaper pair by a different manufacturer. These worked well on the mountain, so potentially they look like they were a good purchase. I also asked the salesman what the conditions were like on the mountain, and we went through my route on the map. Getting such local information is useful before going up mountains, and it as useful to learn, for instance, that the lord's Rake path was impassable due to a fallen bolder. I set off quite late and managed to power my way up the first half of the mountain, as far as the base of the scramble up to Mickledore. This scramble was quite difficult, and my walking poles were getting in the way as I tried to use my hand.
Once past Mickledore the going was less steep, although underfoot it was far rockier. Visibility was at times low, although the path was well marked with cairns all the way to the summit. At times the clouds lifted enough to get glimpses of views around to the surrounding summits, but these were brief and left me wanting much more. Eventually the trig point at the summit came into view, and I jogged the last few yards up to it. Beside the trig point there is a large circular pile of stones, and I climbed up onto the top of this as it was the highest point, but I soon get down as the wind was literally howling around. I went onto the side away from the wind and sat down and scoffed down a Yorkie bar to celebrate reaching the top. After ten minutes I moved back around to the trig point I realised that I had mobile reception, and so I sent a few text messages out to various supporters. Just before I finished doing this my dad phoned me, and by the time that this over I was very cold, and I set off at a good pace down the hill to try and warm up.
On the way down the mountain I met several people, including some couples, going up the mountain. One couple in particular seemed very ill-equipped, wearing unsuitable footwear. They were at the fork in the path at the Hollow Stones, and they asked me what was the best path up. I told them that I had no experience of the Corridor Route (he left-hand fork), and that the right-hand fork involved a scramble up to Mickledore. I advised them that it was a difficultish route, and that they should consider turning back, but they wanted to press on. What especially got me was the fact they were unsure about which route to take, yet their OS map was folded up in his pocket and they did not take it out to ask me to show them the way on the map.
I met Sam back at the layby at the base of the mountain, and I went into Mervan for a chat and to eat my sandwiches. As the rest of the walk was going to be along roads I changed into my trainers, which are easier on my feet on roads. Unfortunately as I stepped out of the van onto the layby I stepped onto a rock and I went over on my right ankle. I collapsed onto the ground like a sack of potatoes and made various expletives. Sam came running out of Mervan to find me writhing on the ground screaming. A Kiwi walker who had a hire car parked next to us came running over to see how I was (apparently when I saw him I stopped shouting out swearwords and started being more polite, which I think is an interesting thing for me to have done whilst in pain). After a couple of minutes I got up and found that I could put weight on the ankle and walk, although if it twisted even slightly on the camber of the road I had an intense burst of pain.
Being of a stubborn mindset I decided to walk on, if only because a five mile walk was far too low in a day (even if it did take in England's highest mountain). I walked on, hobbling initially but after half a mile my ankle freed up and I could walk without limping. However by the time I approached Gosforth it started hurting much more, and so when I reached Mervan in the car park in the town I entered it and sat down. I had been hoping to walk for another two and a half miles to the coast at Seascale, but when I took my right trainer and sock off to look at my ankle it had a large, egg-shaped swelling on the side of it. I tried putting an ankle brace on it, but I could still not put any weight on my right foot, and I was forced to cut the day short.
Sam has been pure gold tonight - she had got me some ice from the campsite to pout on my foot, and organised everything for me whilst I put my foot up. I feel very strange about this incident - I am annoyed with myself because it was a stupid thing to do (it is the second time that I have twisted an ankle stepping out of a campervan in my life), but I am quite pleased that it did not happen on he way up or down from Scafell Pike - that would have been much worse and potentially dangerous. It is a shame that a day that started so well - I managed to get up to the top of Scafell Pike in under two hours, which I am really pleased about - should end so badly.
I am quite concerned about tomorrow's walk. It may well be best for me to take a day off to see if that allows my ankle to recover, but I am really loathe to do this as I really want to move on. My parents are visiting again tomorrow and are staying in the Whitehaven area, and so it would be nice to be able to get to that sort of area so I am nearer to them. I will all depend on how my ankle is in the morning - if it is as bad as it is tonight that I will stand no chance of doing a walk.
---
Directions
This walk starts off at the layby about a kilometre to the south of Wasdale Head, by the entrance to a campsite. Walk down the access road to the campsite, which crosses Lingmell Beck on a bridge before continuing on to another bridge over Lingmell Gill. On the southern side of the bridge turn left and follow the eastern bank of Lingmere Gill uphill until a footbridge is reached, where the path crosses over and continues uphill along the western bank along a clear stony path. After a kilometre the path crosses a stream before heading uphill along Brown Tongue uphill for a little under another kilometre until Hollow Stones is reached. Here the path forks; if you wish to take the Corridor Route to the top of Scafell Pike then take the left-hand route, but I took the right-hand fork. The junction is quite hard to find, as the natural route is the left-hand one, so if you cannot hear the stream then you have gone too far.
From Hollow Stones continue uphill with the stream to your right, aiming for the col ahead. The path soon ends and you have to start scrambling up a scree slope to reach Mickledore. From Mickeldore turn to the left and follow a path distinguished by a series of cairns all the way to the summit of Scafell Pike. Once at the summit turn back and descend by the same route that you went up.
Once back at the layby at the base of the mountain turn left to walk along the road southwestwards. The road soon meets the eastern end of Wastwater, and can be followed until a road junction is met. At the junction turn right and follow the road as it heads westwards past Greendale, Buckbarrow and Gill before continuing on. It passes several other road junctions before eventually descending down to Wellington Bridge over the River Bleng before continuing on into Gosforth. The walk ends at a car park on the right in the centre of the village.
---
Distances
| From | To | Distance (m) | Ascent (ft) | Descent (ft) |
| --- | --- | --- | --- | --- |
| Layby near Wasdale Head | Summit of Scafell Pike | 2.6 | 2989 | 39 |
| Summit of Scafell Pike | Layby near Wasdale Head | 2.6 | 39 | 2989 |
| Layby near Wasdale Head | Gosforth | 8.2 | 804 | 843 |
This makes a total distance of 13.4 miles, with 3832 feet of ascent and 3871 feet of descent.


For more information on profiles, ascents and descents, see this page
---
Accommodation
We spent the night at the Seven Acres Caravan Park, Holmrook, Cumbria CA19 1YD. They can be contacted on (01524) 781695. This site was reasonable, and cost us ten pound for the night.
---
Disclaimer
Please note that I take no responsibility for anything that may happen when following these directions. If you intend to follow this route, then please use the relevant maps and check the route out before you go out. As always when walking, use common sense and you should be fine.
If you find any information on any of these routes that is inaccurate, or you wish to add anything, then please email me.
All images on this site are © of the author. Any reproduction, retransmissions, or republication of all or part of any document found on this site is expressly prohibited, unless the author has explicitly granted its prior written consent to so reproduce, retransmit, or republish the material. All other rights reserved.
Although this site includes links providing convenient direct access to other Internet sites, I do not endorse, approve, certify or make warranties or representations as to the accuracy of the information on these sites.
And finally, enjoy your walking!
---
This walk was mentioned in the following routes:
---
Nearby walks
---