Walk #853: A circular walk from Ludwell to Iwerne Courtney
| | | |
| --- | --- | --- |
| | | |
| P20105040001 Ludwell church. | | P20105040004 Watercress beds in Ludwell. |
General Data
| | |
| --- | --- |
| Date Walked | 04/05/2010 |
| County | Wiltshire, Dorset |
| Start Location | Ludwell church |
| End Location | Ludwell church |
| Start time | 08.25 |
| End time | 17.54 |
| Distance | 23.8 miles |
| Description | This was a long walk following the Wessex Ridgeway south over the Wiltshire Dorset border, and returning along high ground. |
| Pack | Today I carried my 30-litre Karrimor rucksack filled with waterproofs, my walking poles, a book and other odds and ends. |
| Condition | I feel surprisingly fine after this walk; I have a couple of hot spots on my feet, but aside from that have no problems. |
| Weather | The day started off sunny with occasional clouds, but as the day went on the clouds started to gather. It was not a warm day, and a biting northerly wind chilled me to the core. |
| OS map | Landranger number 184 (Salisbury & The Plain, Amesbury), Landranger number 195 (Bournemouth & Purbeck, Wimborne Minster & Ringwood) and Landranger number 194 (Dorchester & Weymouth, Cerne Abbas & Bere Regis) |
| | | |
| --- | --- | --- |
| | | |
| P20105040013 Climbing up from Ludwell towards Win Green. | | P20105040022 Looking up to the summit of Win Green. |
| | | |
| --- | --- | --- |
| | | |
| P20105040027 Ashcombe Bottom. | | P20105040031 A Wessex Ridgeway marker. |
---
Map of the walk
Maps courtesy of Google Maps. Route for indicative purposes only, and may have been plotted after the walk. Please let me
have comments
on what you think of this new format. For a detailed table of timings for this walk, please see
the table file
.
| | | |
| --- | --- | --- |
| | | |
| P20105040040 Heading west from Tollard Royal along Bench's Lane. | | P20105040044 62 miles to Lyme Regis. |
| | | |
| --- | --- | --- |
| | | |
| P20105040048 Ashmore. | | P20105040065 Heading west through Preston Wood. |
---
Notes
My campaign to walk the Wessex Ridgeway had been making steady, if somewhat slow, progress. A series of circular and linear walks had taken me as far south as Hindon, and I had walked the next stretch from Hindon to Ludwell a couple of years ago. I had also walked a section south from Iwerne Courtney around the same time, leaving a 14-mile section between Ludwell and Iwerne Courtney to walk. I had not done this at the time as it was going to be a long, hard walk, and then I suffered from an ankle injury that stopped me walking for a while.
Now that I reached Hindon, it seemed time to walk the section between Ludwell and Iwerne Courtney. It was not a decision to take lightly, as a circular walk would be at least twenty-two miles in length and I had had trouble recently doing even twenty miles. Yet it needed to be done, so I said goodbye to Sencan earlier this morning and headed off for Ludwell. It was a pleasant drive, but it took me a few minutes to find somewhere to park - eventually I settled to pull up into a small parking space beside the beautiful little church. After asking a local if it would be okay for it to stay yhere for the day, I got my kit together and headed off down the road.
I knew that there were some steps avoiding the worst of the A30 road but I could not find them, meaning that I had to squeeze beside the side of the high cutting until the pavement began. Nearby was the pub which I had reached on the previous walk, and opposite this was a lane that carried the Wessex Ridgeway past some watercress beds. Some men were busily working in the beds despite the early hour, and the interesting scene was somewhat spoiled by a disgusting rotten smell that hung in the air.
A long climb started, taking me uphill towards Win Green Hill. It was a bit of a puff, although the unfolding views more than made up for the exertion. A circular clump of trees marks the summit, which I had visited before on a couple of walks. The Wessex Ridgeway does not visit the top, but I headed off for a short distance to reach it. Although the views were superb the chilly wind soon forced me back towards the path proper.
A steep descent took me downhill towards Ashcombe House; a stile took me over the fence, and when I reached the bottom of the hill I found that I had been walking on the wrong side. This scarcely mattered as the proper route was only a few yards away from the route I walked. The path plunged down through some trees before diverting away to meet a track near Ashcombe House, which was hidden away in the trees.
What followed was a pleasant walk along a track along Ashcombe Bottom. Luscious grass hillsides were interspersed with trees and I walked slowly, revelling in the views. It seemed a shame the path entered a smaller valley that led down to the little village of Tollard Royal. On the way I came across an unusual waymarker - a circular Wessex Ridgeway badge with a direction arrow, the first I have seen on the trail (all the others have been simple waymarkers without arrows).
I had a quick chat with a woman in Tollard Royal who wanted to know if I was going to visit the church. This was off the route and so I politely refused before taking a green lane that headed uphill. This was a very pleasant stroll; not too steep and with some good views down into the valley that I had just walked down. More roads and paths took me down into the hamlet of Ashmore. On the way I crossed the county border, leaving Wiltshire behind and entering Dorset. A sign here showed that Lyme Regis was 62 miles away, meaning that I was about halfway through the Ridgeway.
A bus stop beside a pretty pond in the village seemed like a good place to stop for a bite of lunch, and I sat down as I scoffed down the sandwiches that Sencan had made me. It was a beautiful spot, but I had to head on. A long track with some good views led me into Ashmore Wood, where a carpet of woodland bluebells and wood anenomes lined either side of the track. Sometimes woods - especially coniferous ones - can be dark and gloomy places, but this was another superb stretch on a superb day. The path reached the edge of the woods and then turned, plunging downhill to meet a track in a valley.
A steep ascent took me back alongside the edge of the woods to a road. It was tempting to cut the walk short here and turn right to join the route I would be taking later, but that would have left a three or four mile gap in the Wessex Ridgeway left to walk. Instead I plodded on along the Way, which alternately headed through patches of sparse woodland and across open areas on Preston Hill. The views were not as expansive as earlier, but fields of juvenile oil-seed rape gave the landscape some vivid colour.
Another steep drop took me down to the A350 road, which was crossed to reach Iwerne Courtney, a village with two names (it is also known as Shroton). The two names appear to be used fairly interchangeably, leading me to wonder how this strange situation came about. A path led behind the houses until I met the point that I had walked on my previous walk, and headed along a narrow alley to reach the Cricketers pub. I went in and ordered a pint of bitter and went to sit outside, where two ladies were sharing a bottle of wine. They had been on a walk, and their two small dogs lay at their feet, only getting up when a snow-white cat dared to walk nearby. We chatted for a while about walking and other matters, but too soon it was time to head off once again.
I had taken my boots off for a while during my rest, and my feet felt in fine fettle as I headed off once again, forging my own route as the Wessex Ridgeway was left well behind. A pleasant footpath took me northwards, after which a heavily-rutted track took me to the attractive row of cottages at Oyle's Mill. Then a road walk took me into the village of Iwerne Minster.
A building had the largest parish noticeboard I had ever seen - actually a long row of boards all covering different topics. Past the church a track started rising uphill to the east, with views starting to unfold behind. Unfortunately the skies were a little hazier than they had been earlier in the day so I concentrated on getting up the hill.
At the top a road was met. When planning the walk I had expected this to be a quiet hilltop road, but instead I was greeted with a far busier road. The verges were narrow and I had to take care as I made my way northwards. It was a relief when I headed off a short distance along another road to reach a trig pillar that was shown in the map - I soon found this hidden inside a hedge amongst nettles.
After heading back to the road, I continued on it northwards. It was straighter now and the traffic proved easier to avoid, even if it was still annoying. A biplane headed low overhead, showing that I was approaching the Compton Abbas airfield, a strange but beautiful spot for an airfield. The wind was gusting, and the road that led past the airfield was thankfully quieter. By the time I passed the airfield the biplane was being refuelled and other small planes looked to be ready for flight. What followed was a long road walk, with few views to be had due to another ridge immediately to the north.
I was starting to get a little tired, so I slowed my pace as the road squeezed past Charlton Down to reach a main road, with Win Green hill immediately to the east. I ignored the temptation to visit it once more, and followed the road as it dived down to cross the route of the Wessex Ridgeway that I had followed earlier. It was then a simple job of retracing my steps for the next couple of miles back to Ludwell. The last hill was a bit of a struggle, but I set myself the target of reaching the car by 18.00 so I could listen to the news headlines. I just made it, and felt ecstatic at having completed a long and strenuous days walk. I finally feel as though I am getting hill-fit once again.
| | | |
| --- | --- | --- |
| | | |
| P20105040068 Heding west towards Iwerne Courtney. | | P20105040071 A view to the east of Iwerne Courtney. |
| | | |
| --- | --- | --- |
| | | |
| P20105040079 A house sign in Iwerne Courtney. | | P20105040082 Cottages at Oyle's Mill. |
---
Directions
This walk starts off at Ludwell Church. Turn left along the road heading away from the A30, then turn right down a residential road. Pass one road off to the right, then turn right down another to reach some steps that lead down to the A30. Turn left and head downhill to the pub in Ludwell, where the Wessex Ridgeway is joined for the next thirteen miles.

The route of the Wessex Ridgeway is detailed in the 'Wessex Ridgeway Recreational Path Guide', by Anthony Burton, ISBN 1 85410 613 9 published by Aurum Press Ltd.
In Iwerne Courtney, follow the path that runs behind the houses. A few yards after the path meets the road turn left down a narrow alley that runs alongside the Cricketers pub. Turn to the left and head north along the road through the centre of Iwerne Courtney. When the road ends at a T-junction, continue straight on along a narrow lane that runs between houses. The road jinks to the left and then immediately to the right; at this point continue straight on for a few yards, then turn right to join a footpath. This runs northwards behind the gardens of the houses; turn right to walk past the end of the houses, and at a gate turn left once more to head north with a hedge on the left.
The path ends at a track. Turn right and follow this rutted track as it heads eastwards, ending at a stile. Another track leads on, crossing the River Iwerne at Oyle's Mill. Pass the cottages and then turn left to take a footpath that heads northeastwards across fields. This ends at a road in a small housing estate. Follow the road northwards for a hundred yards, then turn right to walk up to the A350 road.
Turn left and follow the A350 road northwards. Immediately after the Talbot pub on the right, turn right up a lane into Iwerne Minster. Pass a chapel and then turn down a road to the left, which climbs up to pass the church. When the road ends at a T-junction beside some oak-beamed houses, turn right to start heading eastwards uphill along another road. After a short distance take a footpath off to the left; this heads eastwards behind some houses, before opening out into a track that continues uphill for a mile before ending at a road at ST886148.
Turn left and follow this road northwards for two and a half miles. When a triangular junction is reached at ST887182, turn right and follow this road as it heads eastwards past Compton Abbas airfield; it soon curves to the left to take a more northeasterly course. After two miles at ST917199 the road ends at a junction with the B3081 road. Carefully cross the road and continuie along another road, with a tumulus to the left. This road soon starts descending steeply to the north. When the Wessex Ridgeway is reached at ST917207, turn left and retrace your steps from earlier in the day down to Ludwell.
---
Distances
| From | To | Distance (m) | Ascent (ft) | Descent (ft) |
| --- | --- | --- | --- | --- |
| Ludwell church | Ashmore | 7.3 | 1139 | 955 |
| Ashmnore | Iwerne Courtney | 6.4 | 446 | 971 |
| Iwerne Courtney | Ludwell church | 10.1 | 1004 | 663 |
This makes a total distance of 23.8 miles, with 2589 feet of ascent and 2589 feet of descent.


For more information on profiles, ascents and descents, see this page
| | | |
| --- | --- | --- |
| | | |
| P20105040090 Houses in Iwerne Minster. | | P20105040098 The trig pillar on Sutton Hill. |
| | | |
| --- | --- | --- |
| | | |
| P20105040103 A plane at Compton Abbas Airfield. | | P20105040106 Heading northeast from Compton Abbas Airfield. |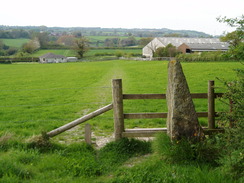 P20105040119 A stile near Peckons Hill Dairy.
---
Disclaimer
Please note that I take no responsibility for anything that may happen when following these directions. If you intend to follow this route, then please use the relevant maps and check the route out before you go out. As always when walking, use common sense and you should be fine.
If you find any information on any of these routes that is inaccurate, or you wish to add anything, then please email me.
All images on this site are © of the author. Any reproduction, retransmissions, or republication of all or part of any document found on this site is expressly prohibited, unless the author has explicitly granted its prior written consent to so reproduce, retransmit, or republish the material. All other rights reserved.
Although this site includes links providing convenient direct access to other Internet sites, I do not endorse, approve, certify or make warranties or representations as to the accuracy of the information on these sites.
And finally, enjoy your walking!
---
Nearby walks
---