Walk #31: Crowden to Standedge
| | | |
| --- | --- | --- |
| | | |
| ZX11 Looking south towards Crowden from Laddow Rocks. | | ZX10 Looking south on the way up to Laddow Rocks and Black Hill. |
General Data
| | |
| --- | --- |
| Date Walked | 08/08/1999 |
| County | Derbyshire, West Yorkshire |
| Start Location | Crowden |
| End Location | Standedge |
| Start time | 07.45 |
| End time | 15.15 |
| Distance | 11.7 miles |
| Description | A varied walk, the bleak moorland of Black Hill being followed by a nice stroll past several reservoirs. |
| Pack | Today I carried full camping gear. |
| Condition | I feel reasonable after this walk. I am very tired, but I am also exhilarated that I have got through today. My back is still very red, but not as painful as it was last night. My actual legs did not seize up as they did yesterday, but I could have done with an energy injection for the last few miles. |
| Weather | Today's weather was reasonable. It was very windy in the morning, and on Laddow Edge it was hard to make progress due to the wind blowing from the east. There was no sunshine at all through the day. |
| OS map | Outdoor Leisure number 1 (The Peak District - Dark Peak Area) |
---
Map of the walk
Maps courtesy of Google Maps. Route for indicative purposes only, and may have been plotted after the walk. Please let me
have comments
on what you think of this new format. For a detailed table of timings for this walk, please see
the table file
.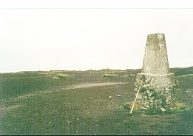 ZX12 The summit of Black Hill.
---
Notes
Today was a strenuous day. A welcome break was received on the Wessenden Head Road, where there was a refreshment van called 'Snoopys' serving *massive* baps filed with bacon, egg and anything else you could imagine. Apparently the gentleman who runs it is in semi-retirement, and only opens at weekends which is a shame.
I made good progress today, spending 7 hours 30 minutes on the road. The initial climb up to Laddow Rocks was very hard due to the wind. I could really do with more stamina. I am staying at the Mankinholes Youth Hostel tomorrow, which should allow me a non-tent night and perhaps clothes washing facilities. The rocks themselves are quite spectacular, and I can see why many people climb up the craggy cliffs.
I have never been up Black Hill before, and I was aware that many people describe going up to their knees in attempts to reach the trig pillar at the summit. However I was pleased to find that, despite the heavy recent rain, the ground underfoot was firm and I could reach the pillar with absolutely no problems.
I am pleased to say that I have no new blisters after today's walking, and the one under my big toe appears to have cleared up considerably due to the Compeed plaster. The process of using both plasters and Vaseline to cure blisters has so far worked well.
---
Directions
I am not going to bother giving any directions for any of the stages of the Pennine Way; there are many route descriptions produced that will better anything that I could produce. The main guides I used were the OS National Trail Guides, which come complete with strip maps of the route. Click on one of the links below to go to the Amazon page for each guide.


National Trail Guide South
National Trail Guide North
---
Distances
| From | To | Distance (m) | Ascent (ft) | Descent (ft) |
| --- | --- | --- | --- | --- |
| Crowden | Black Hill trig | 4.5 | 1545 | 328 |
| Black Hill trig | Wessenden Dam | 3.4 | 367 | 1270 |
| Wessenden Dam | Standedge | 3.8 | 682 | 554 |
This makes a total distance of 11.7 miles, with 2594 feet of ascent and 2152 feet of descent.


For more information on profiles, ascents and descents, see this page
---
Disclaimer
Please note that I take no responsibility for anything that may happen when following these directions. If you intend to follow this route, then please use the relevant maps and check the route out before you go out. As always when walking, use common sense and you should be fine.
If you find any information on any of these routes that is inaccurate, or you wish to add anything, then please email me.
All images on this site are © of the author. Any reproduction, retransmissions, or republication of all or part of any document found on this site is expressly prohibited, unless the author has explicitly granted its prior written consent to so reproduce, retransmit, or republish the material. All other rights reserved.
Although this site includes links providing convenient direct access to other Internet sites, I do not endorse, approve, certify or make warranties or representations as to the accuracy of the information on these sites.
And finally, enjoy your walking!
---
This walk was mentioned in the following routes:
---
Nearby walks
---