Walk #33: Mankinholes to Ponden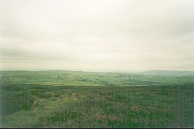 ZX18 Looking over the moors northwards from near Top Withins.
General Data
| | |
| --- | --- |
| Date Walked | 10/08/1999 |
| County | West Yorkshire |
| Start Location | Mankinholes |
| End Location | Ponden |
| Start time | 09.20 |
| End time | 16.10 |
| Distance | 12.7 miles |
| Description | This was a very pleasant walk, crossing nice moorland and passing Top Withens. |
| Pack | Today I carried full camping gear. |
| Condition | I feel absolutely fine after this walk, and I could have walked further if necessary. My back has not been giving me much gip, but is still slightly sore. Hopefully the alterations to my rucksack that I did ysterday plus the antiseptic cream have eased matters. I hope that it will get better in time for the *really* strenuous days coming up after Malham. |
| Weather | Today's weather was fine, slightly overcast with just one or two glimpses of the sun. It was perfect walking weather, and for the first time on the walk I spent the entire day in just my t-shirt. |
| OS map | Outdoor Leisure number 21 (South Pennines) |
---
Map of the walk
Maps courtesy of Google Maps. Route for indicative purposes only, and may have been plotted after the walk. Please let me
have comments
on what you think of this new format. For a detailed table of timings for this walk, please see
the table file
.
---
Notes
A superb day. Set off late after a very nice meal courtesy of the warden at Mankinholes YH. Near the top of the hill above Hebden Bridge I met up with Pete from Manchester, who was doing just the first 4 days of the way, and Sam, an American who was doing the whole thing.
Apparently they had been following me the whole way, and they had seen me at Stoodley Pike yesterday and when I was on the dam above the White House Inn. I remember seeing 2 people there but they went into the pub, which proves that they are infinitely more sensible than me!
The truck drivers at the snack bar near the M62 yesterday apparently reported to them about a tall, bearded and wild individual who had been through shortly before. They told them that they fed me quickly as they thought that I was going to be taking a bite out of the awning! What it really was was that at the time it was spitting with rain and misty and I wanted to get off as it was cold standing around.
I left Pete and Sam at Ponden as they were walking on to Lothersdale, which was a shame. I could have continued on, but I was feeling fit and by splitting the next three days to Malham into two I would only be gaining one day for much more strain. It was a shame to leave them. Sam is doing the Way in 16 days, which is three days less than my target. But I am fairly happy with my itinery, and I do not fancy stretching myself to a shorter schedule such as his, especially as I am backpacking.
It was nice to see Top Withens, although it was smaller than I imagined. The building is reputedly Mr Heathcliff's dwelling in Emily Bronte's Wuthering Heights, although even when complete the building did not match her descriptions in the book. Although many people blast the 'blockhouse construction' that has been made to hold the ruins up, I must admit that it did not look too bad, and Sam certainyl enjoyed climbing all ove them.
It is quite strange how my confidence is slowly buiding as time (and the walk) progresses. On the first day I felt like giving up on Kinder; on the second day I was very tired early on. On the third day my stamina and legs were fine, but my back was agony. On all three days I told myself that that day may well be the last on the walk.
My confidence is slowly building, and I am starting to believe that it is likely that I may be able to finish the walk. Of course, there is a longway to go, but tomorrows walk should be okay and the next day to Malham short. After that comes the high fells (eg. Pen-y-Ghent) and that will be a different matter...
---
Directions
I am not going to bother giving any directions for any of the stages of the Pennine Way; there are many route descriptions produced that will better anything that I could produce. The main guides I used were the OS National Trail Guides, which come complete with strip maps of the route. Click on one of the links below to go to the Amazon page for each guide.


National Trail Guide South
National Trail Guide North
---
Distances
| From | To | Distance (m) | Ascent (ft) | Descent (ft) |
| --- | --- | --- | --- | --- |
| Mankinholes | Graining Water | 6.6 | 1427 | 1293 |
| Graining Water | Ponden | 6.1 | 938 | 925 |
This makes a total distance of 12.7 miles, with 2365 feet of ascent and 2218 feet of descent.


For more information on profiles, ascents and descents, see this page
---
Disclaimer
Please note that I take no responsibility for anything that may happen when following these directions. If you intend to follow this route, then please use the relevant maps and check the route out before you go out. As always when walking, use common sense and you should be fine.
If you find any information on any of these routes that is inaccurate, or you wish to add anything, then please email me.
All images on this site are © of the author. Any reproduction, retransmissions, or republication of all or part of any document found on this site is expressly prohibited, unless the author has explicitly granted its prior written consent to so reproduce, retransmit, or republish the material. All other rights reserved.
Although this site includes links providing convenient direct access to other Internet sites, I do not endorse, approve, certify or make warranties or representations as to the accuracy of the information on these sites.
And finally, enjoy your walking!
---
This walk was mentioned in the following routes:
---
Nearby walks
---