Walk #381: Ferryside to Llansteffan
| | | |
| --- | --- | --- |
| | | |
| P20033120001 The view over the Towy Estuary towards Wharley Point. | | P20033120004 The view over the Towy Estuary towards Wharley Point. |
General Data
| | |
| --- | --- |
| Date Walked | 12/03/2003 |
| County | Dyfed |
| Start Location | Ferryside |
| End Location | Llansteffan |
| Start time | 08.55 |
| End time | 18.14 |
| Distance | 18.6 miles |
| Description | This was a long and quite frustrating walk up and down the River Towy to Carmarthen. It was a mixture of road and footpath walking, and this made it far from a classic walk. |
| Pack | Today I carried my 30-litre Karrimor HotRock rucksack, which was filled with my packed lunch, waterproof leggings, water bottle and a couple of spare shirts, together with the usual assortment of odds and ends. |
| Condition | I am strangely subdued after this walk, and this could be down to the fact that my bad ankle ass aching for the last couple of miles of this walk. Aside from this I feel fine physically, although mentally I am quite low. |
| Weather | Today was the sunniest day for some time, with a mixture of sunshine and cloud predominating all day. There we no sign of any rain, and the only down side to the weather was the wind, which was quite strong in the morning but died down in the afternoon, when it got quite warm. |
| OS map | Landranger number 159 (Swansea & Gower, Carmarthen) |
| | | |
| --- | --- | --- |
| | | |
| P20033120007 A waterwheel in the garden of a house on the road leading to Towy Castle. | | P20033120009 A view over the upper reaches of the Towy Estuary. |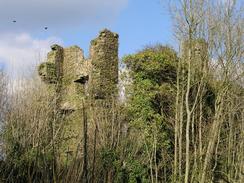 P20033120021 The ivy-clad ruins of Castell Moel.
---
Map of the walk
Maps courtesy of Google Maps. Route for indicative purposes only, and may have been plotted after the walk. Please let me
have comments
on what you think of this new format. For a detailed table of timings for this walk, please see
the table file
.
---
Notes
I found today highly annoying, as I never really got into my flow and ended up a short distance from where I started, albeit on the other side of the river. The walk involved much road walking, and also long stretches along footpaths that, whilst marked on the OS maps, did not exist on the ground. As a result of all this I am feeling very low, and could really do with something to cheer me up. I cannot really remember feeling this low at any time on this walk, and it is quite perverse that this happens on the best day for walking for some time. Days like today, when I finish the walk within sight of where I started, really dent my morale and today was no exception.
This walk had the latest finish of any walk that I have done for some time, and I am exceedingly tired after it. This is despite the fact that I have only done a moderate distance, and is due to the fact that I had a long break in Carmarthen. On one hand it is nice that the days are now long enough for me to take such long breaks, but I do not like late finishes. Maybe as the days get longer and summer approaches I shall do, more of them and get used to them, but even then I think that I will avoid them.
I had planned my walk along the eastern bank of the River Towy to use a mixture of roads and footpaths, thus avoiding the busy A484 road for as long as possible. This involved three stretches of footpaths, and the first of these was fine. However the second stretch was a different matter. I walked along the road until it ended in the farmyard shown in the map, but I could not see any trace of the footpath leading eastwards out of the farmyard. After a couple of minutes a lady came out of the farmhouse and told me that there was no footpath, but people occasionally came and look for it. She said that I could cross the fields if I wanted, but I did not fancy scrambling over hedges, but she told me of a short cut that got me up onto the road quicker than if I had had to walk back along the path. The next stretch of footpath from Towy Castle was even worse. There was no trace of the path on the ground, and I had to go cross-country, as the only other option was to walk along the main road. I had to drop down six feet down an earth bank into a lane leading into a farm courtyard. There were cows running up and down the lane as I approached, and the yard was ankle deep in cow slurry - not a very nice place to walk through.
As I was wading through the slurry I got a phone call from Sam to tell me that she had arranged an interview with a journalist from a local newspaper. A few minutes later he phoned me up, and we arranged to meet in Carmarthen at two this afternoon. This allowed me enough time to check my emails at the library before meeting him. Unfortunately it also meant that I lost a couple of hours off the walk, which means that I was struggling for time for the rest of the day.
I ran out of water a couple of hours before the end of the walk, and this meant that by the time I finished I was slightly dehydrated and in need of a stiff drink. Fortunately when I got to the van Sam made me a glass of Ribena, which I managed to drink very quickly. I could really have done with a pint of beer, but that was probably not a good idea after being dehydrated. As a consequence of this we did not visit a pub tonight, and I did not move much once I got into the van I was so drained.
Hopefully tomorrow will be a better day, and the walk will be more scenic and interesting. I could really do with a nice day to lift me mentally, and hopefully it will not involve walking along too many main roads, although looking at the map I could be sorely disappointed.
---
Directions
This walk starts off at the station in Ferryside. Head north along the road beside the railway line until it crosses a little stream over a bridge, where you take a road that leads off to the left. This road climbs uphill before crossing a cattle grate and becoming a private lane. Follow this lane as it passes the farm at Bronyn and becomes a public road once more. Continue on along this road as it passes uphill past Cwmburry and take the second road off to the right - please note that the footpath marked on the map as heading from the end of the road to Towy Castle does not exist on the road. When this new road end at a T-junction turn left until a crossroads is met. At this crossroads turn left and then take the first road off to the left, which heads towards Towy Castle. Turn left down the road leading to the castle.
When the road ends in a farmyard head downhill to the northwest, heading for some power lines. This footpath is marked on the map but is nonexistent on the ground, but it eventually reaches a farmyard at Cwmyrarian, where a track leads off northwards under two sets of power lines. This becomes a public road before it ends at a T-junction. At the junction turn left to head northwards up another road, which heads through the little village of Croesyceiliog and continues on for another mile, passing a school before ending at a roundabout on the A484 road. At the roundabout turn left to head northwards along the A484, crossing another roundabout before reaching a large roundabout with the A48. Head along an underpass under the roundabout (following National Cycle Network route 4 signs) and continue on to the station in Carmarthen.
Head over the railway line and walk through the town to the bus station and the tourist information office. Head westwards through the town, passing a large war memorial and then turn left to follow the B4312 road southwards over the A40 dual carriageway and on past a group of schools. Continue on along this road as it passes under some power lines and curves slowly to the left. After a sharp right-hand bend beside the runs of Castell Moel continue on until a road leads off to the left (I took a different and non-existent route at this point, and I am describing what should be a better one). Turn left down this road towards a church, and before the church is met turn right down another, narrow road. When this road ends turn left to head southwestwards for a kilometre until it ends at the B4312 road.
Turn left down the B4312 road and follow it for about four kilometres until it enters the village of Llansteffan. In the village turn left down a road that heads downhill and curves to the right before ending at a car park beside Traeth Beach, where this walk ends.
---
Distances
| From | To | Distance (m) | Ascent (ft) | Descent (ft) |
| --- | --- | --- | --- | --- |
| Ferryside | Carmarthen | 9.5 | 1142 | 1125 |
| Carmamrthen | Llansteffan | 9.1 | 794 | 820 |
This makes a total distance of 18.6 miles, with 1936 feet of ascent and 1945 feet of descent.


For more information on profiles, ascents and descents, see this page
---
Accommodation
We parked Mervan in the car park beside Traeth Beach in Llansteffan, which had a no overnight parking sign that we dutifully ignored. There was a short walk uphill to the facilities in the village (we found out that the local shop shut at five), and there were some public toilets in the car park.
---
Disclaimer
Please note that I take no responsibility for anything that may happen when following these directions. If you intend to follow this route, then please use the relevant maps and check the route out before you go out. As always when walking, use common sense and you should be fine.
If you find any information on any of these routes that is inaccurate, or you wish to add anything, then please email me.
All images on this site are © of the author. Any reproduction, retransmissions, or republication of all or part of any document found on this site is expressly prohibited, unless the author has explicitly granted its prior written consent to so reproduce, retransmit, or republish the material. All other rights reserved.
Although this site includes links providing convenient direct access to other Internet sites, I do not endorse, approve, certify or make warranties or representations as to the accuracy of the information on these sites.
And finally, enjoy your walking!
---
This walk was mentioned in the following routes:
---
Nearby walks
---