Walk #439: Angerton to Burgh by Sands
| | | |
| --- | --- | --- |
| | | |
| P20035112579 The River Wampool near Whitrigg. | | P20035112584 The Anthorn radio masts. |
General Data
| | |
| --- | --- |
| Date Walked | 11/05/2003 |
| County | Cumbria |
| Start Location | Angerton |
| End Location | Burgh by Sands |
| Start time | 09.26 |
| End time | 15.55 |
| Distance | 17.3 miles |
| Description | This was quite a boring walk, all of which was along roads as there were no footpaths to be walked along. |
| Pack | Today I carried my 30-litre Karrimor HotRock rucksack, which was filled with my packed lunch, waterproof leggings, water bottle and a couple of spare shirts, together with the usual assortment of odds and ends. |
| Condition | I feel relatively okay after this walk, and I have no major problems to report. Both of my ankles ached at various stages of this walk, but this was not enough to overly concern me. |
| Weather | The weather today was quite varied. Early on there were a couple of light showers, but these were not too prolonged or bothersome. The wind had died down from yesterday so that it was not too chilly, and when it was not raining the sun sometimes shone. All in all it could have been a much worse day. |
| OS map | Landranger number 85 (Carlisle & Solway Firth, Gretna Green) |
| | | |
| --- | --- | --- |
| | | |
| P20035112593 The foreshore between Bowness-on-Solway and Port Carlisle. | | P20035112597 The track leading eastwards from Port Carlisle. |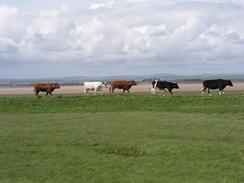 P20035112602 Cows walking along the route of Hadrian's Wall.
---
Map of the walk
Maps courtesy of Google Maps. Route for indicative purposes only, and may have been plotted after the walk. Please let me
have comments
on what you think of this new format. For a detailed table of timings for this walk, please see
the table file
.
---
Notes
I got up this morning quite tired, after another late night in the pub. I did not get up until just before eight, which is a couple of hours after I normally wake up. After this I did not get into my stride, and I never felt quite right all day, which was a sad state of affairs after yesterday's excellent walk.
The main feature of this morning was the thirteen large masts of the Very Low Frequency radio station. The masts are between 618 and 748 feet high, and the station was opened in 1964 for NATO. I first saw the masts yesterday as I walked past Grune Point (which is only a short distance across the estuary, and whilst they are not something that could normally be called attractive, they did have a certain grace when viewed from close-up. The masts have cables draped over them, and the points where the cables were attached to the masts fascinated me. The station is built on an old airfield, and beside the road there were a couple of fold hangars that were obviously used to house planes during the war. I find it quite amusing to think that the area has gone from being used by airplanes to airwaves.
Just before I reached Bowness-on-Solway I passed a strange little embankment projecting out into the Solway estuary, at a place called Herdhill Scar. This embankment is all that remains of the mile-long Solway Viaduct, which took five years to build and was finally opened in 1870. It had been described as one of the most important civil engineering structures in Britain to be demolished. The bridge was never very successful, and it is most famous for allowing Scots to get a drink on a Sunday, by crossing down into England! The statistics about the viaduct are fascinating there were 193 piers, with an average spacing of 30 feet between them and piles to a depth of forty feet, and took up nearly 5,000 tons of wrought and cast iron. The viaduct proved to be very susceptible to ice, and in November 1881 a particularly large floe demolished 45 piers. The damage was not repaired for three years, and traffic levels never recovered. The viaduct was eventually demolished in 1934-5, leaving only Herdhill Scar and a similar embankment on the northern side of the Solway Firth to show that the viaduct had ever been there. In a way I wish that the viaduct was still extant - it would certainly save me a long walk around the Firth via Gretna!
I met Sam in Mervan outside the Kings Arms in Bowness-on-Solway, and I went inside so that I could eat my lunch and read the Sunday paper. This gave me a much-needed rest, and I felt like falling asleep and ending the walk there. I was incredibly tired, not as a result of the walk so far today but of the long walk yesterday and the late night. I really did not want to get started, but I forced myself to get out of the van and start the long road plod eastwards. Bowness-on-Solway is the western end of Hadrian's Wall, and on the side of the pub there was a plaque giving information about the Roman fort that used to exist where the village now sits. This was the second largest fort on the wall, although little now remains of it. It is quite surprising to find out that the wall at this end is not a massive stone construction as it is in the middle of the country, but a turf wall. The Romans used whatever materials were locally available to build the wall, and in this part of the country turf was much more convenient than stone. I have also found out that a new long-distance footpath, the Hadrians Wall path, is due to open son, and that the trail starts in Bowness-on-Solway.
The road between Drumburgh and Burgh by Sands was three miles long and as straight as an arrow, with only two slight bumps to alleviate the boredom. To my right was the old North British railway line between Carlisle, Port Carlisle and Kirkbride, and to my left was the course of Hadrian's Wall. There was a low seawall on the left, and I wondered if this was actually a trace of Hadrian's Wall, or perhaps a more recent wall built on its course. I saw five cows walking along the seawall, and my mind transformed them into Roman soldiers walking to the nearest milecastle. This stretch of road floods regularly, and there were signs stating the depth of the water when it reaches the sign. Fortunately I walked through at low tide, and there was absolutely no chance of the tide catching me out.
I had been hoping to walk further that I did yesterday, to do at least twenty miles, but I found today to be quite hard going, and I was glad to reach Mervan. I could have walked further, but my heart was not in it - the walk had been too boring, and I just wanted to sit down and chat to Sam. As soon as I got to Mervan I started planning the next few days, a we wanted to know when I would cross the border into Scotland at Gretna, and after some though and map measuring I worked out that this will be on Wednesday morning. I really did not want to walk along the A47(T) road between Carlisle and Gretna to cross the River Esk, so I will be making a long diversion inland to the next crossing point at Longtown. I normally do not particularly mind walking along dual carriageways, but the A47(T) is bordered at either end by motorways, and I therefore think that it may just be a little too busy for my liking. Avoiding the dual carriageway will also allow me to visit a couple more border towns, and does not add too many extra miles on to the total.
---
Directions
This walk starts off on the road outside the Kirkbride bowls and tennis club in Angerton. Head northwards out of the village and cross the bridge over the River Wampool before the road ends at a T-junction in Whitrigg. At the junction turn left and follow the road as it heads through Anthorn and past the masts of the Anthorn radio station, which it curves around to reach Cardurnock. Continue along the road as it curves around and reaches Bowness-on-Solway.
Continue on through the village and out the other side, walking along a road that floods at high tide. Just before the road climbs up to enter Port Carlisle turn left down a footpath that goes along a track and runs past the old wharves and crosses a lock of the old canal to Carlisle. Continue straight on as the footpath joins an old railway trackbed, which means that you can use this to avoid walking along the road for a little under a kilometre.
When the footpath joins the road turn left and continue along it, passing Westfield House and Lowtown House. When a road goes off to the right towards Glasson I turned to the left to visit a trig point before returning back to the road and heading southeastwards towards Drumburgh. Head through the little village and continue on eastwards along a road that runs as straight as an arrow for nearly three miles, with an old railway embankment to the right and the course of Hadrian's Wall to the left. This stretch of road regularly floods at high tide, so care needs to be taken on timing this stretch of the walk. Eventually the road climbs up at Dykesfield, and continues on for another mile eastwards into Burgh by Sands. This walk ends by the Greyhound Inn, to the right of the road in the village before the church is reached.
For more details of the Cumbria Coastal Way, see the excellent little book, The Cumbria Coastal Way: A Walker's Guide", by Ian and Krysia Brodie, ISBN 187355110X. This book is a lovely and detailed description of the walk, and unfortunately I did not manage to get a copy until after I finished the walk, for it would have been quite handy.
---
Distances
| From | To | Distance (m) | Ascent (ft) | Descent (ft) |
| --- | --- | --- | --- | --- |
| Angerton | Bowness-on-Solway | 9.6 | 279 | 269 |
| Bowness-on-Solway | Burgh by Sands | 7.7 | 226 | 210 |
This makes a total distance of 17.3 miles, with 505 feet of ascent and 479 feet of descent.


For more information on profiles, ascents and descents, see this page
---
Accommodation
We stayed in the car park of the Greyhound Inn in the village of Burgh by Sands, as he landlord was kind enough to allow us to spend the night there.
---
Disclaimer
Please note that I take no responsibility for anything that may happen when following these directions. If you intend to follow this route, then please use the relevant maps and check the route out before you go out. As always when walking, use common sense and you should be fine.
If you find any information on any of these routes that is inaccurate, or you wish to add anything, then please email me.
All images on this site are © of the author. Any reproduction, retransmissions, or republication of all or part of any document found on this site is expressly prohibited, unless the author has explicitly granted its prior written consent to so reproduce, retransmit, or republish the material. All other rights reserved.
Although this site includes links providing convenient direct access to other Internet sites, I do not endorse, approve, certify or make warranties or representations as to the accuracy of the information on these sites.
And finally, enjoy your walking!
---
This walk was mentioned in the following routes:
---
Nearby walks
---