Walk #499: Glenuig to Arisaig
| | | |
| --- | --- | --- |
| | | |
| P20037155315 The Glenuig Inn. | | P20037155317 The Sound of Arisaig. |
General Data
| | |
| --- | --- |
| Date Walked | 15/07/2003 |
| County | Highlands |
| Start Location | Glenuig |
| End Location | Arisaig |
| Start time | 09.25 |
| End time | 19.25 |
| Distance | 19.4 miles |
| Description | This was a long plod, mainly along quiet main roads, but was enjoyable nonetheless. |
| Pack | Today I carried my 70-litre Craghoppers rucksack with nearly full camping gear, excluding tent and spare clothes. |
| Condition | I feel absolutely fie after this walk, and have no significant problems to report. My shoulder and neck were fine today (for the fourth day running) despite carrying my large and heavier pack. |
| Weather | Today was the best day for some time, and it ended up getting quite warm. It was not a totally cloudless day, but the sun was present for long enough for it to make it the hottest day for over a week - indeed, by the middle of the afternoon it was quite warm. Fortunately there was no sign of any rain, and there was not a great deal of wind either. |
| OS map | Landranger number 40 (Mallaig & Glenfinnan, Loch Shiel) |
| | | |
| --- | --- | --- |
| | | |
| P20037155323 Loch Ailort. | | P20037155327 Loch Ailort. |
| | | |
| --- | --- | --- |
| | | |
| P20037155334 A view down Loch Ailort. | | P20037155338 An old bridge over the Gleann Mama. |
---
Map of the walk
Maps courtesy of Google Maps. Route for indicative purposes only, and may have been plotted after the walk. Please let me
have comments
on what you think of this new format. For a detailed table of timings for this walk, please see
the table file
.
| | | |
| --- | --- | --- |
| | | |
| P20037155340 Loch Nan Uamh. | | P20037155343 The Prince's Carin by Loch Nan Uamh. |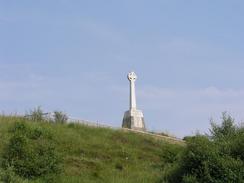 P20037155354 A war memorial in Arisaig.
---
Notes
The weather looked lovely this morning as I got ready to leave Mervan and started the walk. Glenuig Bay was blue, and men were working on a couple of small fishing boats that were tied up by the jetty. The scene looked very serene, and it was with a good state of mind that I set off on the walk. I knew that most of today was going to be along roads, and so I was not expecting a particularly uplifting walk, but the stretch along the A861 surprised me. It was not the world's best road, but it was quiet, and there were some nice view north over the Sound of Arisaig and later Loch Ailort.
The long slow miles along the road proved quite sobering, and I found myself praying for a few minutes, walking along with my eyes open but in deep conversation with God. This has happened a few times on the walk when I have felt particularly unstressed, and I find it to be quite a strange almost surreal experience. Coincidentally a few miles from the end of the A861 I cam across a large blue bus parked in a lay-by. It had some religious slogans painted on it, and these included the words 'prayer sanctuary'. This intrigued me, and so I went up and chatted to the driver. It turns out that he is driving the bus around Britain, although I never quite got to the reason that he was doing it. He was a very nice man, however, and it was a good chat about religion and spirituality on the road.
I stopped for lunch at a lay-by beside the road near the Prince's Cairn. This commemorates the place where Bonnie Prince Charlie first landed in Scotland in 1745, and the views out over Loch Nan Uamh were superb. As I ate my lunch a gentleman came over who had seen me in a local paper, and he gave me a nice donation, which was very gratefully received. IO could have easily spent much longer there as it was a superb place for a lunch break, but eventually the call of the road lured me on, as I wanted to finish early so that I could get my gear ready for tomorrow's walk.
It had been my intention to continue walking along the A830(T) all the way into Arisaig. However as I was walking along I noticed a track that lead westwards from the road and ended just south of Arisaig. When I got to the gates guarding this track I decided to walk along it, and it proved to be much preferable to walking along the road. The track was green for most of the way, and it was extremely nice to be off the road, even for a short period. This track ended at a public road, and I turned to the right to follow it northwards for a short distance into Arisaig.
I met Sam by the post office in the village, and we then went into the adjacent shop to buy some food. On the way out Sam asked me if I would like a drink, and I was a little thirsty I agreed. When we walked into the pub we suddenly met a couple, Lindsay and Tim, that we recognised - they had been at the campsite at North Berwick on the second night of the trip. We ended up chatting to them for a long time, and we then walked up the road towards the campsites (they wee staying on a different site to us). When we arrived at the Cnoc a Faire Hotel we went in and had another couple of drinks. It was absolutely amazing to meet people whom we had met so early on in the trip - it feels like a lifetime ago, yet was under ten months ago.
All of this meant that I was in a fairly well lubricated state by the time we finally got back to Mervan. Sam has wanted to have a barbecue for some time, and as the evening was so nice it seemed like the ideal opportunity. Having a barbecue whilst half drunk may not be a good idea, but Sam managed admirably and we had a nice meal as we looked at the view out to sea. Unfortunately this rather delayed us, and I did not get the time to do much work this evening or sort my pack out ready for my entry into Knoydart tomorrow. This is not the end of the world, and it should not take me long to do tomorrow morning.
---
Directions
This walk starts off at the Glenuig Inn in Glenuig. Leave the inn and walk the few yards down the road towards the A861 road. At the road turn left and follow it along the eastern bank of Glenuig Bay, after which it curves to the right to head eastwards along the southern shore of Loch Ailort. It eventually curves to the left to head northeastwards following the loch through Alisary and Inverailort until it eventually reaches a T-junction with the A830(T) road.
At the junction turn left and follow the A830(T) as it heads westwards. The road is quite wide at first and makes for good walking, often because the road has recently been upgraded. The road climbs uphill past Loch Dubh before descending down to meet the head of Loch Beag, where it passes under a large railway viaduct before passing the Prince's Cairn. The road then curves inland to pass Borrodale Station and Borrodale House, and about a mile further on the road curves to the right. At the bend at grid reference NM683850 some green gates lead through to a green lane. This lane is handy as it provides a route that avoids the rest of the A830(T); follow the lane as it heads westwards for a couple of miles as it passes Glen Cottage until it ends at a T-junction with a road by Camas an t-salainn. Turn right and walk up the road for about half a mile until it reaches the coast road in Arisaig. Turn left and follow the coast road as it winds northwards for a little under two miles to Invercaimb, and this walk ends at the campsite on the left.
---
Distances
| From | To | Distance (m) | Ascent (ft) | Descent (ft) |
| --- | --- | --- | --- | --- |
| Glenuig | Lochailort | 8.0 | 1020 | 938 |
| Lochailort | Arisaig campsite | 11.4 | 2083 | 2178 |
This makes a total distance of 19.4 miles, with 3103 feet of ascent and 3116 feet of descent.


For more information on profiles, ascents and descents, see this page
---
Accommodation
We spent the night at the Invercaimbe Caravan and Camping site at Invercaimbe. They can be contacted on (01687) 450375. The site was very nice with a lovely little beach, and cost us nine pounds for the night.
---
Disclaimer
Please note that I take no responsibility for anything that may happen when following these directions. If you intend to follow this route, then please use the relevant maps and check the route out before you go out. As always when walking, use common sense and you should be fine.
If you find any information on any of these routes that is inaccurate, or you wish to add anything, then please email me.
All images on this site are © of the author. Any reproduction, retransmissions, or republication of all or part of any document found on this site is expressly prohibited, unless the author has explicitly granted its prior written consent to so reproduce, retransmit, or republish the material. All other rights reserved.
Although this site includes links providing convenient direct access to other Internet sites, I do not endorse, approve, certify or make warranties or representations as to the accuracy of the information on these sites.
And finally, enjoy your walking!
---
This walk was mentioned in the following routes:
---
Nearby walks
---