Walk #543: Beauly to Inverness
| | | |
| --- | --- | --- |
| | | |
| P20038317754 Beauly. | | P20038317763 The view over the Beauly Firth. |
General Data
| | |
| --- | --- |
| Date Walked | 31/08/2003 |
| County | Highlands |
| Start Location | Beauly |
| End Location | Inverness |
| Start time | 09.05 |
| End time | 18.02 |
| Distance | 16.3 miles |
| Description | This was quite a short road plod, and was not the most memorable of all the walks that I have done. |
| Pack | Today I carried my 30-litre Karrimor HotRock rucksack, which was filled with my packed lunch, waterproof leggings, water bottle and a couple of spare shirts, together with the usual assortment of odds and ends. |
| Condition | I feel absolutely fine after this short walk, and have no significant problems to report. My right foot gave a couple of twinges during the day, but these were not enough to worry me. |
| Weather | The sky was quite overcast when I woke up this morning, so I was wearing my coat when I set off. There was a couple of minutes of light drizzle, but after this there was no sign of any rain. It was not a warm day, and the sun did not make many appearances, but it could easily have been worse. |
| OS map | Landranger number 26 (Inverness & Loch Ness) |
| | | |
| --- | --- | --- |
| | | |
| P20038317765 The view over the Beauly Firth. | | P20038317782 Caledonian Canal Muirtown Basin. |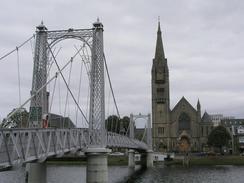 P20038317798 The suspension bridge over the River Ness.
---
Map of the walk
Maps courtesy of Google Maps. Route for indicative purposes only, and may have been plotted after the walk. Please let me
have comments
on what you think of this new format. For a detailed table of timings for this walk, please see
the table file
.
---
Notes
When I woke up this morning I was very tired, as the late night last night, although worth it, had been tiring. I knew that today was going to be a short day and I also wanted to get some things done in Inverness, so I set off earlier than I ideally wanted so that I could get there in plenty of time before the shops shut. Even at nine on a Sunday morning Beauly was awake and active, and I nipped into a local shop so that I could buy myself a can of Red Bull to keep me awake - it was one of those mornings. I had walked through Beauly over a year before on a walk from Fort William to Cape Wrath, and it was nice to be back in the beautiful little village. On that walk I had arrived on a Saturday night from the south and headed north on the Sunday; this time I had arrived from the north on a Saturday and headed off south on the Sunday!
I had decided that as most of the day was going to be on roads that I would wear trainers instead of my boots, and this affected my choice of routes that I would take. There were a couple of places where I could technically have diverted off roads and crossed fields to take a closer route to the sea, but I really could not see the point - I would not gain much by doing this, and instead I would stick to roads, tracks and paths. I always find this sort of decision hard to make, but once I have made it I find it quite easy to live with.
I was in a fairly good mood as I walked along the road that led towards Kirkhill. At the last moment I decided to divert on tracks that ran past Wester Lovat and Easter Lovat to the village, which would be a more coastal route and therefore better; it would also extend the day's walk slightly, which was important as I knew that the day would be short. I walked past the farm at Wester Lovat and joined a good, wide surfaced track that led past arable field to the farm at Easter Lovat. The fields were busy with tractors picking up large, round bails of straw and putting them onto trailers, and I watched this work as I walked along. Just as I neared the farm buildings at Easter Lovat a Landrover roared up from behind and screeched to a halt beside me. The window wound down, and a middle-aged man with a slight Irish accent asked me what I was doing. I told him of my plan to follow the paths and tracks marked on the map, but he replied that this was his land and it was private. I tried to explain that I was doing a charity walk, I always try to cause no damage and that I keep to paths and tracks where at all possible, but he was adamant and said that there was no path heading south from the farm, despite the fact that there was one on the map. Now, technically the law in Scotland states that O could have just walked on, but I believe that you have to pick your battles carefully, and I was most certainly not in the mood for one today. If I continued on I would just end up annoying the man further, and so discolantly I turned back and walked the mile back past Wester Lovat to the road. This is the first time that I have been turned away from farmland on the entire trip, and it was a shame that it had to happen. I was quite annoyed for some time afterwards, but this soon wore off as I realised that it was fairly futile being annoyed.
The rest of the walk into Inverness took me through Kirkhill and down onto the A862 road, which eventually joined the coastline and skirted it eastwards towards the city. I found this section of the walk to be fairly uninteresting, and the road was far busier than I had expected it to be on a Sunday morning, which was a shame. Fortunately it was fairly wide, and I never felt endangered by the traffic, as it roared past. I just put my mind onto other matters, and daydreamed as I walked to while away the miles.
When I reached the outskirts of Inverness I had not walk very far, and so I decide to extend it as much as possible by walking up to the Clachnaharry sea loch of the Caledonian Canal. This felt slightly weird, as I had also walked past the sea lock at the other, southwestern end of the canal near Fort William - only sixty or seventy miles away by canal, but many months of walking around the coast! The views across Beauly Firth from the lock were lovely, and I paused for a couple of minutes to drink them in before walking back and passing a railway swing bridge to gain access to Muirtown Basin and the path that would take me to South Kessock. Here the Beauly Firth is quite narrow, and I could easily make out north Kessock on the other bank. The views of the Kessock Bridge were also nice, and it was again a place to stop and let the views sink in.
I met Sam by the Friars Bride in Inverness, and we then walked into the city centre together. I had a number of things that I needed to do now that I was in the first big city that I had encountered for some time (except for my fleeting visit to Inverness three weeks earlier whilst Mervan was getting MOT'd). My mobile phone had stopped working on Friday, and so I had to go into the Vodafone shop in the Eastgate Centre for a new one. Fortunately I could get a fairly nifty one for free on my contract, and so I walked out with a nice Nokia 5110; hardly a massively high0tech phone by modern standards, but it has all the functionality that I need at the moment, and it was free. We went to a nearby pub to try to get it to work, but I could not switch it on. Sam had a go as well, and we even tried charging it using a plug where we were sitting in the pub. This did not work, so we trudged back to the shop, which had just shut. Kindly the managed allowed us in, and after he had taken the case off he managed to switch the thing on using a pen - the plastic of the case was exceptionally stiff. To celebrate arriving in Inverness (which in a strange way seems like more of an achievement than reaching John O'Groats), we treated ourselves to a Deep Pan Pizza, the first that we have had for months, and a real treat, before walking the mile back to the campsite where we have parked Mervan.
Tomorrow Sam is catching the first train to Edinburgh so that she can sort out the rest of the arrangements for the end of the walk, now much less than a month away. We have booked the campsite for tomorrow night as well, so our plan was to leave Mervan here whilst I walked to Nairn and caught the train back to Inverness. However due to the fact that we went to the cinema last night and that we had a late night today as well, I have not done much work and am quite behind. I may well use the opportunity of having a day at a campsite on my own to take a day off and use the computer, or I may do the walk. I shall wait until the morning to see what I will do - if the weather is nice I should really do a walk, and if it is raining I shall probably stay in Mervan. I am expecting to do another radio interview with BBC Radio Cambridge tomorrow afternoon, and I am also expecting to meet a journalist from a local Inverness paper, so I will have to plan around these two events as well. Taking a day off should not matter too much, as I have plenty in hand at the moment.
---
Directions
This walk starts off at Beauly Priory. Leave the priory and turn left to head southwestwards down the A862 road through the village of Priory. The road crosses over a railway line and continues on before ending at a T-junction with the A831 road. Turn left to head eastwards along the A831 road; it almost immediately crosses the River Beauly at Lovat Bridge and continues on for another kilometre until a junction with the B9164 road is met on the left. Turn left down the B9164 road and follow it as it climbs up a slight hill. When the road curves to the right continue straight on down a minor road that passes Ferrybrae and curves to the right to head eastwards along the southern side of the railway line.
The road passes Balblair House before curving around to the right to head southeastwards for about a kilometre until it ends at the B9164 road, and then turn left to follow the B9164 as it heads eastwards through Kirkhill before turning to head southeastwards to end at the A862 road in Inchmore. At this junction turn left and follow the A862 as it heads eastwards for many miles. On the western outskirts of Inverness the road passes over the railway line on a bridge; on the southern side of this bridge turn left down Mid Street and follow this eastwards for a few hundred yards, before turning to the left and walking along a path that heads northwestwards towards Clachnaharry Sea Lock. Cross the lock gates and then walk down the other side of the canal.
Once the railway line is reached carefully cross over the railway line by the swing bridge and continue on past Clachnaharry Lock to the northern end of the Muirtown Basin. Here some steps lead down to the left to join a path that heads northeastwards to cross the railway line once again and head on to a car park in South Kessock. At the car park join Kessock Road and follow this as it joins the western bank of the River Ness. When the road curves away from the river turn left down Anderson Street, and follow this alongside the river and on as it passes under a low railway bridge and reaches Waterloo Bridge.
Continue on along roads beside the western bank of the river, passing under Friars Bridge and passing a suspension bridge before reaching Ness Bridge. At Ness Bridge turn right to head southwestwards along Young Streetm, which soon becomes Tomnahurich Street and then Glenurquhart Road. Eventually the road reaches Tomnahurich Bridge over the Caledonian Canal; this walk ends at the Torvean Caravan Park immediately to the right after the bridge.
---
Distances
| From | To | Distance (m) | Ascent (ft) | Descent (ft) |
| --- | --- | --- | --- | --- |
| Beauly Priory | Kirkhill Church | 5.6 | 381 | 253 |
| Kirkhill Church | Clachnaharry sea lock | 6.9 | 243 | 374 |
| Clachnaharry sea lock | Torvean Campsite, Inverness | 3.8 | 108 | 59 |
This makes a total distance of 16.3 miles, with 732 feet of ascent and 686 feet of descent.


For more information on profiles, ascents and descents, see this page
---
Accommodation
We spent the night at the Torvean Caravan Park, Glenurquhart Road, Inverness, Highlands IV3 8JL. This site cost us twelve pounds for the night (we spent two nights here), and was very clean and tidy. They can be contacted on (01463) 220582.
---
Disclaimer
Please note that I take no responsibility for anything that may happen when following these directions. If you intend to follow this route, then please use the relevant maps and check the route out before you go out. As always when walking, use common sense and you should be fine.
If you find any information on any of these routes that is inaccurate, or you wish to add anything, then please email me.
All images on this site are © of the author. Any reproduction, retransmissions, or republication of all or part of any document found on this site is expressly prohibited, unless the author has explicitly granted its prior written consent to so reproduce, retransmit, or republish the material. All other rights reserved.
Although this site includes links providing convenient direct access to other Internet sites, I do not endorse, approve, certify or make warranties or representations as to the accuracy of the information on these sites.
And finally, enjoy your walking!
---
This walk was mentioned in the following routes:
---
Nearby walks
---