Walk #855: Rampisham Down to Marshwood
| | | |
| --- | --- | --- |
| | | |
| P20105120147 My tent by Kingcombe Lane. | | P20105120151 The masts on Rampisham Down. |
General Data
| | |
| --- | --- |
| Date Walked | 12/05/2010 |
| County | Dorset |
| Start Location | Rampisham Down |
| End Location | Marshwood |
| Start time | 05.20 |
| End time | 14.55 |
| Distance | 19.6 miles |
| Description | This was a pleasant walk following the Wessex Ridgeway as it heads towards the sea through Dorset. It is a fairly strenuous walk, with many hills climbed during the day. |
| Pack | Today I carried my Macpac Glissade rucksack containing my North Face Westwind tent, spare clothes, waterproofs, water, and enough food to last three days. In total it weighed about thirty pounds. |
| Condition | I have a little chaffing after this walk and am very tired, but aside from these problems I am fine. My feet have no new blisters and |
| Weather | The day started off very cold, but sunny skies soon allowed it to warm up. Clouds gathered during the day, and near the end of the walk I was caught out in a sudden hail shower. |
| OS map | Landranger number 194 (Dorchester & Weymouth, Cerne Abbas & Bere Regis) and Landranger number 193 (Taunton & Lyme Regis, Chard & Bridport) |
| | | |
| --- | --- | --- |
| | | |
| P20105120155 A pond in Hooke. | | P20105120158 A lake in Toller Whelme. |
| | | |
| --- | --- | --- |
| | | |
| P20105120162 A path leading to the B3163. | | P20105120168 The view down over Beaminster, with the sea in the distance. |
---
Map of the walk
Maps courtesy of Google Maps. Route for indicative purposes only, and may have been plotted after the walk. Please let me
have comments
on what you think of this new format. For a detailed table of timings for this walk, please see
the table file
.
| | | |
| --- | --- | --- |
| | | |
| P20105120003 Beaminster. | | P20105120007 Beaminster church. |
| | | |
| --- | --- | --- |
| | | |
| P20105120011 Looking up towards Gerrard's Hill. | | P20105120015 The trig pillar at the top of Gerrard's Hill. |
---
Notes
I woke just before dawn, and after stretching started to get ready to go. I do not like wild camping in downland areas, and was keen to be off before it got too light. After checking my feet and getting dressed I started assembling my kit before pulling down the tent. My night's sleep had been surprisingly good; the new Neoair mattress was incredibly comfortable, and my new pillow, although not as good, helped support my neck. I really cannot complement the Neoair enough - it is fantastically light, comfortable and warm when compared to my old mat. I had suffered from a little condensation in the tent during the night, and I was surprised to find that frost covered the underside of the flysheet - it had been far colder during the night than I had realised.
My shoulders ached as I lifted the rucksack onto my back. Fortunately my feet felt fine, and so I went through the gate and joined the lane that carried the Wessex Ridgeway for a short distance. Above me were the masts belonging to the BBC World Service, looking like knitting needles covered with a mesh of thin twine. It was still not six in the morning and the air was quite cold, meaning that I had to put my woolly hat and gloves on.
The lane was soon left behind, and a series of footpaths took me into a valley, before ascending slightly and steadily descending down towards Hooke - a village I instinctively liked as it shares a name with the protagonist in a book that I have written. It is a tiny place, seemingly dominated by a fishery and a school in the grounds of Hooke Court. More footpaths and a road took me past a lake - with mist rising off it - to the tiny hamlet of Toller Whelme. I was tempted to stop here to look around the church, but Beaminster and civilisation was calling me. I was feeling very tired, and the fatigue was starting to tell - in a couple of places I felt my eyelids drooping, and it was tempting to find a hedge that I could have a quick kip behind. With hindsight that would have been the sensible thing to do.
A path took me up to a road that headed northwestwards along the edge of a plateau, with Beaminster visible below. This felt slightly depressing as the path would take anything but a direct route to get there. Then, just visible through the distant haze, came an even crueller vision of the sea. It was cruel as there was still twenty miles to walk before I would reach the sea at Lyme Regis. As it was not yet eight in the morning, I was in hope that I might just be able to reach it by the end of the day, although that would have meant a literal marathon of a day.
A track dropped down steeply to meet a road to the north of Beaminster, and then soon enough I was in the centre of the town. It seemed like an ideal place for a stop, so I took my rucksack off on a bench and went into the nearby Co-Op to buy myself some provisions. The sun was shining and it felt like it was going to be a beautiful day, although showers were forecast for later in the day. Beaminster struck me as being a lovely little market town, with an ornate four-legged cross in the middle of the market square. Eventually I had to set off once again, and the path took me past the church before descending down into a little valley.
What followed was a fairly hellish and steep climb up to the summit of Gerrard's Hill. It would be nice to say that the views from the top were worth the exertion, but unfortunately that was not really the case as the haze spoilt the views. I took a few photos of the trig pillar at the top, then started descending down the hillside to the west. This was a pleasant stretch of walk that allowed my legs to recover from the previous climb.
Eventually the path reached a road at Stoke Knapp, after which a track took me up into trees along the northern flank of Lewesdon Hill. This, along with Pilsdon Pen, are called the highest points in Dorset (although Pilsdon Pen has recently edged it). As such I wanted to visit them but unfortunately the Wessex Ridgeway decides to climb most of the way up and then miss the summits. I was tempted to drop my rucksack off and go to the top, but the lure of Lyme Regis and the sea called me on.
A long and easy descent through trees dropped me down to a road, after which came a long and seemingly futile diversion northwards, the only purpose of which must have been to avoid a little road walking. It dropped me down before starting the climb up towards Pilsdon Pen. Again the path avoided the summit, instead choosing to follow the ramparts of the hillfort. Here seemed a good place to stop for a while, so I sat down for a few minutes as I tried to work out where the path headed next.
Annoyingly the path dropped down a short distance to reach an ornately-carved gate and stile, before climbing once again to cross the plateau of Pilsdon Pen. It was a pleasant stroll with some good views, although cloud was starting to close in, threatening rain. After descending to a road the way made a jink northwards - away from the sea - climbing up Blackdown Hill. Again the views were fine, but I realised that I was not going to make Lyme Regis today. I was just too tired, a situation that would only get worse with the hills that still needed to be climbed.
After leaving the hill a road took me westwards through Synderford, before heading off along a lane towards Yew Tree Farm. On the way a man in a car passed me and wound down his window, saying that he had seen me earlier in the day. We chatted for a few minutes, and he then offered me some water, which I was starting to run short of. I followed him to his nearby house, which was right on the path, and he filled up my water bladder. Unfortunately he only had fizzy water, which is hardly good to quench thirst. It was better than nothing, however, so I headed off on yet another ascent.
The path reached a road and then started to descend through a couple of farms to reach a stream. After this I took the wrong path, heading east instead of west across the small fields. I realised when I was about halfway up the hill, and turning back seemed to be a bad idea. Instead I plodded on along the path, dejected, until it ended at a main road. I was thoroughly fed up; I had gone about a kilometre off my route, and I knew there was no way that I would reach Lyme Regis today. Additionally I was tired out and was in need of a rest.
Fortunately at that moment I saw a pub sign a few yards down the road. I walked over and entered, only for the Landlord to tell me that they were closed as they were awaiting a licence to open. Disappointed, I asked him if I could fill up my water bottle, and he smilingly told me that I could use the tap around the side of the building.
What followed was a series of ups and downs that ended in a wonderful evening. A pleasant grassed pub garden lay near the tap, and this seemed like it would be a good place to camp for the night. I went back in to ask if I could camp in their garden as they were shut, only to be told that I could not. A second later he said that I could, however, camp in their campsite on the other side of the building. Elated, I readily agreed, after which the Landlady invited me to sit by the fire and have a coffee.
We chatted for a couple of hours before I went out into the steady rain to erect my camp. The pub is fairly famous, as it is the place where the national nettle-eating competition is held every year. It had been shut for a few months, but they had recently taken it over and were just awaiting the licence before they could open. I had borrowed a knife and fork off them, and was about to start cooking when I was invited in for a meal. I shall remember their kindness for some time.
Eventually it came time to go back to my tent and prepare for sleep. It had been a hard and long day, but had turned out to be a memorable day's walk. The campsite had wonderful views over the hills opposite the pub, and I knew that I would get a good night's sleep with no worries about being asked to move on for wild camping. It was just what I needed after two strenuous days.
---
Directions
This walk follows the Wessex Ridgeway for the entire day.

The route of the Wessex Ridgeway is detailed in the 'Wessex Ridgeway Recreational Path Guide', by Anthony Burton, ISBN 1 85410 613 9 published by Aurum Press Ltd.
---
Distances
| From | To | Distance (m) | Ascent (ft) | Descent (ft) |
| --- | --- | --- | --- | --- |
| Rampisham Down | Beaminster | 7.0 | 643 | 1106 |
| Beaminster | Pilsdon Pen | 5.9 | 1499 | 843 |
| Pilsdon Pen | Marshwood | 6.7 | 863 | 1148 |
This makes a total distance of 19.6 miles, with 3005 feet of ascent and 3097 feet of descent.


For more information on profiles, ascents and descents, see this page
---
Accommodation
I spent the night at the campsite attached to the Bottle Inn at Marshwood. Although the facilities at the site are fairly spartan, the welcome given and atmosphere in the pub is superb. Highly, highly recommended.
| | | |
| --- | --- | --- |
| | | |
| P20105120021 Heading west towards Stoke Knapp. | | P20105120027 The walk past Lewesdon Hill. |
| | | |
| --- | --- | --- |
| | | |
| P20105120033 The climb onto Pilsdon Hill. | | P20105120036 An ornately-carved gate on Pilsdon Hill. |
| | | |
| --- | --- | --- |
| | | |
| P20105120040 The descent off Pilsdon Pen. | | P20105120049 A chapel at Stony Knaps. |
| | | |
| --- | --- | --- |
| | | |
| P20105120052 A distant view of Lewesdon Hill. | | P20105120054 Gashay Farm. |
| | | |
| --- | --- | --- |
| | | |
| P20105120056 The Bottle Inn. | | P20105120058 My tent at the Bottle Inn. |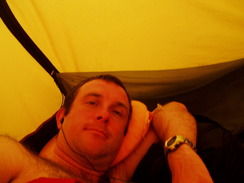 P20105120059 Inside my tent at the Bottle Inn.
---
Disclaimer
Please note that I take no responsibility for anything that may happen when following these directions. If you intend to follow this route, then please use the relevant maps and check the route out before you go out. As always when walking, use common sense and you should be fine.
If you find any information on any of these routes that is inaccurate, or you wish to add anything, then please email me.
All images on this site are © of the author. Any reproduction, retransmissions, or republication of all or part of any document found on this site is expressly prohibited, unless the author has explicitly granted its prior written consent to so reproduce, retransmit, or republish the material. All other rights reserved.
Although this site includes links providing convenient direct access to other Internet sites, I do not endorse, approve, certify or make warranties or representations as to the accuracy of the information on these sites.
And finally, enjoy your walking!
---
Nearby walks
---