Walk #132: Wickham Market Station to Darsham Station
| | | |
| --- | --- | --- |
| | | |
| AA03 Beversham Mill. | | AA07 Benhall Church. |
General Data
| | |
| --- | --- |
| Date Walked | 13/01/2001 |
| County | Suffolk |
| Start Location | Wickham Market Station |
| End Location | Darsham Station |
| Start time | 08.41 |
| End time | 13.15 |
| Distance | 12.7 miles |
| Description | A mixture of road and path walking through an attractive part of Suffolk. |
| Pack | Today I carried my 70-litre Craghoppers rucksack, with no tent, trangia or food. |
| Condition | My legs and back are fine, and I am not in the least bit fatigued. I was trying out the new "Superfeet" insoles in my X-Adventure 7 boots, and these have stopped me from having the usual problem with a tenderness in the underside of my feet. However I did develop a couple of hotspots on my feet very early on in the walk. Eventually I had to stop and turn my inner socks inside out, but I had left my medical kit at home so I could not apply any Compeed plasters. |
| Weather | The weather today was lovely, with scarcely a cloud in the sky. There was a slight wind that caused me to get cold if I was caught in an exposed place, but this occurrence was very rare and indeed did not occur at all later on in the walk. The previous might had been fairly frosty and early on in the walk there were areas that had a lovely white sheen on them. |
| OS map | Landranger number 156 (Saxmundham, Aldeburgh & Southwold) |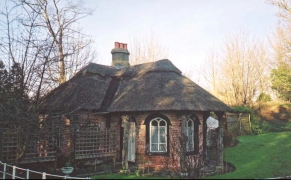 AA09 A pretty little cottage off the A12(T) just south of Darsham Station.
---
Map of the walk
Maps courtesy of Google Maps. Route for indicative purposes only, and may have been plotted after the walk. Please let me
have comments
on what you think of this new format. For a detailed table of timings for this walk, please see
the table file
.
---
Notes
This was a highly enjoyable walk, and was a mixture of both road and footpath walking. The scenery in this part of Suffolk is pleasant but not very spectacular - in general it is good, solid English walking. There are many people who only go walking in hilly or mountainous areas and look with disdain on lowland areas but in reality it is there loss - whilst I love with a passion hills, there is something to be said for lowland walking - it is different but not necessarily worse.
At Beversham I cam across the remains of the old Beversham Mill - it was quite spectacular in it's ramshackle rural beauty. The old mill wheel was still in place, but was anything but circular - the top had collapsed and the sides spread so it was more of an ellipse than a circle. The building itself was lovely, but was in need of some serious renovation work. It looked as though this might have been going on - there was a certain amount of scaffolding and builders materials around the waterwheel area.
Saxmundham is a very nice little town and was bustling with people when I passed through. I was going to stop and have a drink in the town, but my boots were very muddy so I decided to walk on and eventually I ended up stopping in a very nice wooden bus shelter a little further on in Carlton. This is one of the things that I like most about walking - finding attractive little towns which I would not normally have been able to view close-up.
My feet were giving me more than a little trouble with a couple of hotspots developing on both of my feet. This was annoying, nut good news as I did not suffer from the usual soreness on the underside of my feet. Hopefully this means that my new 'Superfeet' insoles are working. Like a real dipstick I did not bring my medical kit with me on this walk, and I also left a brand new pack of Compeed plasters at my girlfriend's house. This meant that I did not have any plasters with me, so I made do with turning my inner socks inside out. I assume that the reason that hotspots developed on my feet is that the Superfeet insoles are not as cushioning to my feet as the Sorbothane ones that I was using previously.
I came across a burnt-out house when I was near Benhall Lodge - there was a heavy smell of soot and ash in the air as I approached it. There were three men putting scaffolding around the building, and it was clear that all of the roof had gone. Apparently the building had burnt down either that night or the night before, and they had been called out to erect scaffolding to stop what remained of the building falling down. Fortunately everyone in the house got out with most of their possessions, but the house looked totally burnt out to me - I doubted if it would ever be habitable again. There were signs of the fire everywhere, from fire-damaged cardboard boxes to a neatly coiled firemen's hose. It was a wholly depressing sight on an otherwise lovely walk.
There was more road-walking today than I would otherwise have liked, but unfortunately this part of Suffolk does not seem to have enough footpaths heading in the right direction. If it comes between having to make a three mile detour so that paths can be followed or walking along a (non-main) road, I will follow the road. ;*)
Yet again I was lucky in that I reached the station in Darsham in time to catch one of the twice-hourly services back to Wickham Market, but with enough of a wait so that I could have a little rest. Indeed, there was a fortuitously placed little cafe at the station which allowed me to have a cup of tea and some scrambled eggs on toast before the train arrived at 13.48. The cafe is called he halfway house, apparently named because it is halfway between Ipswich and Lowestoft on the A12. This was most apt as it was also the halfway point on my journey between the two places.
This was my first major trip out in my new car which I had purchased earlier in the week, and I was paranoid about it getting stolen or damaged whilst I was out. Fortunately when I got back to Wickham Market Station it was still there and intact, which was a relief. I daresay that it will get stolen or damaged when I least expect it and most need it!
---
Directions
Wickham Market Station is actually at a place called Campsey Ashe, which is about a mile and a half to the east of the town. These directions start from the station and not the town. Turn right out of the station and follow the B1078 road as it crosses the railway line by a bridge. At Campsey Ashe Church it turns to the left and heads northwards for a short distance before turning sharply to the right at Church Farm. The road then dips to the south-southeast before curving to the north-southeast.
When the road turns to the right again take a minor road that heads straight on to the left of an area of woodland. When this road ends at a T-junction turn right and follow a road for half a mile until Stone Farm is reached. At Stone Farm turn left and take what was for me an initially muddy track northwards. This track soon became firmer and shortly after passing under two sets of power lines turns right before Blaxhall Hall is reached to follow another track. This track then leads eastwards, passing under the two sets of power lines again. Soon after the power lines an area of woodland is reached on the left. At the far, (eastern) side of this woodland a path leads northwards through the woodland (make sure that you are actually in the woodland and not in the field beside the woodland).
The path heads slightly downhill and after about a kilometre crosses the railway line. It then crosses a field and a stream before reaching with the old mill at Beversham, complete with a very ramshackle waterwheel. A track leads northwards from the mill and meets a road. Turn right down the road which soon ends at a T-junction. At the junction head straight on down a small hill and across a field to reach a small bridge and ford across the River Ald. Cross the River and head across another field uphill to the northeast. This path heads through a small area of light woodland and across another field to meet a T-junction with a track. Turn left along this track towards and through Hill Farm. Near Whin Covert a footpath leaves the track to the right and heads across another field to meet a road. Turn left up this road and head north for about four hundred metres into the little village of Farnham.
Pass the church in Farnham and head down towards the junction with the A12(T). Before the main road is reached a little path heads up some steps to the right beside a house. Take this footpath as it heads eastwards for a short distance before taking another footpath that should head northeast for a short distance across a field to a farm. Unfortunately this path was not visible across a ploughed field, so I skirted the edge of the field to reach the farm. At the farm the footpath should have continued to the northeast to meet the A12(T) at some cottages, but the path was again not visible across a ploughed field so I turned left down the farm access road and reached the A12(T) about a hundred yards from where the footpath should have emerged, Fortunately on the other side of the road was a footpath, so I crossed the road and used that to gain the correct position.
Take a road that leads off to the north opposite the cottages. This road leads through an attractive area of countryside past the entrance to Benhall Lodge, where I came across a recently burnt-out house. After just over a mile from the A12(T) Benhall Church is reached. Just before the church a footpath leads off to the right, heading up a little hill towards the corner of a wooded area. After the wooded area the path leads on in a roughly easterly direction to meet the A12(T) again. Cross the A12(T) and take another footpath that leads off to the northeast. This footpath crosses the railway line by a bridge before continuing to the northeast to meet the B1121 on the southern outskirts of Saxmundham.
Turn left and follow the B1121 northwards through Saxmundham. The road passes under the railway line just after the railway station and continues onwards through Carlton and Kelsale. About two kilometres after leaving the centre of Saxmundham a road leads off to the right at TM 385652.
Take this road and then after about half a kilometre take a footpath that leads off to the north across fields for a mile to a road at The Red House Farm. Cross the road and take another footpath that heads in a north-northeasterly direction across fields to enter Rookery Park. Head downhill through the park on a footpath that leads in a northerly direction to come out in Yoxford at the A12(T) / B1122 junction. Cross over the A12(T) and turn right, following a pavement as it heads northwards for a mile to the station at Darsham. The station is just after the level crossing, where there is also a nice little cafe.
---
Distances
| From | To | Distance (m) | Ascent (ft) | Descent (ft) |
| --- | --- | --- | --- | --- |
| Wickham Market Station | Saxmundham | 8.0 | 285 | 322 |
| Saxmundham | Darsham | 4.7 | 190 | 174 |
This makes a total distance of 12.7 miles, with 475 feet of ascent and 496 feet of descent.


For more information on profiles, ascents and descents, see this page
---
Transport
There is a train every two hours serving the stations at Wickham Market, Saxmundham and Darsham. The trains are run by Anglia Railways.
---
Disclaimer
Please note that I take no responsibility for anything that may happen when following these directions. If you intend to follow this route, then please use the relevant maps and check the route out before you go out. As always when walking, use common sense and you should be fine.
If you find any information on any of these routes that is inaccurate, or you wish to add anything, then please email me.
All images on this site are © of the author. Any reproduction, retransmissions, or republication of all or part of any document found on this site is expressly prohibited, unless the author has explicitly granted its prior written consent to so reproduce, retransmit, or republish the material. All other rights reserved.
Although this site includes links providing convenient direct access to other Internet sites, I do not endorse, approve, certify or make warranties or representations as to the accuracy of the information on these sites.
And finally, enjoy your walking!
---
This walk was mentioned in the following routes:
---
Nearby walks
---