Walk #359: Buck's Mill to Instow
| | | |
| --- | --- | --- |
| | | |
| P20032170039 Buck's Mills. | | P20032170049 The view back along the cliffs from near Green Cliff. |
General Data
| | |
| --- | --- |
| Date Walked | 17/02/2003 |
| County | Devon |
| Start Location | Buck's Mills |
| End Location | Instow |
| Start time | 08.42 |
| End time | 16.15 |
| Distance | 18.0 miles |
| Description | This was a highly enjoyable stroll, with a hilly initial section as far as Westward Ho! that was followed by a flat but enjoyable walk around Northam Burrows and the River Torridge. |
| Pack | Today I carried my 30-litre Karrimor HotRock rucksack, which was filled with my packed lunch, waterproof leggings, water bottle and a couple of spare shirts, together with the usual assortment of odds and ends. |
| Condition | I feel absolutely fine after this walk, and could easily have walked further. I had no significant problems, and my ankles and knees were generally okay. |
| Weather | The weather today was very much like it has been for the last few days, with some quite cold temperatures and a heavy frost. The easterly wind was much stronger than it had been yesterday, and it really cut through me when I was exposed to it, particularly on Northam Burrows. Although the sun was shining for most of the day it really did not reduce the chill from the wind, and I spent much of the day with cold fingers despite my gloves. |
| OS map | Landranger number 190 (Bude, Clovelly & surrounding area) and Landranger number 180 (Barnstable & Ilfracombe, Lynton & Bideford) |
| | | |
| --- | --- | --- |
| | | |
| P20032170053 A view of the sea floor. | | P20032170059 The shingle ridge beside Northam Burrows. |
| | | |
| --- | --- | --- |
| | | |
| P20032170061 A view along the beach near Northam Burrows. | | P20032170076 The A39 bridge over the River Torridge. |
---
Map of the walk
Maps courtesy of Google Maps. Route for indicative purposes only, and may have been plotted after the walk. Please let me
have comments
on what you think of this new format. For a detailed table of timings for this walk, please see
the table file
.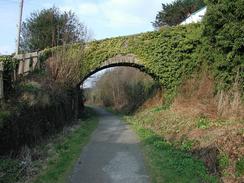 P20032170086 A bridge to the north of Bideford Railway Station on the Tarka Trail.
---
Notes
The first part of this walk was a nice stroll eastwards along the cliffs from Buck's Mill to Westward Ho! There were some nice views available along this stretch, but these were few and far between due to the fact that I was walking through woodland for much of the time. Even when I did get a good view, it was slightly spoilt by the haze in the air that meant that I could not see the distant cliffs clearly. The last part of this stretch into Westward Ho! followed the trackbed of the old Bideford to Westward Ho! railway line, and this made for a very easy walk after the steep ascents and descents along the cliff section.
As I walked around the Northam Burrows Country Park I was exposed to the full fury of the wind and this chilled me to the bone, even through the four layers of clothing that I was wearing. In particular my fingers were very cold, and this only eased slightly when I dropped down onto the beach on the seaward side of the large shingle bank. When I was on the beach it was quite annoying to see Braunton Burrows so close by to the northeast over the river channel - I have to walk around two river channels (to Bideford and Barnstaple) before I reach there, hopefully sometime tomorrow.
West Appledore is a lovely little village, and I enjoyed walking along the narrow streets in front of the houses. I would not have minded exploring it a little further, but I wanted to get on and do a long distance today. There were a couple of nice and quaint pubs in the village, but again I resisted the temptation to go in. Just to the south of Appledore itself I came across the large building that houses the Appledore Shipyard - this is the largest covered shipyard in Europe, and as I walked by there was scaffolding up the front of the building and renovations were being done on the roof, with the people crawling over it looking like ants from a distance.
The walk from Bideford to Instow was a nice walk along the Tarka Trail, which is built along part of the old Barnstaple to Torrington railway line. At the old Bideford Station site there is some track and rolling stock, and in one carriage there is a little information centre that was unfortunately shut today. Near Instow I passed a pontoon in the river, and by this pontoon were a series of little boats and larger landing craft in army colours. Sure enough, the area is in an MOD compound, so I can only assume that they are army or Commando landing craft. It was quite interesting to study them, and see the people who were working on them as I walked by. The going along this section of path was very good, and I could make good time as I walked along it.
As I was walking along today I noticed a few more thorns in the fingers and my thumb of my left hand. I managed to get one of these out as I walked, and Sam got another one out this evening, but this still leaves a couple more still in. I am quite amazed in how many thorns I managed to get in my hand during the little fall a while back, and in how long they have remained in my hand before I find them. Fortunately most of them are very small, and are only becoming visible now because they are working their way up to the surface of my skin.
Sam threw me a curved ball this evening, and I am in two minds how to react. After a few seconds consideration I made an initial decision not to say anything hasty, and have therefore been holding my tongue. Sometimes it is best not to make hasty decisions about things that alter lives radically. I am wondering if my words and actions are right, but sometimes there is no such thing as 'right' words or actions, and you can only say or do what you believe to be for the best. Having said all this, I think that Sam is finding me doing this to be more trying than anything else! This is probably not helped by the fact that I have just realised that I have been wearing the same pair of socks for four days, which is rather disgusting when I have a cupboard half full with clean ones!
Tomorrow promises to be a nice and flat day, as most of the walk will be along old railway lines; initially into Barnstaple and then from Barnstaple into Braunton. If I extend the walk by walking into Saunton then it will be about a nineteen-mile day. Sam is going to drive into Braunton first thing in the morning and she is going to cycle back along the path to meet me, and she shall ride back beside me as I walk. I love her being with me when I walk, and it is a shame that she cannot be with me all the time whilst I walk.
---
Directions
During this walk I followed the South West Coast Path, the route of which is detailed in the Ordnance Survey National Trail Guide 8, Minehead to Padstow (ISBN 1-85410-774-7). Unfortunately the route description is written in reverse to the direction that I am walking, but the 1:25,000 maps in the book are clear and the signs on the ground are very good. Also to be recommended is the South West Coast Path Association guidebook (ISBN 0-907055-04-4), which has less concise directions and no maps, but includes accommodation details and grades each section of the walk according to difficulty. They also publish reverse directions, which are suitable for walking in the direction that I walked the route. They have a website at www.swcp.org.uk, which is well worth a visit.

National Trail Guide: Minehead to Padstow

SWCP Association guide 2004
---
Distances
| From | To | Distance (m) | Ascent (ft) | Descent (ft) |
| --- | --- | --- | --- | --- |
| Buck's Mill | Westward Ho! | 7.0 | 2005 | 2195 |
| Westward Ho! | Bideford | 8.0 | 564 | 577 |
| Bideford | Instow | 3.0 | 128 | 125 |
This makes a total distance of 18.0 miles, with 2697 feet of ascent and 2897 feet of descent.


For more information on profiles, ascents and descents, see this page
---
Accommodation
We parked the van on the road beside the river front in Instow, which gave us some wonderful evening and morning views over the Torridge River estuary. This was very convenient for the local pub and shops, and it is also very near the South West Coast Path and the ferry over from Appledore, so I will not have to walk too far in the morning to get back onto the trail.
---
Disclaimer
Please note that I take no responsibility for anything that may happen when following these directions. If you intend to follow this route, then please use the relevant maps and check the route out before you go out. As always when walking, use common sense and you should be fine.
If you find any information on any of these routes that is inaccurate, or you wish to add anything, then please email me.
All images on this site are © of the author. Any reproduction, retransmissions, or republication of all or part of any document found on this site is expressly prohibited, unless the author has explicitly granted its prior written consent to so reproduce, retransmit, or republish the material. All other rights reserved.
Although this site includes links providing convenient direct access to other Internet sites, I do not endorse, approve, certify or make warranties or representations as to the accuracy of the information on these sites.
And finally, enjoy your walking!
---
This walk was mentioned in the following routes:
---
Nearby walks
---