Walk #484: Crinan to Craobh Marina
| | | |
| --- | --- | --- |
| | | |
| P20036284684 Boats at Crinan. | | P20036284690 A house by the Crinan Canal. |
General Data
| | |
| --- | --- |
| Date Walked | 28/06/2003 |
| County | Strathclyde |
| Start Location | Crinan |
| End Location | Craobh Marina |
| Start time | 09.43 |
| End time | 17.32 |
| Distance | 18.1 miles |
| Description | This was a lovely day's walk, with much of interest to be seen on the way. |
| Pack | Today I carried my 30-litre Karrimor HotRock rucksack, which was filled with my packed lunch, waterproof leggings, water bottle and a couple of spare shirts, together with the usual assortment of odds and ends. |
| Condition | I feel absolutely fine after this walk, and have no significant problems to report. For the first time since I injured it the right-hand side of my neck gave me no trouble, which was a great relief. |
| Weather | Today's weather was much better than yesterdays, which was not particularly hard. The morning started off quite grey, but there were some promising small patches of blue sky. As the day went on the clouds slowly dissipated, and there was lots of sun in the afternoon and it got quite hot later on. All in all it was a lovely day for a walk. |
| OS map | Landranger number 55 (Lochgilphead & Loch Awe) |
| | | |
| --- | --- | --- |
| | | |
| P20036284694 The Crinan Canal. | | P20036284698 The River Add at Islandadd Bridge. |
| | | |
| --- | --- | --- |
| | | |
| P20036284701 The stone circle near Slockavullin. | | P20036284709 Nether Largie South Cairn. |
---
Map of the walk
Maps courtesy of Google Maps. Route for indicative purposes only, and may have been plotted after the walk. Please let me
have comments
on what you think of this new format. For a detailed table of timings for this walk, please see
the table file
.
| | | |
| --- | --- | --- |
| | | |
| P20036284713 Scultpured graveslabs at Kilmartin Church. | | P20036284724 Logs beside the A816 near Salachary. |
| | | |
| --- | --- | --- |
| | | |
| P20036284729 The view north to Barbreck House. | | P20036284726 A large standing stone beside the A816 near Kintraw. |
---
Notes
During the night there was some fairly torrential rain, the heaviest that I have heard hit the roof of Mervan for some time. After the drenching that I got yesterday the last thing that I wanted was more rain, but fortunately when I finally woke up I was greeted with grey skies, but no rain. I did a little work on my Psion, before eventually we got up and Sam joined me for the initial stretch of the walk along the Crinan Canal.
The canal looked absolutely beautiful - it was busy with boats going up and down it, and it was a lovely walk in the morning. Sam and I chatted as we walked, looking into the history of the canal as we passed along it. I said goodbye to Sam at Islandadd Bridge in Bellanoch, and pressed on northwards along the road.
As I walked down a road that led toward Kilmartin I could see a stone circle marked on the map, and I was pleased to see that it was right by the road. Te stones are all quite small, but the presentation is very nice. I chatted to a couple at the stones or a while, and found out from them that the circle was just a small art of what is a long, two-kilometre linear Neolithic burial site. A little further down the road there was a burial mound that I had a little look around, but I chose not to look at any more of them - it is a place I can come back and visit another time. Sam was parked on the road near the hotel in Kilmartin, and after I had eaten my sandwiches we went to have a quick look at the museum and shop in the village.
In the shop I found Julian Cope's book, 'The Modern Antiquarian', which details a set of standing stones and stone circles that he visited over a number of years. He is more famous as the lead singer of the early eighties group 'The Teardrop Explodes', but he is now more interested in archaeology. I was exceedingly tempted to get the book, but I have three books in Mervan that I have not read yet, and so I really did not want another lengthy tome to read. The Modern Antiquarian is so much more than a textbook however, and it has some beautiful photographs of the sites in it.
After we left the shop we went to Kilmartin Church, which has some lovely carved graveslabs in a building in the graveyard. Sam had never seen any of these before and was suitably impressed, but I had seen a fair few, and these were unfortunately not the best. In the church there were also a couple of crosses that used to stand in the graveyard and had been taken into the church for protection.
There then followed a long road walk along the A816 northwards. This walk was fairly boring, although as I neared the junction with the B8002 road I got lovely views over Loch Craignish and passed a large solitary standing stone, over ten feet tall and exceedingly imposing. The walk along the B8002 road was much better, and gave lovely views over the loch and all the boats moored on it.
The walk from Ardfern to Craobh was along a road that soon became a track that rose up through a wooded area under Soroba Hill. At first the track was easy to follow, and a four-wheel drive with two bikes on passed me as I strode up the hill. Later on, however, the way became less certain as there were several junctions with tracks that were not marked on the map. As I approached the top of the hill I saw the four wheel drive coming down from another track, and a few minutes later I saw it stopped at a dead end. They had been navigating using an Ordnance Survey map as well, and had got slightly off course just as I had. Fortunately there was an easy path for me to get back onto the proper track, but they had to do a big diversion. I soon reached the lovely building at Lunga, and a few minutes later some lovely views westward over Craobh Haven. I eventually reached Mervan at a car park in the lovely village of Craobh, right by the marina. The houses by which we parked are all lovely and coloured in pastel shades. I found it very difficult to work out if they were modern houses or older ones - after studying them for a while I think that they may be relatively modern houses built exceedingly well to look old (later on I found out that the whole complex was built in 1984). Later on we went out to the pub for a drink, and they were kind enough to let us do a collection, which was quite successful. We chatted for an hour to four people who were visiting for the weekend from London, and so I left the pub far later than I was planning.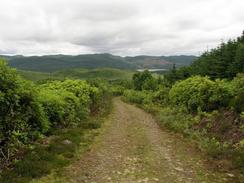 P20036284734 The track between Ardfern and Lunga.
---
Directions
This walk starts off at the car park beside the sea loch of the Crinan Canal in Crinan. Climb up the first lock and then join the canal towpath, and follow this southeastwards until Islandadd Bridge is reached in Bellanoch. At the bridge turn left and walk north along the B8025 road for a couple of miles until a crossroads is reached. Turn left and walk northwestwards for a kilometre until the road ends at a T-junction. Turn right and head along the road for a few hundred yards until the farm at Barsloisnoch is reached.
When the road turns sharply to the right to pass he farm turn left down a surface track. This track soon curves to head northwards and curves past Taynes before ending at a bend in a road neat Slockavullin. At the road turn right for a few yards and almost immediately turn left down another road that heads northeastwards past a series of stone circles and burial mounds. At a school the road curves around to the right to head eastwards to the A816 road. At the road turn left and follow it through the village of Kilmartin and pass Carnassarie Castle. The road heads northwards before curving to head westwards and then northwestwards past Kintraw before reaching a junction with the B8002 road. Turn left and head southwestwards along the B8002 road for a couple of miles into Ardfern. At the school turn right up a road that passes Soroba. Before it reaches Loch na Ardlaraich the path turns to the left and passes some cottages before heading northwestwards through some woodland. The route to take here becomes unclear as there are several alternative tracks; you need to head down towards the attractive building at Lunga. Follow the track onwards as it passes a stables until it ends at a surfaced public road; at the road turn left and follow it down to Craobh Marina, where this walk ends.
---
Distances
| From | To | Distance (m) | Ascent (ft) | Descent (ft) |
| --- | --- | --- | --- | --- |
| Crinan | Kilmartin | 7.8 | 610 | 509 |
| Kilmartin | Adfern | 7.7 | 997 | 1112 |
| Adfern | Craobh Marina | 2.6 | 515 | 518 |
This makes a total distance of 18.1 miles, with 2122 feet of ascent and 2139 feet of descent.


For more information on profiles, ascents and descents, see this page
---
Accommodation
We spent the night in a car park by Craobh Marina, a convenient distance from the Lord of the Isles pub.
---
Disclaimer
Please note that I take no responsibility for anything that may happen when following these directions. If you intend to follow this route, then please use the relevant maps and check the route out before you go out. As always when walking, use common sense and you should be fine.
If you find any information on any of these routes that is inaccurate, or you wish to add anything, then please email me.
All images on this site are © of the author. Any reproduction, retransmissions, or republication of all or part of any document found on this site is expressly prohibited, unless the author has explicitly granted its prior written consent to so reproduce, retransmit, or republish the material. All other rights reserved.
Although this site includes links providing convenient direct access to other Internet sites, I do not endorse, approve, certify or make warranties or representations as to the accuracy of the information on these sites.
And finally, enjoy your walking!
---
This walk was mentioned in the following routes:
---
Nearby walks
---