Walk #40: Baldersdale to Langdon Beck
| | | |
| --- | --- | --- |
| | | |
| ZY25 High Force. | | ZY22 Hannah Hauxwell's Farm near Baldersdale on the way to Middleton. |
General Data
| | |
| --- | --- |
| Date Walked | 18/08/1999 |
| County | Durham |
| Start Location | Baldersdale |
| End Location | Langdon Beck |
| Start time | 09.10 |
| End time | 16.50 |
| Distance | 13.7 miles |
| Description | This was a short and unstrenuous walk, part of which follows the River Tees past High Force. |
| Pack | Today I carried full camping gear. |
| Condition | I had more trouble with my back today, although it was manageable. My ankle was much the same as it has been for the last few days, and generally things would have been nice if it had not been for the lousy weather. |
| Weather | The morning was quite reasonable, with only one quick shower, but the afternoon was a completely different story - there was quite a fierce shower, and although it eventually stopped it remained a grey and drizzly day. |
| OS map | Outdoor Leisure number 31 (North Pennines - Teesdale & Weardale) |
---
Map of the walk
Maps courtesy of Google Maps. Route for indicative purposes only, and may have been plotted after the walk. Please let me
have comments
on what you think of this new format. For a detailed table of timings for this walk, please see
the table file
.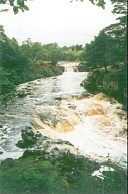 ZY24 Low Force.
---
Notes
A very pleasant mornings walk into Middleton and over an hour spent in the Bridge Inn in the town was spoilt by the atrocious weather in the afternoon. I ended up getting thoroughly wet and depressed, but the convivial atmosphere at this B&B soon made up for that. The weather forecast for tomorrow is for more of the same, but at least I have a YHA at the end of it. I also cannot find a spare film for my camera, which is annoying as it means that I will not be able to take any photos until I next find a shop that sells them.
The Tees is a most spectacular river, with the waterfalls of High and Low Force giving it a potency that I have not seen on any other river. It was all very impressive, and looking back I wish that I had taken more time to explore the river instead of rushing on.
Yesterday when I was at the A66 a wild-haired man stopped me and enquired whether I had seen a white Scottie Terrier. I replied to the negative, and he told me that he was the landlord of the Tan Hill Inn and that his dog had gone missing. He assumed that it had followed one of the three campers who stayed there the previous night. I helped him where I could, and forgot all about it until this morning in the Bridge Inn in Middleton, when the landlord told me that an American (Sam) had come in the night before with this white dog which had followed him all the way from the Tan Hill Inn! Needless to say that dog and owner were soon reunited, and apparently the dog has followed people from Tan Hill as far as High Force! That is some way for a small dog. It is a long way even for a strapping 26-year old!
The weather for the morning section between Baldersdale and Middleton was just right for walking; we had a short period of spitting rain that caused Tony and myself to put on our cagoules, but that did not last long. The weather was nice all the time that we were in Middleton.
The Middleton to Langdon Beck section, however, was a completely difference story. At about 14.00 it started raining very hard for about 30 minutes; Tony and myself used that opportunity to have lunch under a tree. It later dried out (but drizzled occasionally), until about 15.30, when it started raining continuously. Needless to say, I got soaked.
This made the warm welcome that I got at tonight's B&B even more special. They have done a load of washing for me that has come in handy, as it means that at a push I could see the next 9 days until the end of the walk through without any more being done. They have also dried some of my wet clothes and drove me to the High Fore Hotel for a meal and some beer. There is a nice American couple here who are touring Britain on motorcycles for a month.
---
Directions
I am not going to bother giving any directions for any of the stages of the Pennine Way; there are many route descriptions produced that will better anything that I could produce. The main guides I used were the OS National Trail Guides, which come complete with strip maps of the route. Click on one of the links below to go to the Amazon page for each guide.


National Trail Guide South
National Trail Guide North
---
Distances
| From | To | Distance (m) | Ascent (ft) | Descent (ft) |
| --- | --- | --- | --- | --- |
| Blackton YHA | Middleton-in-Teesdale | 6.1 | 945 | 1201 |
| Middleton-in-Teesdale | Langdon Beck | 7.6 | 1109 | 535 |
This makes a total distance of 13.7 miles, with 2054 feet of ascent and 1736 feet of descent.


For more information on profiles, ascents and descents, see this page
---
Disclaimer
Please note that I take no responsibility for anything that may happen when following these directions. If you intend to follow this route, then please use the relevant maps and check the route out before you go out. As always when walking, use common sense and you should be fine.
If you find any information on any of these routes that is inaccurate, or you wish to add anything, then please email me.
All images on this site are © of the author. Any reproduction, retransmissions, or republication of all or part of any document found on this site is expressly prohibited, unless the author has explicitly granted its prior written consent to so reproduce, retransmit, or republish the material. All other rights reserved.
Although this site includes links providing convenient direct access to other Internet sites, I do not endorse, approve, certify or make warranties or representations as to the accuracy of the information on these sites.
And finally, enjoy your walking!
---
This walk was mentioned in the following routes:
---
Nearby walks
---