Walk #43: Garigill to Slaggyford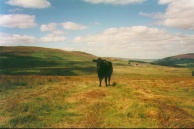 ZZ15 A friendly cow. In the distance to the north is Whitlow Farm. Unfortunately due to rather copious amounts of alcohol inbibed earlier I had to have a lie down.
General Data
| | |
| --- | --- |
| Date Walked | 09/08/1999 |
| County | Cumbria, Northumberland |
| Start Location | Garigill |
| End Location | Slaggyford |
| Start time | 09.20 |
| End time | 15.45 |
| Distance | 9.2 miles |
| Description | This is a short lowland walk, heading northwards towards Hadrian's Wall. |
| Pack | Today I carried full camping gear. |
| Condition | I feel fine after this walk. My legs are okay, my back gave me no trouble and my ankle is not hurting. |
| Weather | Today was mostly sunny, although there were many clouds in the sky. It was not too hot, which made it just right for walking. Apparently it is going to get very cold tonight, so I am getting extra clothes out in preparation. All in all it was the best day weather-wise that there has been so far on this trip. |
| OS map | Outdoor Leisure number 31 (North Pennines - Teesdale & Weardale) and Outdoor Leisure number 43 (Hadrian's Wall) |
---
Map of the walk
Maps courtesy of Google Maps. Route for indicative purposes only, and may have been plotted after the walk. Please let me
have comments
on what you think of this new format. For a detailed table of timings for this walk, please see
the table file
.
---
Notes
Today I had a relatively late start, 09.20, after a large breakfast at the George & Dragon in Garrigill. The concern I usually have at a late start was eased by the fact that this was a short 9-mile day. I arrived in Alston at 11.00 and spent over two hours there, mainly shopping and writing postcards over a couple of pints. Took the next five miles to Slaggyford slowly and stopped to admire the views regularly. It really was an easy day with no climbs of note, although I did end up having my face licked by a cow whilst napping in a field!
Tomorrow I have a longer day as I am attempting to get through to Once Brewed, which should be a walk of about 17.5 miles. I want to get to Greenhead, 11 miles in, by 13.30 at the latest, so I shall have an early start and also catch the coolest part of the day.
Tonight is a night under canvas, my first for over a week. It is nice to use my tent as it makes me feel as though it was worth bringing with me. ;*)
It is also scheduled to get quite cold tonight (they are forecasting a ground frost in sheltered areas of Scotland!), so I am preparing for that eventuality by getting some warm clothing out of my bag ready for me to change into during the night.
Today was not the most spectacular scenery I have encountered on the trip, but was very nice in a valley sort of way. Route finding was slightly harder than it has generally been of late, particularly in the afternoon when there was the added effect of the alcohol that I imbibed at lunchtime!
It is quite nice getting further north each day, and seeing Kirk Yetholm get nearer and nearer. I only have 4.5 days walking left now (if all goes according to plan) although some of those are long days (tomorrow is the longest at 17.5 miles but with very little climbing to be done). I am feeling very positive about being able to finish the walk, and am of the opinion that even if for some reason I could not complete I have proved a great deal by doing what I have done.
---
Directions
I am not going to bother giving any directions for any of the stages of the Pennine Way; there are many route descriptions produced that will better anything that I could produce. The main guides I used were the OS National Trail Guides, which come complete with strip maps of the route. Click on one of the links below to go to the Amazon page for each guide.


National Trail Guide South
National Trail Guide North
---
Distances
| From | To | Distance (m) | Ascent (ft) | Descent (ft) |
| --- | --- | --- | --- | --- |
| Garrigill | Alston | 3.9 | 289 | 509 |
| Alston | Slaggyford | 5.3 | 699 | 948 |
This makes a total distance of 9.2 miles, with 988 feet of ascent and 1457 feet of descent.


For more information on profiles, ascents and descents, see this page
---
Disclaimer
Please note that I take no responsibility for anything that may happen when following these directions. If you intend to follow this route, then please use the relevant maps and check the route out before you go out. As always when walking, use common sense and you should be fine.
If you find any information on any of these routes that is inaccurate, or you wish to add anything, then please email me.
All images on this site are © of the author. Any reproduction, retransmissions, or republication of all or part of any document found on this site is expressly prohibited, unless the author has explicitly granted its prior written consent to so reproduce, retransmit, or republish the material. All other rights reserved.
Although this site includes links providing convenient direct access to other Internet sites, I do not endorse, approve, certify or make warranties or representations as to the accuracy of the information on these sites.
And finally, enjoy your walking!
---
This walk was mentioned in the following routes:
---
Nearby walks
---