Walk #44: Slaggyford to Once Brewed
| | | |
| --- | --- | --- |
| | | |
| ZZ26 Looking southwest from the Trig Point on Windshield Crags. | | ZZ22 Hadrian's Wall, looking west over the quarry from near Turret 41B. |
General Data
| | |
| --- | --- |
| Date Walked | 22/08/1999 |
| County | Northumberland |
| Start Location | Slaggyford |
| End Location | Once Brewed |
| Start time | 07.45 |
| End time | 16.35 |
| Distance | 18.0 miles |
| Description | A superb walk taking in perhaps the best-preserved section of Hadrian's Wall. |
| Pack | Today I carried full camping gear. |
| Condition | I feel quite fatigued after this walk. My ankle and legs feel fine, but towards the end of the walk I started developing more trouble with my back. I shall put some more cream on it tonight and see what happens. |
| Weather | Today was fine and sunny, with occasional clouds, although it was a bit breezy on the crags by Hadrians Wall. The previous night had been very cold, with some reports of a ground frost locally. |
| OS map | Outdoor Leisure number 43 (Hadrian's Wall) |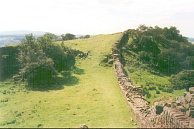 ZZ21 Hadrian's Wall near Milecastle 43.
---
Map of the walk
Maps courtesy of Google Maps. Route for indicative purposes only, and may have been plotted after the walk. Please let me
have comments
on what you think of this new format. For a detailed table of timings for this walk, please see
the table file
.
---
Notes
After a very cold night in my tent I got up and was on the road by 7.45. The first part of the journey up to Greenhead was boring and in places very boggy. It really did not have much to recommend it.
The second half of the walk however, between Greenhead and Once Brewed along Hadrians Wall was spectacular in the summer sun. Although the wall itself is not all that impressive (and is much lower than I had been expecting), the way the wall rises and falls as it clings to the crags and the views from the Crags are. Unfortunately I was a bit too fatigued to get the best out of that section of the walk.
The end of the walk is getting nearer and nearer, with only 3.5 more walking days scheduled. The hardest one of course will be the climb up to the campsite on the Cheviots, but aside from that the next two days are quite simple sub-15 mile days.
I feel very fatigued tonight after the exertions of today. Certainly much of this can be put down to the fact that over the last two days I have not eaten much; something that I am in the process of correcting. I will certainly sleep well tonight.
I am yet again sharing a dorm with Tony, who finishes his epic tomorrow with a stride up to Greenhead. It will be a shame not to see his cheerful face again - he has been a good companion along the trail from Malham.
---
Directions
I am not going to bother giving any directions for any of the stages of the Pennine Way; there are many route descriptions produced that will better anything that I could produce. The main guides I used were the OS National Trail Guides, which come complete with strip maps of the route. Click on one of the links below to go to the Amazon page for each guide.


National Trail Guide South
National Trail Guide North
---
Distances
| From | To | Distance (m) | Ascent (ft) | Descent (ft) |
| --- | --- | --- | --- | --- |
| Slaggyford | A69 | 10.2 | 1348 | 1362 |
| A69 | Once Brewed | 7.8 | 1289 | 1201 |
This makes a total distance of 18.0 miles, with 2637 feet of ascent and 2563 feet of descent.

For more information on profiles, ascents and descents, see this page
---
Disclaimer
Please note that I take no responsibility for anything that may happen when following these directions. If you intend to follow this route, then please use the relevant maps and check the route out before you go out. As always when walking, use common sense and you should be fine.
If you find any information on any of these routes that is inaccurate, or you wish to add anything, then please email me.
All images on this site are © of the author. Any reproduction, retransmissions, or republication of all or part of any document found on this site is expressly prohibited, unless the author has explicitly granted its prior written consent to so reproduce, retransmit, or republish the material. All other rights reserved.
Although this site includes links providing convenient direct access to other Internet sites, I do not endorse, approve, certify or make warranties or representations as to the accuracy of the information on these sites.
And finally, enjoy your walking!
---
This walk was mentioned in the following routes:
---
Nearby walks
---