Walk #601: A circular walk along the North Downs from Whyteleafe
| | | |
| --- | --- | --- |
| | | |
| P20034121911 The North Downs Way on Winders Hill. | | P20034121919 Skirting the North Downs escarpment. |
General Data
| | |
| --- | --- |
| Date Walked | 12/04/2004 |
| County | London, Surrey, Kent |
| Start Location | Whyteleafe Station |
| End Location | Whyteleafe Station |
| Start time | 07.56 |
| End time | 16.18 |
| Distance | 21.6 miles |
| Description | This walk took me along the North Downs Way to the highest points in Kent and London. |
| Pack | Today I carried my 30-litre Karrimor HotRock rucksack, which was filled with my waterproof leggings, water bottle, trainers and a couple of spare shirts, together with the usual assortment of odds and ends. It weighed slightly more than usual as I also had a bit of extra kit, such as my Psion, battery charger, cables and a tripod strapped to the side of the rucksack. |
| Condition | I am not particularly good after this walk - my feet hurt (probably as a result of trying out new footbeds in my boots), and I suffered for the least portion of the walk from stings from a patch of nettles I fell into. |
| Weather | The day started quite sunny, but as the day went on the clouds slowly rolled over and the skies darkened. There was no sign of any rain however, and it was quite a nice day for a walk. |
| OS map | Landranger number 187 (Dorking, Reigate & Crawley area) |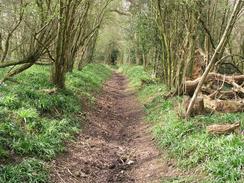 P20034121946 The path near Chelsham Court Farm.
---
Map of the walk
Maps courtesy of Google Maps. Route for indicative purposes only, and may have been plotted after the walk. Please let me
have comments
on what you think of this new format. For a detailed table of timings for this walk, please see
the table file
.
---
Notes
As part of my aims to walk to every county top in Britain, I only had a couple remaining to be walked to in the southeast, these being the tops for Kent and London. On a previous walk I had got as far as Whyteleafe in Surry, which is only few miles away from these tops, so I decided to bite the bullet and walk to them. A nice early-morning journey down the M11 and M25 was enlivened by a beautiful red sun rising to the east, which I hoped did not forewarn of bad weather to come. I reached Whyteleafe Station and parked and read the notices at the station car park, which stated that I needed to get a ticket for the car park. I tried to do this, but despite searching for five minutes I could not find them. Annoyed, I decided not to risk parking in the car park without a ticket and parked in a residential road a short distance away.
The first part of the walk to Caterham was along a mixture of public roads and tracks that proved to be far more enjoyable than I had been expecting. Although I was just outside London most of the stretch was quiet, and in some places I could even call it scenic. This understandably was not the case when I reached Caterham, and after taking a photograph of the station and an adjoining Lotus 7 sign (Caterham is home to the firm that makes the Caterham 7, a clone of the iconic Lotus 7). The town was quiet and tumbleweeds were blowing through the streets as I walked south out if the town, along a road that climbed surprisingly high before dropping down to a pedestrian bridge over the A22 road. This marked the point where I joined the North Downs Way, which I would follow for the next few miles. Unfortunately joining the National Trail did not improve the walk, which was along tracks for the vast majority of the way.
There were some highlights, however; at one point in an overgrown and dark cutting I came across a duck and some ducklings coming down the side of an embankment. They started walking along the road in front of me, and I managed to get a few photographs of them before they detected my presence and waddled away. It was a nice moment, and put me in a good mood as the North Downs Way climbed and fell along the face of the escarpment. In places the walk would have been quite enjoyable were it not for the noise of the nearby M25, which was exceedingly audible and annoying in places. Over the next few miles the situation got worse, and when the trail dropped down onto the valley floor to go around a quarry it became nearly overwhelming as the motorway was only a couple of hundred yards away. I turned my walkman up to full volume in a futile attempt to drown out the traffic noise, but there was really no getting away from the fact that it is a national trail that runs adjacent to one of Britain's busiest motorways!
Fortunately another distraction soon became available to me, as a couple of walkers descended from the hillside. As we walked along I started chatting to them, and it turned out that they were walking the Vanguard Way, which follows the North Downs Way for a short distance before heading southwards. It turns out that one of the people was a member of the Long Distance Walkers Association, and we went through the usual topic of the never-ending arguments within that organisation of what exactly the definition of a long-distance walker is! Some people define it as being challenge walkers, who walk vast distances (sometimes over 100 miles!) in twenty-four hours; others see it as being people who do long-distance trails. To try and resolve this eternal argument the LDWA have defined a long-distance walk as being over twenty miles a day, which means that my 6,200-mile coastal walk would not have qualified as I only managed a measly 18 miles a day!
We said our goodbyes at a track that the Vanguard Way followed away to the south, and which I had to climb up to reach the top of the hillside. Although steeper and rougher I found the climb far easier than the ascent out of Caterham had been, and I soon found myself at the top of the hill. Instead of following the North Downs Way eastwards I made a slight detour for a couple of hundred yards to reach a trig point to the west of Botley Hill. Annoyingly this was just inside a field and I could not gain access to it by climbing the fence, as there were some farmers in the field. Fortunately, however, the flush bracket was facing the hedge and so I managed to get a few photographs of it and record the flush bracket number from the roadside verge. For the next couple of miles eastwards I spurned the North Downs Way in favour of the nearby B2024 road, and I soon diverted off this along a minor road to visit the highest point in London on Botley Hill. The grid references took me onto a low, flat-topped hill to the west of the road, and it took me some time to find what may have been the highest point. The summit was so flat it was quite hard to find the highest point, but the spot I chose matched the grid references for the top so I stopped, took some photographs of the disappointing views and set off. Most county tops have good views from them (as a result of their being the highest point around), but low, flat summits such as Botley Hill are generally exceptions.
The second county top of the day, Kent's, was a few miles east on Betsom's Hill. Again I had a choice of whether to follow the North Downs Way or roads to get there, and in the end I chose to walk along the B2024 for the first stretch before joining the North Downs Way at a track. This was probably the most scenic part of the day, and I enjoyed the walk eastwards despite the fact that there were not very expansive views. A series of quiet tracks brought me out to the A233 road, which was a shock with a seemingly endless stream of traffic heading uphill past me. Unfortunately I had to join the A233 and follow it northwards for a few hundred yards, including around a couple of sharp bends. This was by far the worst road walking that I have done in some time, with cars coming towards me at breakneck speeds and narrow or nonexistent verges to retreat to. I did not feel at all safe, so as soon as I got to the second bend I diverted off into the field to the left to avoid the traffic.
It was quite difficult to find Kent's highest point, and in the end I decided on an exceedingly dinghy spot near a track and some abandoned cars. It was hardly salubrious surroundings, and I could not wait to get away. I had to make my way back to the A233, and I followed this northwestwards for a few hundred yards. Fortunately the A233 was not as dangerous as it had been on the way up the hill, and I soon reached the crossroads at Hawley's Corner. I did not go into the nearby pub but instead took a quiet and winding lane that headed westwards past Rag Hill towards Tatsfield. Once I reached the village I was greeted by the sigh of the Ship Inn, which proved an irresistible lure and I decided to nip in for a quick pint. Today I was bedding in a new pair of Sorbothane insoles, and this had caused my feet to start aching. I took my boots of and ordered a pint of Harvey's best bitter. The lunches being served in the pub smelt delicious, but I decided against ordering a meal and instead followed the pint by a quick half of Bombadier.
Spending half an hour with my boots off allowed my feet to recover, and I set off from the pub with a spring in my step. A short road walk led to a bridleway that headed westwards for under a kilometre to another road, and then along a footpath past Beddlestead Farm. It was here that the day very nearly came undone. The footpath passed the farm before skirting the edge of a field; unfortunately the field had been ploughed and so I was forced to follow a narrow strip of unploughed ground next to the fence. I was making good time when suddenly I tripped over some old wire in the long grass and I went sprawling to the ground, hands first. An instant moment of shock was followed by pain, first from my left knee, which hit the ground hard, and then from my hands and arms. With shock I discovered that I had landed in a patch of young nettles, and once I lifted myself up I found my arms and legs stinging all over. I was well aware that hanging about would not make me feel any better, so I set off down the hill along the grass as my arms and wrists emerged in hundreds of little red spots.
A trig point near Chelsham Court Farm was half-buried in a hedge and proved very hard to photograph, although I noted that it was an Ordnance Survey GPS trig point. By this time my arms were aching considerably, and I tried to increase my pace to take my mind off them. I soon joined the B269 road, which I followed for a few miles northwestwards through Warlingham and onto Hamsey Green; a long road walk with not much to comment on, although I have done far worse. It was a relief when I could turn off he road and head westwards along a road, and then a track, following the London Loop trail to a slightly vandalised trig point. The views from this hillside were quite nice, and I savoured them as I descended steeply downhill to a track that lead over a railway line and down to the A22. A quick walk southwards along the A22 took me back to Whyteleafe Station, which I was quite relieved to reach as by this time my feet were starting to ache again.
---
Directions
This walk starts off at Whyteleafe railway station, just off the A22 between Croydon and the M25. Leave the station via the western platform and walk diagonally across the car park to gain access to Whyteleafe Hill Road. Climb uphill along the road for a hundred yards until a road junction is reached on the left by a church; here turn left down Church Road and follow it as it heads southwards for under a kilometre before ending at a T-junction with Salmons Lane. Turn left to head downhill for a short distance, but before the level crossing over the railway line is reached turn right down The Avenue. This road heads southwards and soon ends, but a good track continues onwards through some gates, passing between Manor Park and the railway line. When this track ends cross Burntwood Lane and continue straight on down Stafford Road, which curves on a south-southwesterly course into the centre of Caterham. Stafford Road ends at a T-junction with Church Hill in the centre of Caterham; turn left to head eastwards for a short distance past the railway station until a roundabout is reached.
At the roundabout turn right and start walking up a slight hill along Godstone Road. Pass a church and then turn right along Tupwood Lane, which heads fairly steeply uphill to the southwest before levelling out and settling on a more southerly and then southeasterly course. Tupwood Lane reaches the junction with Chubbs Lane, where it turns sharply to the left and continues winding around until it eventually settles on an easterly course towards the A22. Just before the A22 is reached turn right to join a footpath (actually the North Downs Way) that heads across the A22 on a footbridge. For the next four miles it is simply a case of following the North Downs Way as it heads eastwards along the escarpment of the North Downs; the route is very well signposted and the path is broad and easy to follow in most places. The trail passes Oxted Quarry and skirts the bottom of the Titsey Plantation before reaching Pitchfont Lane. Here the trail turns to the left to climb uphill along the lane, which is little more than a dirt track, before ending at the junction between the B269 and B2024 roads.
If you wish to visit the trig point on Botley Hill then turn left along the B269 for a few yards before turning left along The Ridge; the trig point is a hundred yards down this road on the right, clearly visible close to the hedge in a field. If you do not wish to visit the trig point then turn left and immediately right to follow the B2024 Clarks Lane eastwards. To visit the highest point in London then take the second road to the left, Tatsfield Approach, as it heads northwards for a couple of hundred yards. Just before some woodland starts on the left turn left through a gate into a field; the highest point is in this field. Go back to the B2024 and continue eastwards along it until another set of road junctions is reached. As the B2024 turns slightly to the right continue straight on along Chestnut Avenue; when this road forks take the right-hand fork called The Avenue that heads downhill to the east before ending at the A233 Westerham Road. Turn left and start climbing uphill along the A233; care is needed as the road is busy and narrow, with a couple of nasty bends on it. The road swings sharply to the left and then the right; shortly after the right-hand bend climb up a small slope on the left and climb over a barbed-wire fence to gain access to a field. Head westwards across this field to a track, and then turn right to head northwards for a few yards to the highest point in Kent.
From the county top turn right and walk eastwards back to the A233 road. Turn left and follow the A233 northwards for a few hundred yards to a complex junction at Hawley's Corner before turning left down Tatsfield Lane, which heads downhill and winds around in a rough westerly direction before climbing uphill into Tatsfield. When the road ends at a junction continue straight on along Ship Hill; pass the Old Ship pub and cross Westmore Green to gain access to Lusted Hall Lane. This heads northwestwards for a short distance, and when it swings to the right to head northwards turn left and join a bridleway that heads off to the west for a little under a kilometre before ending at a road. Turn right along this road and follow it as it heads northwestwards; just before it reaches a farm track on the left turn left along a footpath that skirts the edge of the track before turning to head northwestwards past Beddlestead Farm. The path heads down into a little valley and heads up the other side, passing through a small patch of woodland called Cony Crook joining a distinct track before ending at Chelsham Court Road opposite Chelsham Court Farm.
Turn left to head southwestwards along the road for a few yards, before turning to the right to head along Washpond Lane. This land initially heads in a rough westerly direction and ends at a T-junction with Ledgers Road. Turn left and follow Ledgers Road as it heads southwestwards until the B269 is reached, and then turn right to follow the road westwards. The B269 heads into the town of Warlingham, and a little over two miles after joining the road it enters Hamsey Green. Turn left down Tithe Pit Shaw Lane, which heads westwards for a few hundred yards. When the road curves sharply to the left continue straight on down a track that crosses a common area before curving northwestwards across Riddles Down. When a trig point is reached turn left and head westwards downhill, entering a patch of sparse woodland before meeting a track called Riddlesdown Road. Turn left and follow the track downhill; it crosses a railway line on a bridge before reaching the A22 opposite the Rose and Crown pub. Once on the A22 turn to the left and follow it southwards for a mile until a roundabout is reached. At the roundabout turn right and heads down the road for a couple of yards to Whyteleafe Station, where this walk ends.
---
Distances
| From | To | Distance (m) | Ascent (ft) | Descent (ft) |
| --- | --- | --- | --- | --- |
| Whyteleafe Station | London county top | 9.5 | 1663 | 1152 |
| London county top | Kent county top | 3.1 | 348 | 367 |
| Kent county top | Whyteleafe Station | 9.0 | 643 | 1135 |
This makes a total distance of 21.6 miles, with 2654 feet of ascent and 2654 feet of descent.


For more information on profiles, ascents and descents, see this page
---
Disclaimer
Please note that I take no responsibility for anything that may happen when following these directions. If you intend to follow this route, then please use the relevant maps and check the route out before you go out. As always when walking, use common sense and you should be fine.
If you find any information on any of these routes that is inaccurate, or you wish to add anything, then please email me.
All images on this site are © of the author. Any reproduction, retransmissions, or republication of all or part of any document found on this site is expressly prohibited, unless the author has explicitly granted its prior written consent to so reproduce, retransmit, or republish the material. All other rights reserved.
Although this site includes links providing convenient direct access to other Internet sites, I do not endorse, approve, certify or make warranties or representations as to the accuracy of the information on these sites.
And finally, enjoy your walking!
---
Nearby walks
---